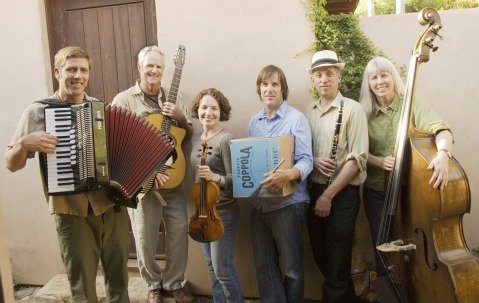 Kalinka

"Dark Eyes"
"Khusidlekh"

Musicians
Sound description: Old World Delirium
RIYL: Klezmatics, Fishtank Ensemble, Petrojvic Blasting Company, Cafe Musique
Web site: http://www.kalinka6.com/
Email: frednadis@yahoo.com
History
Formed in 2009, Kalinka, a Santa Barbara-based acoustic group, is among the liveliest bands on California's Central Coast, playing a blend of Jewish klezmer tunes, popular gypsy tunes, vintage jazz, French café music, Fellini film scores, and Eastern European melodies. Their acoustic sound is joyous, sweet, and gutsy. To their wide repertoire of music, they bring consummate musicianship and zest. They play frequently in town at Reds, at Muddy Waters, on KCSB, and at festivals and events.
Upcoming shows
None scheduled
Formed
2009, Santa Barbara, CA
Influences
Naftule Brandwein, Klezmatics, Django Reinhardt, Nina Rota, Sidney Bechet, Nancy Sinatra
Current status
Book us!