Current Happenings
Best of Santa Barbara® Readers' Poll
It is time to nominate your favorite businesses in the 2023 Best of Santa Barbara® Readers' Poll. Nominate your favorites now on our online ballot. The nomination period is June 8 – July 05, 2023. Final voting will begin in August 2023.
We are switching things up in a major way for the Indy Book Club in 2023. Instead of doing monthly reads and discussions, we will be hosting quarterly meet-ups. Our hope is to create more opportunity for readers to come together and share their love of reading. Our first meet up was at the end of January and focused on book clubs. Our next meeting will be in March. More details to come. I hope you'll join us!
Annual Events & Projects
Get involved in the Indy community.
Burger Week
We team up with eateries all over Santa Barbara County to bring you 7 days of $10 burgers. Vegans, meat lovers, and everyone in between can find something delicious and up their alley. Burger Week 2023 dates March 2 -8.
The Indy: A Podcast
The Indy is the Santa Barbara Independent's podcast, hosted by Alexandra Goldberg. Wanna listen to The Indy on your favorite streaming platform? You can find our podcasts on Apple, Spotify, and Google.
St. Patrick's Day Stroll
The Santa Barbara Independent will stroll down State Street for our 13th Annual St. Patrick's Day Stroll on Thursday, March 17, 2022 @ 5pm.
Best Fest
Mingle and boogie with with some of the finest folks in town as we celebrate the winners of our annual Best of Santa Barbara® Readers' Poll.
Best of Santa Barbara® Readers' Poll
Every October, we publish our Best of Santa Barbara® issue with over 200 categories voted on by readers. Nominations for 2023 will open in June and final ballot voting will open in August.
Santa Barbara Gives!
Santa Barbara Gives! is a year-end giving campaign for Santa Barbara nonprofits born from a partnership between the Santa Barbara Independent and The Fund for Santa Barbara. The goal is to create a new network of donors for participating nonprofits, make it easy for people to donate via SBGives.org, and inspire first-time donors to support a wide variety of causes in Santa Barbara. A project-based program, Santa Barbara Gives! donors are motivated by both the overall mission of an organization and a specific social change project.
Pints for Press
Listen and learn from our editorial staff as they go "behind the pages" of our cover stories. Events will be held regularly. Proceeds from the event will go towards supporting journalism.
Local Heroes
Local Heroes is our annual celebration of our fantastic neighbors. In 1986, the first-ever issue of the Santa Barbara Independent was dedicated to showcasing the amazingly selfless people who call Santa Barbara home. We christened those honorees as our "Local Heroes," and a Thanksgiving week tradition was born.
Burrito Week
In celebration of this burrito bounty, the Santa Barbara Independent launched our first-ever Burrito Week, from September 23 – 29, 2021, which we plan to make an annual affair. 16 participating restaurants served $7 burritos for the week. Stay tuned for 2023 Burrito Week details.
Indy Hops
Santa Barbara's month-long beer crawl hosted by the Santa Barbara Independent. Next event: July 2023
Quizzes & Contests
Test your Fiesta Trivia or win a pair of tickets to see the Santa Barbara Foresters! We host a variety of fun quizzes and contests throughout the year. Click here to explore our most recent line up. Stay up to date on all quizzes and contests we are running by signing up for our Extra! newsletter. Interested in partnering with us on a quiz or contest? Email us at contest@independent.com
Indy Awards
The Indy Awards is our annual celebration of Santa Barbara's fantastic theater and dance community. On May 20, we honored performers, directors, and more at our 26th annual Indy Awards.
Backyard Brunch
Eat and drink from over 30 of Santa Barbara's hotspots as they dish out brunch under the trees. Proceeds from the event go towards supporting the Santa Barbara Gives! campaign.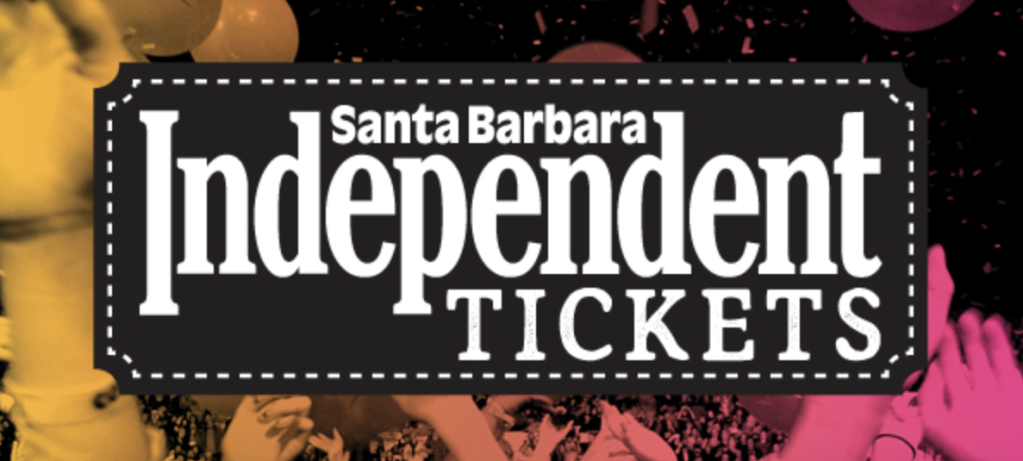 Santa Barbara Independent Tickets
The Santa Barbara Independent Tickets is a free self-service ticketing system, backed by marketing muscle and sales expertise.