It's a glorious sight that can be witnessed in Isla Vista at strategically planned times during the year: About a hundred Isla Vista racers rapidly skidding around a corner on wildly decorated beach cruisers, screaming things like, "pain," "misery," "malice," and "disdain."
This type of planned coincidence has happened a handful of times during the last two years with no sign of slowing down. On at least one of those occasions, a racer by the name of Rat Boss wore nothing but a cape, a thong, a pair of spray-painted work boots, and a 49ers football helmet. Another, six-foot-eight and named Tree, wore a princess-pink skirt, a pink helmet with blonde pigtails attached, and a jean jacket with "K$N" painted on the back. Tree's cruiser is spray-painted baby pink and has disfigured Barbie dolls attached to every part of the frame.
PaPa Patossi sported a platinum blonde wig; Nima dressed himself in a pink tutu. Todd Darsh disguised himself with glasses and a makeshift fat suit consisting of a pillow stuffed under his shirt. Many racers wear embellished helmets-decorated with their underwear, in some cases-and most had spraypainted or otherwise beautified beach cruisers.
While the rest of Isla Vista was playing beer pong or flip cup, the gentlemen and a few ladies of Kroozr $kid Nation were racing lap after lap, pounding beers at the completion of every round. Many crashed, and many vomited during the heinous course. All threw fat skids and yelled with utter abandon. "Some of my best memories were from races like that," said Austifari, one of the original nine cronies who started K$N. "Puking all over everything with half a beer to go before the next lap. Just losing it with a sledgehammer and going after a burning bike," he added, referring to the bike sacrifice that serves as the grand finale.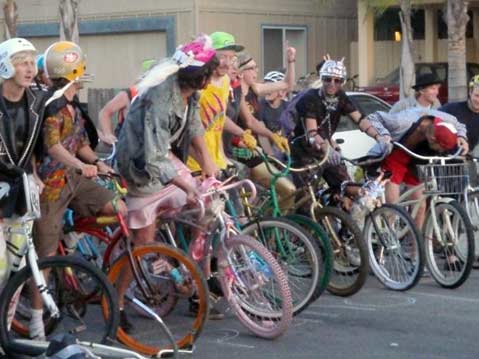 By Courtesy Photo