Pierre Haobsh, 26, spoke only twice Tuesday in Judge Raimundo Montes De Oca's courtroom. When asked whether he could hear from his position behind protective glass, he said, "Yes, I can." When asked if, at prosecutors' request, he agreed to postpone his arraignment by two weeks, he said, "Yes, I do."
Wearing a blue button-up shirt, a tie, and at times a half-smile, Haobsh's tone didn't betray that, early Friday morning, he was arrested at a San Diego County gas station and charged with three counts of first-degree murder for the brutal killings of well-known herbalist Dr. Weidong "Henry" Han, 57; his wife, Huijie "Jennie" Yu, 29; and the couple's daughter, Emily Han, 5.
On Wednesday evening, March 23, authorities discovered all three wrapped in clear plastic and duct taped in the garage of their 4640 Greenhill Way home near Goleta. Each had been shot multiple times, and their official cause of death was listed as "gunshot wounds to the head."
That morning, Henry Han had missed a Los Angeles business meeting and wasn't answering phone calls, prompting two colleagues to visit his home. The colleagues found the front door ajar and Han and Yu's cars parked in the garage; they called 9-1-1, and dispatchers requested the welfare check that led authorities to the crime scene.
Surrounded by large gardens and situated on a seven-acre avocado ranch, the family's hillside Mediterranean-style home is not visible from the main road below. Neighbors in the nearby Forte Ranch condominium community watched two and then 11 more law enforcement cars (among them forensics and Department of Justice criminalists) wind up the Hans' driveway that evening. By 11:30 p.m., Sheriff's detectives had launched a suspicious-death investigation, which led them to the San Diego suburb of Bonsall.
Thirty-six hours later, detectives developed leads that implicated Pierre Haobsh, an Oceanside resident and a "business acquaintance" of Han, in the murders, which authorities say were motivated by "financial gain." Haobsh "was recently involved in a business transaction with Mr. Han," Santa Barbara County Sheriff Bill Brown said at a Friday briefing. No other details were provided. On both Monday and Tuesday, Haobsh had reportedly walked into Han's Santa Barbara Herb Clinic across from La Cumbre Plaza, bypassed the front desk, and said in a brusque, dismissive manner, "Henry knows who I am." Han was last seen alive at 10 p.m. Tuesday night, and Yu and Emily at 7 p.m. that night, according to Brown.
Around 12:25 a.m. Friday, Santa Barbara and Oceanside authorities spotted Haobsh driving a 2013 red Lexus sedan and followed him to a Bonsall gas station east of Oceanside. He was taken into custody at gunpoint without incident. In his possession was a loaded 9mm and property that detectives believe belonged to the Hans, said Brown.
Until his arrest, American-born Pierre Haobsh lived with his French-born father, Frederick Smith, or Frederick Haobsh, in rented rooms of an Oceanside house. Not much is known about Frederick, but online searches show he founded the now-defunct oil company Cal Tech International Inc. and was an ex-CIA agent of Jordanian descent. The younger Haobsh left a scarce Internet trail (he had a Facebook page with one profile picture visible to the public).
Nadine Courtney, a beauty blogger and former Newlyweds reality TV star, told the Associated Press via email Saturday that she is Haobsh's sister. "Nadine came from a traditional Circassian-Middle Eastern family," reads her online biography. In a 2008 blog post, Courtney said their mother, Nancy Berchtold Haobsh, 55, had died from lymphatic cancer. Neither Frederick Smith nor Courtney responded to questions from The Santa Barbara Independent.
A March 25 KGTV San Diego newscast featured Oceanside neighbors, who remembered Haobsh as "off." The night of Haobsh's arrest, the suburban neighborhood saw authorities search his home with flashlights. Sheriff Brown called the "diabolical and premeditated crime" "one of the most odious that I have been involved in."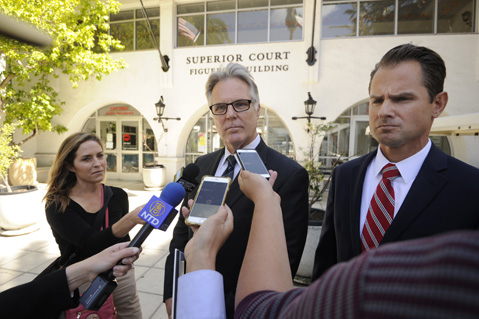 By Paul Wellman