A state bill to mandate overtime pay for farmworkers could benefit an estimated 18,000 employees in Santa Barbara County. Sitting on Governor Jerry Brown's desk, the bill ​— ​if signed ​— ​would ultimately require employers to pay farmworkers time and a half for work beyond eight hours in a day or 40 hours in a week.
Unlike nearly all other hourly employees, farmworkers do not receive overtime pay unless they work more than 60 hours in a week. And most farmworkers are in the fields 10 hours per day, six days a week.
This disparity dates back to the Jim Crow era, when the eight-hour workday was established as a result of the Fair Labor Standards Act of 1938. But domestic workers and farmworkers ​— ​largely black sharecroppers ​— ​were exempted to appease Southern lawmakers, said Lucas Zucker, a representative for CAUSE (Central Coast Alliance United for a Sustainable Economy), a proponent of the bill.
If signed, this bill ​— ​AB 1066 ​— ​would start rolling out in 2019. Employers on large farms (with more than 25 employees) would have to pay overtime for farmworkers working more than 9.5 hours in a day or 55 hours per week. The threshold would gradually decline to eight hours in 2022. For small farms, the phase-in would not conclude until 2025. The governor would, however, be authorized to delay implementation if he or she did so with the state's planned minimum-wage rollout.
Zucker expressed cautious optimism Brown would sign the measure. "I don't think it's a slam dunk, but I think there has been a lot of pressure that this is a critical civil rights bill," he said. (In 2012, Governor Brown vetoed a bill to mandate overtime pay for domestic workers, but a year later, he signed a narrower version of it. Brown initially questioned the effects on elderly people or if the law would reduce jobs for domestic workers.)
County Supervisor Peter Adam, who owns Adam Brothers Family Farms with his two younger brothers, lamented about increasingly strong regulations for employers. "We just get more and more stuff all the time," he said. "At some point you are going to notice it at the store."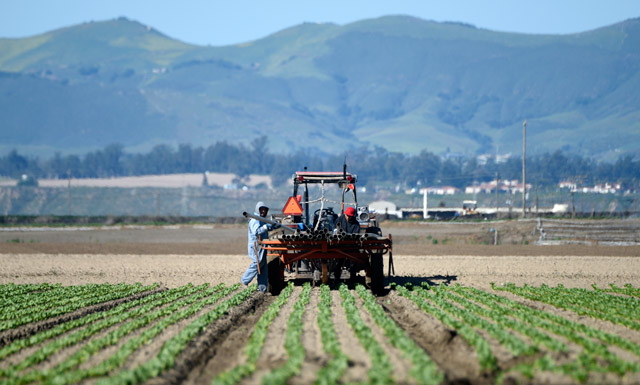 By Paul Wellman (file)