Katherine (Manos) Rappa
1922 - 2012, Santa Barbara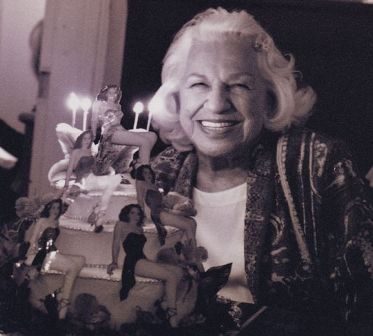 Katherine (Manos) Rappa of Santa Barbara, California, passed away Sunday, December 9, 2012, in her home and surrounded by loved ones. Her death was caused by complications of COPD (Chronic Obstructive Pulmonary Disease). She was born in Paterson, New Jersey, on October 10, 1922, to Greek immigrants Charles and Bertha Manos. "Kaye", as her friends called her, was born into a family of 11 children, herself being the third from the last.

She was married to Lou Rappa in 1948 and soon afterwards with 2 children in tow, moved to California to raise her family in the sunshine. In 1968, Kaye, her late husband, Lou, and their now 4 children moved to Santa Barbara and made their home in Mission Canyon. During the next 30 years she worked at Harry's Cafe in the Loreto Shopping Plaza, and as a caregiver, and later retired to travel around the United States for a few years once she and her husband became empty nesters.

In 1995, having returned to Santa Barbara, and her children scattered in different states, Kaye moved to the Shifco Housing on Cliff Drive. Her children never worried about her being alone because of her magnetic personality. There she created a second family of close friends within the complex. With her favorite clutch of girlfriends, they enjoyed making lunches for each other, shopping and playing cards. Her hobby was making elaborately decorated eggs and she loved to yard sale and haggle over what might have been the find of the century. She was every ones best audience and could easily be brought to tears of laughter. She often had trouble delivering a joke, breaking into an infectious laugh because it was too funny to tell while leaving her audience hanging and laughing along with her waiting for the punch line. She is famous for saying, "I'm going to live to be 106!" which would've made her 1 year older than her Grandfather. She may not have made it to 106, but by 90 she was graced with beautiful silver gray hair that brought her many compliments and a youthful laugh forever etched into her face. Her biggest love and proudest accomplishment was her 4 children. Kaye's greatest joy was being surrounded by them and it was the only gift she asked for during the holidays and her birthdays. She loved bantering, exchanging stories and telling jokes with everyone. Kaye will always be remembered for her big smile, sense of humor, her open heart, generosity, and loyalty to her friends and family.

Katherine is survived by her four children and their families and countless loving nieces, nephews and cousins in New Jersey and around the continent. She was the last of her generation being preceded in death by her siblings.

A memorial service will be held on Saturday, December 29th at 2:00 pm at the Shifco Housing Community Building, 418 Santa Fe Place, Santa Barbara.