Shirley Anne Doris (McLellan) Carter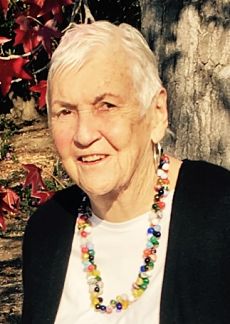 Shirley Anne Doris (McLellan) Carter died on Thursday, February 9, surrounded by her family in her home. Born in Philadelphia, Shirley grew up in Pasadena. She met husband John Carter at a folk dancing class in Santa Barbara, where, John says, "it all started with her big, brown eyes." They married 7 months later and celebrated their sixtieth anniversary in 2016. Shirley is survived by her loving husband John, daughters Kathi (Mark), Karin (Tom) and Kristin, and grandchildren Matthew and Juna.
Shirley had a long career in teaching. At Head Start, Shirley connected with the local Hispanic community through some of her fellow teachers, the beginning of Shirley's love for all the cultures of the world. Shirley found a long-term home at Monte Vista helping children get a memorable start on their school years. The lifelong friends she made through teaching surrounded her with love as she approached the end of her life.
The family began traveling early, going to Hawaii when it was considered an exotic destination, visiting Mexico several times, and seeing family in Alaska. Little did anyone know that Shirley's yen to travel would become a major life activity. John and Shirley visited three quarters of the countries of the world, some more than once. Another touchstone in their lives was a bicycling group that ended up not only riding weekly in Santa Barbara, but transporting their tandems to other U.S. states and to Europe for extended rides. A vibrant hostess, Shirley's parties were numerous and imaginative: foods that she made herself, decor she'd collected from her travels, and fun for a wide group of friends.
We are deeply grateful for the care and concern shown by Dr. Kurt Ransohoff over the 25 years he acted as John and Shirley's doctor, and also thank oncologist Dr. Mukul Gupta, Hangama Abassi, and the staff at Sansum Clinic. Hospice of Santa Barbara and Visiting Nurse and Hospice provided care and support in the last months of Shirley's life.
A Celebration of Life is planned for Sunday, February 26 at Cabrillo Pavilion at 1:00. If you so desire, in lieu of flowers, the family suggests a donation to a charity of your choice.
Bon voyage, Shirley.