Joseph 'Joe' Romo
1973 - 2017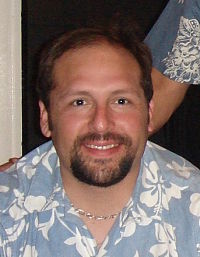 Joseph 'Joe' Romo went to meet his Heavenly Father on May 30th, 2017 at the age of 44. Joseph was the first born son of Victor and Rosie, he was born at Santa Barbara Cottage Hospital March 7th, 1973.
Joseph had four passions in his life, #1 was his love of the ocean and diving for lobsters and abalone; #2 was his love of the Beatles, ask him anything about them and you were likely to get more information than you wanted; #3 was his undying love for football, life was just not worth living after the Super Bowl until pre-season football started in August; #4 and the most important was the love and adoration for his daughter Ashley Rose. She was his heart, soul, his whole being. He loved her more than life itself.
Joseph leaves behind Ashley, his daughter, his dad and mom Victor and Rosie, his brother Eric and wife Amanda, his sister Annie and husband Eric, his nephew Landin, and nieces Siena and Isabella, plus many aunts and uncles and cousins.
A Funeral mass will be said at St. Raphael Church Wednesday June 14th at 2pm.
In lieu of flowers please send a donation to the Visiting Nurse and Hospice Care in Joseph's name.