John Francis Dane
1930 - 2017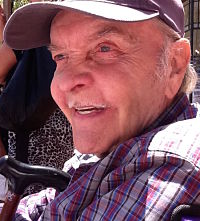 On December 28, 2017 John quietly passed away in his home at Mission Villa in Santa Barbara, CA where he was surrounded by his loving family and the wonderful staff members.
John, better known as Jack to his friends and family, was born on December 19, 1930. He was loved, cherished, and only child to mother Helen Shallow and father Ernest Dane residing Lynbrook, New York.
After serving The United States Army as Sergeant for 4 years where he was stationed in Germany, he graduated from Pratt Institute in 1956 with a Bachelor of Fine Arts. He worked inAdvertising as a Graphic Designer and Art Director in Boston and Manhattan for most of his professional career.
Jack took chances, made some mistakes, and rarely apologized. He wore his thoughts on his sleeve which attracted and challenged people equally. He liked using four letter words as much as he liked cake. He enjoyed painting, listening to music, and refinishing furniture and antiquing. Jack loved to explore new places and lived a lifestyle that was well ahead of his timeand hard for some to accept. Among the many places he called home, Jack lived in Lynbrook, Boston, Long Island, Maplewood, Morristown, San Miquel de Allende, Virgin Islands, San Francisco, and Santa Barbara; making friendswherever he may be.
Jack is survived by his children Ernest, Helena, Francis, Rosemond and Grandchildren Jason, Skye, Claire, Luke, and Amanda.
In his later years, Jack enjoyed music, singing, movies, gardening and trips to museums and theater. He refused to speak about important personal matters, and used shopping as his therapy. Most of all he enjoyed the liveliness of his grandchildren and dining with his family.
Jack is remembered for his wonderful sense of humor, beautiful smile and dazzling blue eyes.
Cremation will take place immediately and his ashes kept in an urn to match the décor.