Annette S. Hughes: 1920-2012
In Memoriam
| Thu Mar 29, 2012 | 12:00am
Annette Hughes was born in Burbank, California, to Nellie L. Phillips Stone and George N. Stone. A lovely, vibrant, and naturally athletic girl, Annette was blessed with an eternally sunny spirit. At church one Sunday, she met a charismatic young man who had come to church for the very first time. They married in 1939. Until his tragic death 25 years later, Harold Raymond Hughes irreverently enjoyed telling others how he met this lady and love of his life. "I went to church, found what I wanted, and left." The two were truly in love every day of the next 25 years. Their first son, Gary Jon, was born in 1941, followed in late 1943 by their second, Robert Lee (Bob), who arrived while Dad was overseas during WWII.
A bright, unstoppable homemaker, mom, and wife, Annette was always willing and able to get the family ready for anything on minutes' notice. She couldn't help but effortlessly create and maintain a happy, winning, and forever close-knit family — something precious and rare.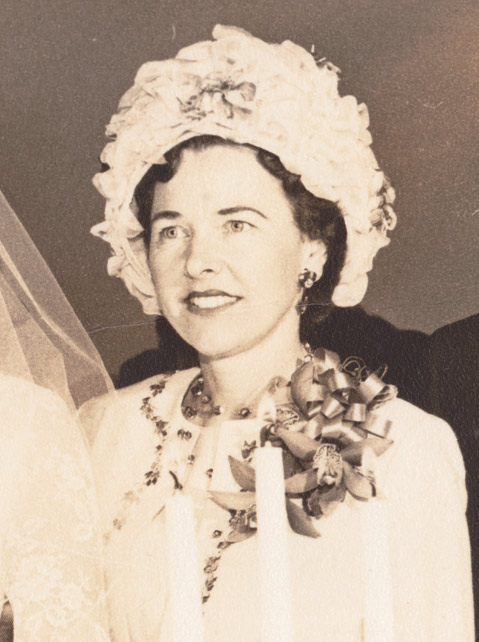 From Burbank, the family moved in 1953 to Santa Barbara to start a new car dealership, Hughes Bros. Pontiac, with Harold's brother and business partner, Leland Hughes, and his wife, Doris. While working hard, turning the dealership into a resilient success, the family also enjoyed having fun with cars, boats, and the great outdoors — hiking, camping, fishing, and swimming.
In his late teens, her son Gary rebuilt a 1927 Model T, painted it pearlescent blue, and dropped in a hot Pontiac engine. He named it "Home Brew" and would sometimes drive Annette in it to various functions. His buddies, seeing them drive past, would later ask him, "Who's the cute girl?" Laughing, Gary replied, "My mother." She remained that "cute," upbeat, bright, and lissome lady all her long life.
In Santa Barbara, the sea also called. Aboard family boats including the Como No? and The Tranquilizer, crewmate Annette pitched in equally with the guys, laying in supplies, cooking, and keeping everything shipshape and battened down. Annette and Harold were well-respected and dedicated members of the Yacht Club. From Santa Barbara Harbor, the family often cruised to anchor offshore at favorite coves for the afternoon, to relax, picnic, and water ski off the big boat using another home-built creation, The Li'l Monster — a 10-foot pram rigged with front-wheel steering, accelerator pedal, and 35-horsepower Mercury engine. On longer holidays, they would tie the Monster aboard the powerboat and cross the channel to moor, live aboard, explore, and ski around the islands. After Harold's death, the Yacht Club voted Annette permanent membership.
Annette was a game, facile, and tireless athlete. As her sons grew into excellent Ping-Pong players, so did she. Ping-Pong was the family sport at home or out and about. The lady played great defense, typically to the woe of any challenger except for her husband and sons. Later on, she moved into tennis, and doubles became a new passion and proficiency.
Yet Annette was excellent and efficient at most everything. Afternoons or evenings she was your compleat, delightful dinner hostess, and afterward a canny bridge player whom you could count on to not miss a trick. And nobody could beat this woman at economics, either. She could make a penny go further than most — and keep the change.
After Harold's tragic death in 1964, Annette, her sons, and their wives continued their passion for boats and water sports. With Backwash, their 16-foot Berkeley Jet boat, they regularly traveled to Nacimiento and other lakes to camp, fish, and ski. Annette happily skied well into her seventies. A dear friend of the family and intrepid sailor/yachtsman in his own right, Clark Smith (d. 2011) became her loyal companion for 28 years, squiring her around town and out on travel adventures.
When grandchildren came along, Annette welcomed, loved, and contributed generously to each one in turn: Jon (1968-1991), Bret, Shawn, Kevin, and Randy.
Annette knew how to live and ever be the luminous center of a close, happy, healthy, and buoyant family constellation. She served as an inspired example to everyone lucky enough to know and be unable to resist loving her.
She will be deeply missed by her surviving sister, Jo Forth; by her two sons and their wives, Bob and Karin Hughes, and Gary and Tammy Hughes; by her surviving grandchildren; by this author — former daughter-in-law and mother of two of her grandchildren — and by the many others who knew her.
Special thanks go to Annette herself for the poem "Afterglow." In 1979, she penned the poem in a handmade card given at the loss of this author's mother. Special appreciations, too, to the Abundant Care facility where she spent her last days and was given simply the best of care. Remembrances can be sent to the P.E.O. Society, the woman's organization Annette remained a devoted member of since 1940, or to the Alzheimer's Association.
Afterglow
I'd like the memory of me
To be a happy one
I'd like to leave an afterglow
Of smiles when day is done.
I'd like to leave an echo
Whispering softly down the ways
Of happy times and laughing times
And bright and sunny days.
I'd like the tears of those who grieve
To dry before the sun
Of happy memories I leave
Behind — when day is done.
—Helen Lowrie Marshall