Vaughn E. Greditzer: 1920-2013
In Memoriam
| Thu Apr 25, 2013 | 12:00am
Some people are born into this world quietly, serenely, and others burst into it with incredible presence. You can see their spark early on and, if you are aware, watch it unfold like a magnificent sunset. Vaughn, my mother, was one of these rare individuals. Her internal sense of purpose led to remarkable accomplishments.
Growing up in an era when there were far more limitations, she was a "free spirit" who tested and often broke those limitations, bound and determined to make her own choices. She was an inspiration to people who needed the courage to step outside the norm and live life with passion.
Originally from Pittsburgh, Pennsylvania, she relocated with her family to St. Louis, Missouri, where she spent much of her youth, then graduated from University of Colorado, Boulder, with a bachelor of arts in English. In 1966, she and her family moved from St. Louis to make Santa Barbara their home. It soon became clear that Santa Barbara was the muse that would feed her creativity.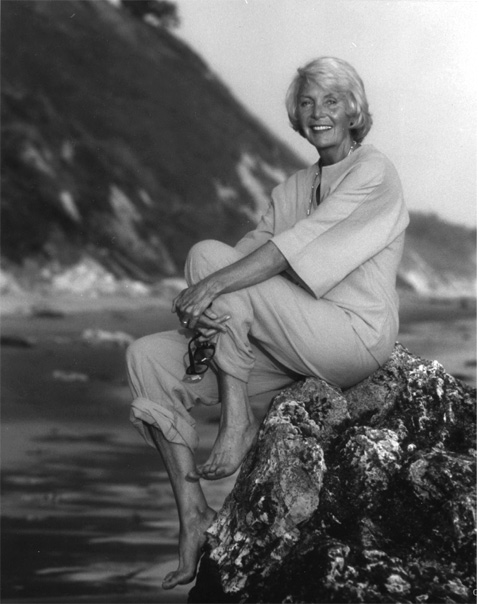 Her painting began with oil on canvas but then evolved into hand-painted silk charmeuse, jerseys, and chiffons. Her paintings were fluid works of art. She would come in from our family's chicken coop, kick off her shoes, and go right to work. Stretched out across an old ping-pong table, held by clothes pins, were swirling, vibrant colors that morphed into something wonderful. In between the hours she spent painting, she was often baking bread or creating some new culinary treat.
In time, Vaughn's designs were discovered and went on to be featured in Women's Wear Daily, N.Y. Fashion Week, the Houston Chronicle, Santa Barbara Magazine, the Santa Barbara News-Press, and The Santa Barbara Independent. She was excited when television shows such as Dinah's Place and The Regis Philbin Show invited her to come on as a guest. Later, she thought it was "fun" to have parts in movies such as The Lampshade Vendor and Sideways.
She was over 50 when her artistic journey began.
After a study-abroad course in France around 1980, Vaughn came home, packed her things, and moved to Paris. Anyone visiting her there always received an incredible welcome, complete with culinary and artistic tours of the city. Within two years, she purchased a house just south of Paris, and she continued living that dream for 15 more years. Coming back to Santa Barbara in time to celebrate her 75th birthday brought more new adventures. Vaughn participated regularly with the Museum of Natural History, Santa Barbara Museum of Art, and Humane Society in a variety of creative fundraising projects. Until the day she passed, her love of entertainment and the creative process meant there was always a steady stream of people at her home. Whether discovering a new talent and helping them network or just spending time with friends, she always found time for everyone.
We'd like to share a few comments from friends and family:
"Heaven can only improve with Vaughn there."
"Vaughn's sense of fun, fashion, design, culinary arts, and generosity of spirit were unmatched."
"You filled our lives with happiness by taking time to share your life's adventures with us."
"She was the first person to encourage me to make art — by making art."
"She believed in everyone trying to fulfill their dreams and making the impossible happen, but at the same time, a very practical person truly knowing what the limitations could be. Despite that, she never stopped trying, creating, imagining, and doing!
"There are so many of us that share in remembering her vitality and exuberance. She was an inspiration to so many of us who marveled at her natural beauty and her so many talents. She had an all-around talent for life!"
"Growing up close to Vaughn, what stands out in my mind is her boundless enthusiasm for life, for new ventures, along with an immense sense of fun and the ridiculous. It was such a joy to be with her. Her sharing of life was the greatest gift anyone could receive."
Each time we see the awe, the mystery, and the beauty that is in nature, we know that you are still with us, Vaughn. We feel God's presence and know you are free, painting the wings of angels in heaven.
The public is invited to join family and friends in a memorial service at Elings Park on May 4, 1:30-4 p.m. Please follow the purple flags. RSVP and leave comments at memorial4vaughn@gmail.com.