Cork Millner: 1931-2013
In Memoriam
| Thu Nov 14, 2013 | 12:00am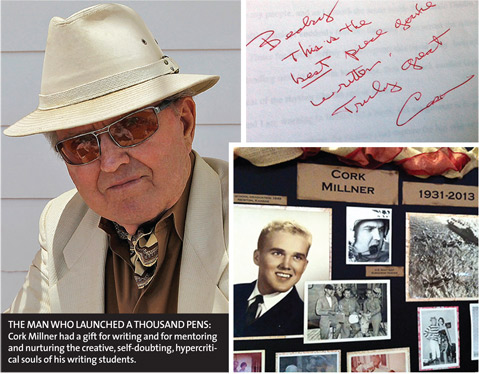 Cork Millner, my writing mentor whom I adored, passed away on August 13. I say "my" writing mentor because I felt a close connection to him, but clearly he was not just mine. His memorial service last month was a testament to that.
Dozens of friends, family members, colleagues, and former writing students all came to pay tribute to him. Cork touched each of us in different ways, but it was clear we shared a gratitude for having had him in our lives.
The day of the service couldn't have been more spectacular. The sun rose with aplomb, casting a blaze of color across Santa Barbara's morning sky, like the richness that Cork's charm and colorful personality had added to our lives.
As we gathered inside the cemetery's intimate chapel, we were wrapped in Cork's favorite Celtic harp music, then reminded by Reverend Miriam Lindbeck, Cork's longtime friend and former writing student, of all the things we loved about him.
Cork was "old-school stoic," strong and private, yet sensitive and open. He loved fine wine, fine cars, and fine writing. He was appreciative of humor — especially his own, which was wry and occasionally acerbic. He was dapper, confident, hardworking, and fiercely proud of his family and his military service, which included 850 aircraft-carrier landings.
And then, of course, there was his name. Cork came from humble beginnings in Kansas. He was born Clayton Linville Millner, but when he was a young boy his father dubbed him a "real corker." The name stuck, and the rest is history … with a few twists and turns along the way. After attending Kansas State University he joined the Naval Air Cadet program, where he worked his way up to lieutenant commander. For 22 years he was known as "Corky," a Navy pilot with some of the steadiest hands around. When he later launched his writing career and became a wine aficionado, he simply went by Cork, the perfect name for a self-proclaimed wine snob. Then, after receiving his master's degree in dramatic arts from UCSB, he began teaching and writing.
Like many, I feel a tremendous loss with Cork's passing, but I'm filled with gratitude, too. Because of Cork Millner, I am a professional writer and an author. Cork believed in me and championed my work, even when I doubted it myself. If it hadn't been for Cork's red pen filled with love, support, and generosity, I'd still be dreaming about being a writer instead of actually becoming one.
Feeling nostalgic, I pored through piles of manuscripts Cork had edited for me, smiling at the comments he had scrawled in the margins with his red pen. Sometimes it was just a word or two like "clever lead" or "powerful imagery." Sometimes it was a full page. One of his most meaningful comments, written when I was just starting out, simply said, "You write in pictures." It forever changed the way I thought about my writing.
I am certain that the hundreds, if not thousands, of writers who took Cork's classes or workshops at Santa Barbara City College or the Santa Barbara Writers Conference during his more than 30 years of teaching were inspired by Cork and the encouragement he wrote in red in the margins of their manuscripts.
After the throat-catching "Taps" during his Military Honors and the presentation of the flag to his family, as a final homage, I placed a red pen in his memorial plot in the Sunrise Urn Garden. My note to him simply said, "Cork, The love and generosity that filled your red pen will never be forgotten."
Two fellow writers, Kaye Walters and Nancy MacMillan, similarly moved, added small cards with covers of their recently published books, thanking him for his support. Afterward, a group of us hugged, cried, laughed, took pictures, then joined his family for a wake at his beloved polo fields in Carpinteria, where we all popped the cork for Cork.
Here's to you, Cork Millner, for making a profound difference in all of our lives.