Ted Townsend: 1967-2014
In Memoriam
| Thu Feb 27, 2014 | 12:00am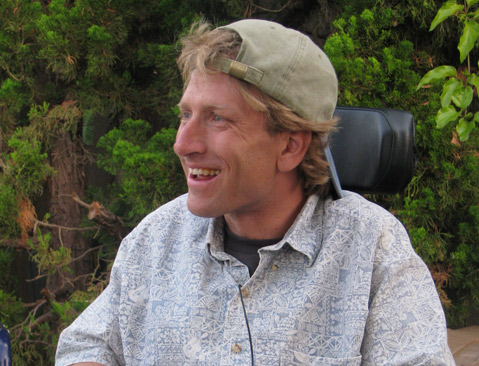 He was my student — or was it the other way around?
Ted Townsend passed away on February 1, 2014, at age 46. Quite honestly, over my 40-year teaching career at Santa Barbara City College, I don't think I ever met a more fascinating, inquiring, engaging, or caring human being. He had a sense of humor that wouldn't quit. He loved everybody, and to know him was to be enveloped by him.
And — he was a captive of his wheelchair, in which he had spent most of his adult life.
One can't help but admire the spirit needed to make the long trek across campus in a wheelchair to attend class. That initial encounter — a first meeting — could be a bit awkward, but Ted had a way of putting you at ease. In nonverbal ways, he would convey his comfort level about who he was and how he might appear to the world. His broad smile would tell you that he was at peace with himself and was fully prepared to live in the moment.
In the spring of 1992, Ted came to my office to inquire about participating in our Study Abroad program in China. I couldn't bring myself to tell him outright that China was not particularly user-friendly to people in wheelchairs, that it would be very hard for him. Instead, I invited him to lunch, thinking that I could let him down more easily if I could explain more broadly why I thought it was a bad idea. I was clear, caring, and rational in presenting my arguments. I fully expected him to be a little disappointed, but I was confident that he would understand.
By the end of lunch, Ted had persuaded me not only that I was probably wrong but that it would be a great idea to take him to China and to Shandong University!
We left for Shanghai that fall. Ted had made friends with everyone. There were times when their pace of life and travel was clearly faster than Ted could manage, and I could see a bit of sadness on his face as others would charge ahead, perhaps with a "See you later!" and a wave. But not for long. Disappointment was quickly replaced with a next event, a next challenge.
Ted had special needs for assistance, and most everyone pitched in. We never discussed it; the impulse became second nature. His needs were obvious, and a volunteer was never far away. The act of helping was never a focus of attention; it was a natural outcome of an observed need, and in so many ways, this understanding transformed our group.
One day, Ted lost control of his wheelchair and flipped off the sidewalk with both feet caught in the spokes of his chair. When another student and I saw this horrific crash, we rushed to help. By the time we reached him, he was laughing … and complaining that he simply hadn't used enough duct tape to secure his feet.
Poking fun at himself and his condition was generally his first response. He never complained. Never!
When it became time to visit the Great Wall of China, it would have been unthinkable to leave Ted behind. Of course he would go. We were 40 students and two professors, and no one would have argued for leaving him behind, despite the fact that it is a fairly long hike uphill to reach the wall. My colleague Dennis Ringer and I took turns carrying him; others pitched in, as well.
No one took notice. It was just what people who care do for one another.
My impressions of Ted from that experience in China have been reinforced by conversations with his parents and with friends. He was in pain for most of his life but always ready for a new challenge. He was fearless. I discovered this when he insisted on being allowed to visit our host city of Jinan, China, which at that time had a population of around 3 million.
He wanted to do this by himself! "Wouldn't you like to go with someone else?" I asked. "No" was his answer; he just didn't want to slow anyone else down.
Reluctantly, I let him go. He promised to be back at the university by 5 p.m. He finally showed up at 8 and regaled a small group of us with tales of his grand adventure! In the process, he had seen more of Jinan than I had after six previous visits. How had he managed? I think it was his winning smile and his engaging personality. It certainly wasn't his mastery of the Chinese language — but he spoke "Friendship" really well.
Ted seemed to know that his physical condition would eventually claim his life, and he was determined to experience as much as possible in whatever amount of time he was given. Where others saw limits, he saw opportunities. He had no time for self-pity. So long as there was another mountain to climb, a rock formation to explore, birds to watch, different cultures to embrace, or distant lands to visit, he would be first in line.
He wanted to see the rain forest, so his mom took him to Costa Rica. He participated in several other Study Abroad programs, including trips to New Zealand and Europe. He became a computer whiz and would volunteer to help others fix whatever was broken. He would spend hours traveling across town if he felt someone had a computer problem he could fix.
It would not be honest to claim that Ted was always on top of the world. His unique spirit was held captive by a malfunctioning body. Of course, he would be angry about the hand nature had dealt, but he didn't linger there for long. To my mind, the miracle is that this understandable anger did not manifest itself as the defining pattern of his being. As far as I can tell, it never did.
Ted loved being alive. He loved his family and friends. Music was a major part of his life, especially punk rock. He loved being with people and had the courage to try absolutely anything — even bungee jumping. In the end, he showed us all how to live in the moment and how to squeeze every ounce of joy out of being alive.
Ted is survived by his parents, Caroline and Tony Townsend, and by his sister, Dorinda, and niece, Najarra. A Celebration of Life is planned for Saturday, March 1, on the West Campus of Santa Barbara City College at 1:30 p.m. In lieu of flowers, notes for the family and memorial contributions may be sent to the Ted Townsend Memorial Fund, 3224 Serena Avenue, Carpinteria, CA 93013.