Ronald J. Faoro, DVM: 1954-2015
In Memoriam
| Thu Apr 09, 2015 | 12:00am
When people die, it is as if a small pebble has been tossed into a pool of water and a few ripples radiate from the point of impact. When others leave us, it is as if a rock lands in the water and sends waves with effects that are far-reaching. The passing of Dr. Ron J. Faoro was like a boulder hitting the ocean and creating a tsunami.
Dr. Faoro made his way to Santa Barbara in 1981, shortly after he received his Doctorate of Veterinary Medicine from Washington State University, and he immediately fell in love with the community. He quickly found his forever home at St. Francis Pet Clinic. Many of his first clients remain to this day.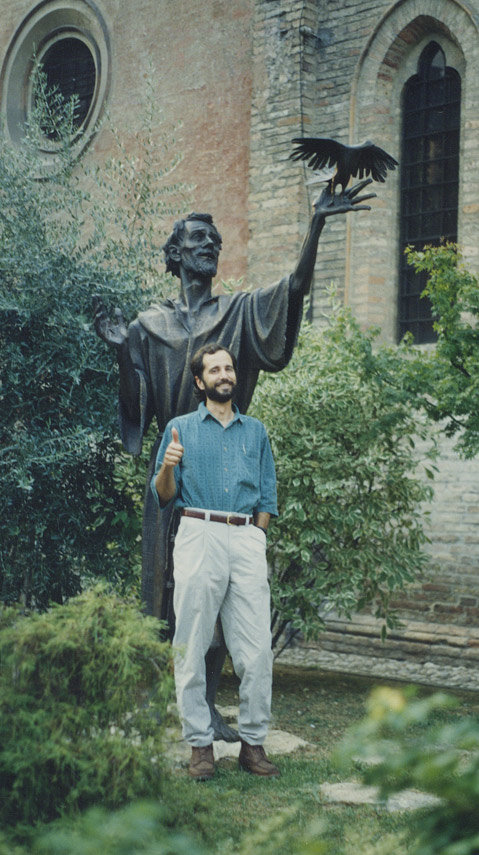 As a veterinarian, Ron had an intelligence, charisma, and passion that were unparalleled. The minute he stepped foot in the hospital, his energy was everywhere. He was inspired by medicine and surgery and was constantly excited by challenging cases, imparting to everyone who worked with him how privileged they were to be a part of such an amazing profession. He could go into any exam room and come out with an amazing story and a new friend. Each day was different, sometimes having to say good-bye to an old friend, other times getting kisses with puppy breath still lingering. Dr. Faoro loved them all. He heroically saved both the pets at his clinic as well as the ones awaiting adoption at shelters throughout Santa Barbara County. For this reason, he was honored as a Local Hero in The Santa Barbara Independent and was considered the "Saint" of St. Francis Pet Clinic.
Ron's dedication to rescue organizations impacted the lives of thousands if not tens of thousands of homeless animals. He whole-heartedly opened his doors to many rescue groups in Santa Barbara. His willingness to help made it easy for us to provide medical care for many animals that would have otherwise suffered or been forgotten. He realized the importance of the human-animal bond. He worked tirelessly to educate the community about the importance of spaying and neutering, and he spent months negotiating the spay/neuter ordinance for Santa Barbara. He took a team to Santa Maria on multiple occasions, and he once spent dozens of hours altering almost 100 homeless cats.
Ron was truly a follower of Saint Francis of Assisi.
Dr. Faoro's interest in organized medicine developed out of a curiosity for politics 21 years ago. His experiences with the California Veterinary Medical Association (CVMA) gave him insight into the important role organized veterinary medicine played in the life of every veterinarian in the state. Dr. Faoro was elected CVMA president (2006-2007) and served on its Board of Governors and in its House of Delegates; he was a member of other CVMA and AVMA leadership and advisory committees. He also served as president of the California Veterinary Medical Foundation (2011-2013).
Trusting that he was in the best profession, Dr. Faoro was a strong believer in mentoring, and he encouraged 12 of his former employees to become veterinarians. He believed in recognizing the potential in qualified students and often presented them with education and opportunities. Frequently, he participated in area elementary, middle school, and high school career days and also as a guest speaker at Antioch University.
Ron lived a life filled with adventure and intellectual curiosity; he had a fierce pride of[TK in] his Italian heritage and a deep love for the great outdoors. His passion for paragliding had him soaring with condors and eagles while exploring our backcountry. Pine Mountain north of Ojai was his favorite launch, but he came to know well the scenic ridge of Santa Barbara. A personal goal, not yet mastered, was a 100-mile flight from Pine Mountain. We like to think that goal has now been achieved.
Recently, Ron had begun to pursue one of his boyhood dreams: hiking the Pacific Crest Trail (PCT). He completed the first segment from the border of Mexico to Kennedy Meadows. His plan was to continue the PCT this summer, with his daughter Sierra, hiking the entire state of Oregon, ending at the Bridge of the Gods on the border of Washington.
He will be missed by the community that loved him and by the people whose lives he changed. His legacy will be carried out by the family he left behind and by the countless veterinarians he inspired who share his love for life and passion for what they do. As Shirley Jansen of DAWG (Dog Adoption & Welfare Group) said, "As for me, I am going to remember him marching in the Big Dog Parade wearing the brown robe with the rattling rosary beads of that other Italian saint who loved animals so much."
Jeffyne Telson of ResQcats said, "There is a belief among many people that our animals wait for us to join them after they pass on the Rainbow Bridge. I can only imagine that all the animals stopped and bowed when Ron arrived. It will take many of us working together to achieve what this one special man accomplished."
This remembrance in honor of Ron Faoro, DVM, was written by his family at St. Francis Pet Clinic.