Clare Conk: 1922-2015
In Memoriam
| Wed May 06, 2015 | 6:00am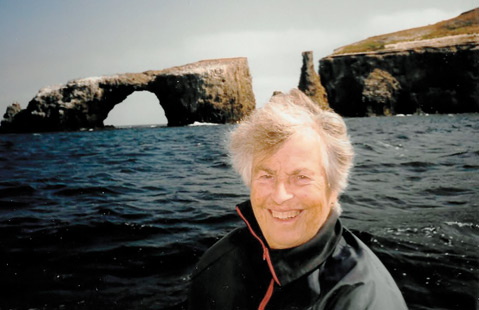 Clare Conk was gifted with a brilliant mind, which she applied in her professional and personal life to seek justice for the benefit of the communities in which she lived and particularly for those who were disadvantaged. Education and learning were lifelong pursuits.
Upon graduating magna cum laude with a BA degree from St. Joseph's College in Brooklyn, New York, Clare enlisted in the navy in 1943 in the midst of World War II. She graduated first in her class from Midshipmen's School at Smith College and Communications School at Mt. Holyoke. She was assigned as a Communications Officer at Norfolk Naval Base until her honorable discharge in April 1945, three months after marrying George Conk, who would be her husband for 70 years.
As a young mother, she took a great interest in the schools her children would be attending. She took particular pride in the successful campaign for a new school board slate: Auerbach, Kababian, and Thibodeau. It was 1954, the early years of Middle East conflict after the creation of the Israeli state. Clare was proud that they had found a solution in Levittown by electing an Arab, a Christian, and a Jew to the school board.
In 1955, shortly after the birth of her fifth child, Clare received her master's degree in education. Once all of her children were in school, she began a 15-year career as a high school English teacher. For decades afterward, her former students would tell her she was the best teacher they ever had.
In 1973, Clare and George moved the family from Connecticut to Santa Barbara, where she began volunteering at Santa Barbara's Legal Defense Center, which provided legal counsel for low-income clients. Clare took to the law — researching legal issues and advocating for people who were being treated unjustly. In 1977, Clare was a law clerk, assisting the center's director, Willard Hastings. Without benefit of a law degree, she prepared the brief and made the oral argument for a case argued before a state Court of Appeal.
Clare represented Cathy Gunn, who challenged the California unemployment insurance regulation that she disclose her pregnancy and submit medical proof of how long she would remain available to work as a condition of eligibility for unemployment benefits. Gunn refused, citing her privacy rights. Men had to make no such showing. While still an aspiring lawyer, Clare briefed the case all the way up to the 2nd District Court of Appeal. The court unanimously upheld Gunn's challenge, saying, "Constitutionally the department could require from or through her initially no more than her doctor's certificate of good health" without compelling her to disclose her pregnancy. The court thus established California women's rights to unemployment insurance during pregnancy. The court awarded counsel fees to the Legal Defense Center, describing it as a "private attorney general." Because she was not yet a lawyer, Clare was not named as legal counsel in the court documents, although Supreme Court Chief Justice Rose Bird would later advocate she be recognized as "in counsel."
Motivated by her legal success and disappointed at not being recognized as legal counsel for her role in the Gunn decision, Clare decided to become an attorney. She went to Ventura Law School for one semester, dropped out, and studied on her own. She maintained contact with the members of her study group but read and studied on her own. In 1981, at the age of 59, she took and passed the California bar exam, on her first attempt, becoming the first person in 15 years to pass the bar without going to law school. It would be almost 20 years before it was accomplished again.
Clare and her law partner Richard Frishman were part of the legal defense team for the Abalone Alliance when protestors blockaded Diablo Canyon nuclear power plant for nearly two weeks in 1981. More than 1,900 were arrested, and 500 pleaded not guilty. Clare made a defense argument on their behalf on grounds of "justification by necessity."
Once she had her license to practice law, Clare was asked to serve on two boards of directors: Santa Barbara Community Housing Corporation (SBCHC), which develops and owns affordable housing for low-income residents, and California Rural Legal Assistance (CRLA), which represents farmworkers in employment disputes and advocates for fair housing for low-income individuals in California's rural communities.
In 2010, SBCHC honored Clare's 25 years of service to the organization by rededicating its senior housing community on Castillo Street as Clare Conk Castillo Homes. Following her death, CRLA's executive director, José Padilla, recognizing her 25 years of service to that organization, said, "She embodied the heart of CRLA with her unwavering spirit of social justice service, in her case, as a representative of the Legal Defense Center and the Santa Barbara Community Housing Corporation. Clare had the heart of a teacher and activist and on the Board always acted as a clear voice for 'the most exploited communities of our society,' as the CRLA Mission demands."