Dr. Marianna Masin: 1918-2015
In Memoriam
| Thu Mar 03, 2016 | 12:00am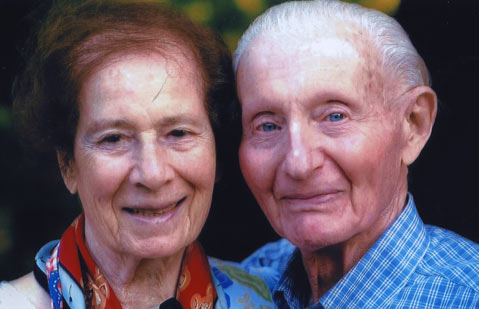 Dr. Marianna Masin and her late husband, Francis, emigrated from Czechoslovakia after World War II, when they were liberated from Poland's Majdanek prison camp. Both went in as young medics: Marianna, the Jewish granddaughter of the physician to King Frederick of Prussia, and Francis, a Catholic who stayed with his bride through all the horrors of captivity. At one point, they stood in line for the gas chambers; the only thing that spared them from such a fate was that they were medics.
Somehow, while they were undergoing the worst that life can give, they heard about an East Indian philosophy. The concept of a godhead distinct from intolerable suffering appealed to them in those days saturated in tragedy. After their liberation, they resolved to come to the United States and start a new life, hopefully in the monastic community of the Vedanta Society of Southern California. I was only 13 when I first met them: she, very dark with deep brown eyes, and he, as blond and blue-eyed as a Northern European can be. They carried a profound sadness, but more than that a strength tangible, powerful, fascinating. The image burns brightly 62 years later.
But they were turned down as monastic postulants. Why? They were two incredible young people with every qualification imaginable — one could see their integrity, their intense devotion, their total nobility of character. Years later it became evident. As prominent physicians in Santa Barbara, they not only served their community day and night but also contributing vitally to advancements in medical research.
Their journey upward was arduous. They traveled first from Eastern Europe to South America, which had more liberal refugee entry rules than the U.S. at the end of World War II. In Caracas, Venezuela, where they both had to "convert" to Catholicism though Francis had been baptized long before, they undertook the training they needed for entry into the U.S. medical field. At long last, by 1962, they found their place in Santa Barbara at the Sansum Medical Research Foundation. Dr. William Sansum wanted to expand his search for the cause and cure of diabetes, Walker Tompkins's Continuing Quest relates, to cancer and other chronic diseases. For that, he brought the Masins to his research center from the Hospital of the Good Samaritan in Los Angeles.
They had an established reputation worldwide by that time for their research, in collaboration with Dr. J.W. Frost of Johns Hopkins University, into acridine orange as a fluorescent dye to detect cancer cells. In those days, their small lab on Junipero Street did most of the cancer screening for the city. Many nights, a call would come to their tiny home on Mountain Drive: "Please look at this slide. We need to know if it is cancer."
The Masins concentrated on the early detection of cancers of the cervix and bladder, with the identification of cancer precursor cells among their pioneering work. Even more important was developing an automated preparation and analysis technique that made cancer detection simpler and faster. Of Marianna, one very respected doctor in our town, Dr. George Ulrich, said, "She is our most brilliant physician; there is no one like her."
Profound humility was embedded in their character, and their closest friends never heard a word of their long list of achievements.
Tapasi, as Marianna was named in Sanskrit, means "one who is devoted to austerity." And she was. She and Francis lived for others. Always, their time, their money, their attention was on others. We may never know if the terrible war carved out their personalities or if they were born selfless and giving. It must be said that Marianna fulfilled the wishes of her teacher, Prabhavananda ,who inscribed in her diary in 1971: "For Tapasi, on her sweet sixteenth birthday (age is a mental state) … that she may be shatayu, that is, she may live for one hundred years for the good of mankind, physically, mentally, and spiritually."
And if there was ever a perfect love, an ideal marriage, in this world, Marianna and Francis had it in spades. Their tiny house was a home of joy — music flowed, dancing, and unbelievable meals. She could cook for 12 the best dinners; he would put on his collection of Hungarian gypsy music and dance around the room, heels clicking, arms waving in all the wonderful moves of the Central European menfolk. It was merriment rarely seen on this continent — the gusto, the energy of the Russian Cossacks. Marianna would finally say, "Now that's enough, Francis; they want to eat!" And the guests would clap, encouraging him on. This was the Masins, doctors of extreme intelligence and capacities, serious and aware of the worst in life and still able to enjoy it to the hilt, spreading their love and joyous spirits to one and all.
A memorial will be held at the Vedanta Temple on Saturday, March 5, at 4 p.m.