Dan Secord: 1936–2016
In Memoriam
| Thu Nov 10, 2016 | 12:00am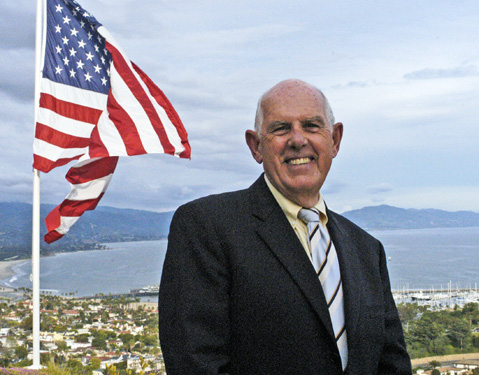 My father, Dr. Dan Secord, had many qualities: dynamic, passionate, brilliant and opinionated but empathetic. He was a connector of people. He loved helping others and being asked to solve problems. His personality was so unique — not just how clever and bright he was intellectually, but also his tone and style. He was decisive, sincere, with a dark wit and gracious generosity of spirit. He made me proud to be his daughter.
My dad had an air about him: a confidence, a bit of swagger that comes with being self-possessed and multi-talented. He courageously forged a path for himself and for the people whose lives he touched, delighting in conversation about his passions: medicine, bicycles, politics, motorcycles, cooking, sailing, flying, coffee, golden retrievers, and people. He loved engaging with the social aspects of all of those passions and especially enjoyed being a part of the communities that sprang from each. These groups are where he built such a strong family of friends.
Dan was born in a Salvation Army orphanage in 1936, in Kansas City, MO. His birth mother, Shirley Carter, was unwed, and his biological father, Orville Peatmeyer, was a married man, who may never have known he existed. He was adopted after nine months in the orphanage by Earl Secord, a Methodist minister, and his wife, Abbey Secord. Growing up, he felt out of place, misunderstood, and struggled in school. He was a self-described "juvenile delinquent" who ran away from home at the age of 15.
When Dan entered the U.S. Army Medical Corps in 1955, he said it was there that with structure and guidance he first learned he was smart and "learned to love learning." He loved it so much he decided he never wanted to stop, and he nurtured a lifelong passion to remain curious and truly investigate things he cared about.
My father loved Santa Barbara with all his heart. Every time we would travel the world, of practically any place we went, he would say, "This is nice, but it's not Santa Barbara. I'm ready to go home." He was a loyal homebody, so much so that he ran for City Council when he retired, becoming known as a factual and practical councilor. He also served his city as a planning commissioner and harbor commissioner, ran twice for county supervisor, and was appointed to the California Coastal Commission.
He also loved his routines: lunch at the Yacht Club, Saturday morning group bicycle meet-ups, and staying physically active. There was always action to take — go running, ride a bike, sail a boat, fly a plane. So much activity. He didn't like to sit still unless he was reading, which he did quite often.
My father liked to fondly declare, "Jennifer, you and I share a brain," and we often did. He was sometimes hard to crack since he still felt like a misunderstood outsider, longing to be known and accepted, as I often have. It can be hard to convey to others your true self, and it is a comfort when you have someone whom you know really sees and understands you in this world.
Dan self-diagnosed his bladder cancer in March of this year. And even though he had successful bladder removal surgery as part of his treatment, his body simply couldn't recover from this very invasive procedure. The many complications made his last few weeks a big challenge, and in the end, this man who always gave 110 percent, knew when to call it.
He was so relieved to be home. I think he began the process of letting go once he knew he was back in his favorite city and his familiar hospital, a place where he practiced as an obstetrics and gynecology doctor for so many years and delivered thousands of babies. His colleagues and friends visited frequently, but he responded less and less each day, until his last.
In the hours before his death, I sat with him and talked about what a wonderful day he'd just had, surrounded by so many loving visitors: a harpist, a ukulele player, a soloist singing "Amazing Grace," and finally the Santa Barbara Choral Society, who came to sing three beautiful songs for him as the sun set. I know he felt everyone there, I know he heard the music and the words of love around him, and I think they allowed him to let go.
Our family is grateful for his friends and their support during Dad's many years in this wonderful community. He is survived by his devoted wife of 47 years, Mary Secord, and his children Cindy Tomkinson, Richard Secord, Stephanie Curtis, Lara Mislang, Jennifer Secord, and 10 grandchildren: Mark, Adrianne, Courtney, Travis, Shane, Miles, Danika, Devo, Twyla, and Tate.
A memorial service will be held at 12:30 p.m. on November 12, at First Presbyterian Church at 21 East Constance Avenue. A reception, with an open mike for "telling Dr. Dan stories" will immediately follow at the Santa Barbara Yacht Club. Please join us in celebrating his life. Donations in his name can be made to the Santa Barbara Choral Society, Santa Barbara Middle School, or Cancer Center of Santa Barbara.