Harris Seed: 1927-2017
In Memoriam
| Wed Aug 02, 2017 | 12:00am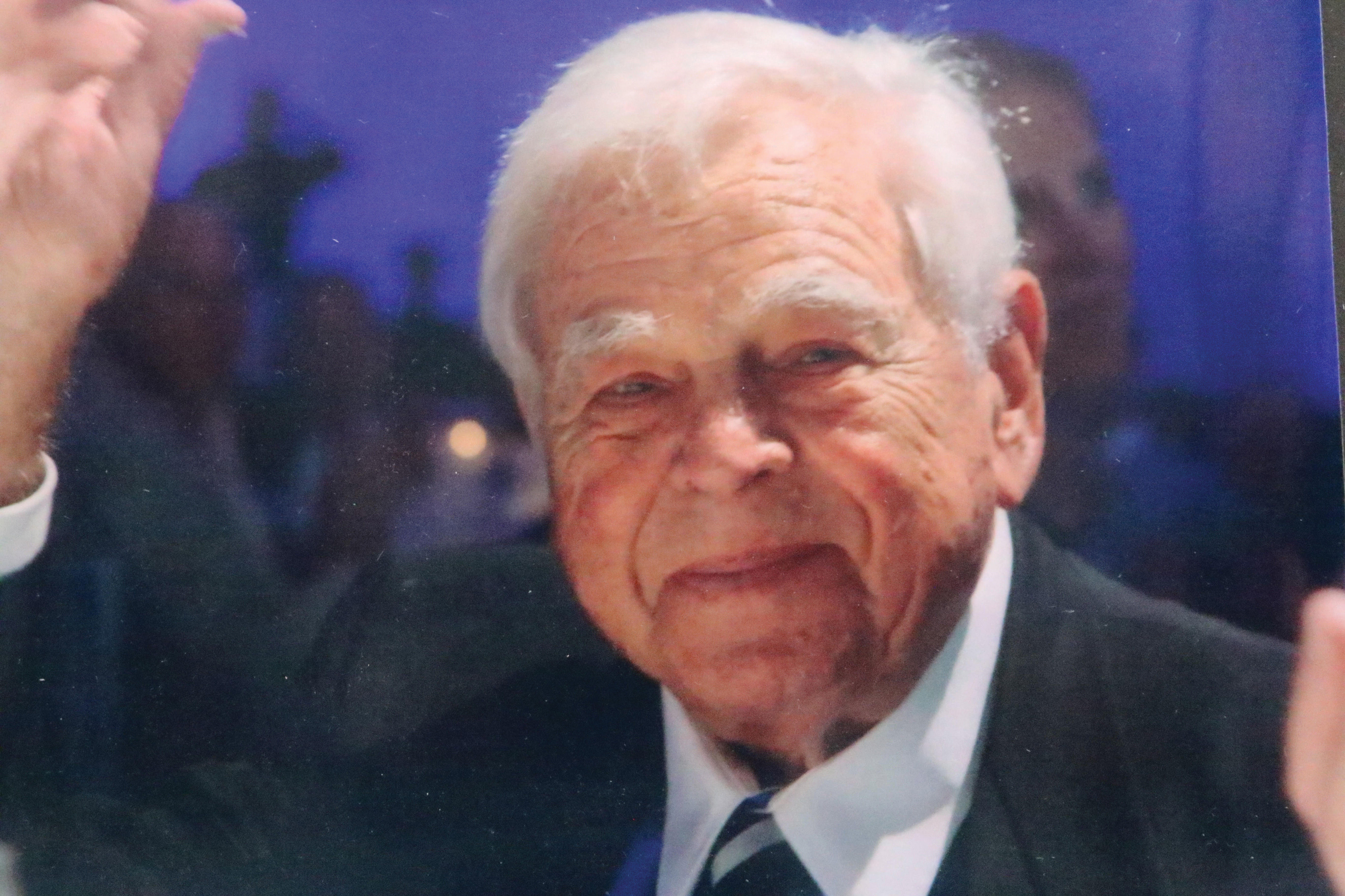 For the past six decades, Harris Seed's intellect, drive, and persona, along with an extraordinarily wide range of interests, made him a force in many aspects of Santa Barbara life. Throughout his many-faceted career, Harris supported and encouraged generations of students, leaders of nonprofits, young lawyers, and corporate entrepreneurs to participate widely in the life of Santa Barbara or the communities where they lived.
He died peacefully at his home in Hope Ranch at age 89 on July 12, surrounded by close family, including his beloved wife, Annie.
A Santa Barbara Childhood
Harris Waller Seed II was born September 15, 1927, in La Ceiba, British Honduras. His father and mother moved to Santa Barbara in 1930, which was his home for the rest of his life. His childhood through age 21 was a constant struggle, including the Great Depression, the early death of his father, the need to provide for his mother, World War II, and U.S. Army service.
Nonetheless, his devoted mother gave young Harris, her only child, the love and strength to be successful in the face of these national and personal challenges. His later life was informed and defined by the adversities of his childhood, most of which affected every American.
Harris attended Roosevelt Elementary, Santa Barbara Junior High, and Santa Barbara High School, from which he graduated in 1944. He participated fully in life in Santa Barbara during the Depression and World War II, watching during Fiesta Week as horsemen with torches on palominos rode onto the stage at the Santa Barbara Bowl, then known to everyone as the County Bowl. Beginning at age 7, he walked to nearby Peabody Stadium to see almost every Dons football game, coached at the time by the famous Clarence Schutte.
Harris attended college (and played basketball) at what is now UC Santa Barbara, when it was located at the much smaller campus quadrangle in town on the Riviera. (For many decades thereafter, he held season tickets for Gaucho basketball games.)
After service in the army, Harris decided to become a lawyer. He enrolled at UC Berkeley's Boalt Hall School of Law, where he excelled. He was an editor of the Law Review and earned a spot in Order of the Coif, the honors society for top law students. He graduated third in his law-school class.
After receiving his law degree, Harris returned to Santa Barbara to pursue what would gradually become a complex career blending law, business, and charitable work. Reflecting many years later, he always said that his charitable work gave him the most satisfaction.
Nonprofit Advocate and Volunteer
As president of the Alice Tweed Tuohy Foundation, Harris funded need-based scholarships as well as merit-based scholarships for top Santa Barbara students. With close advisor Eleanor Van Cott at his side for virtually his entire adult life, Harris was an early advocate and steadfast supporter for nonprofits such as the Scholarship Foundation of Santa Barbara, Girls Inc., the Rehabilitation Institute, and many others.
In addition to his leadership of the Tuohy Foundation, he volunteered extensive time for many nonprofit organizations, as president or chair of SEE (Surgical Eye Expeditions) International and the national Junior State of America foundation; and as a director or trustee of Claremont McKenna College, Goleta Valley Community Hospital, the Foundation Roundtable, and the Santa Barbara County Board of Education.
Harris, along with two others, was a founder of the Legal Aid Foundation of Santa Barbara, established to defend the rights of vulnerable citizens.
Through his leadership of the Tuohy Foundation, and his own donations, he established Claremont McKenna's Chair in Ethics in Business and Government, believed to be the first endowed chair of its kind in America, anticipating the need to counter Enron-style debacles on Wall Street. He and his wife, Ann, also endowed a Claremont McKenna scholarship fund in their name.
Law and Business Career
During his five decades as a leading transaction and tax lawyer, Harris and his partners, along with Eleanor Van Cott and confidant Evelyn Sullivan, built two top firms: Schramm, Raddue & Seed, and Seed, Mackall & Cole, later called Seed, Mackall LLP. As the American economy grew rapidly in the 1950s, Harris was an early pioneer among Santa Barbara attorneys in corporate work, including mergers and acquisitions with related corporate tax planning.
At the same time, his many business clients were often interested in having him play one or more leadership roles for their companies. Over the years, he served as vice chair and acting chair of Goleta's Flow General, Inc., a New York Stock Exchange–listed company; president of its Italian biomedical subsidiary; co-managing director of another subsidiary based in Finland; and chair of East Lawn, Inc. in Sacramento and Bonney-Watson Co. in Seattle. For both of these last two companies, he led important and successful acquisitions.
Stories about Harris's forceful negotiating style and business acumen are legion. He was proud to have started his work career at age 12, during the Depression, assisting his father daily at a used-car lot. While in college in the 1940s, after his father died, he owned and operated a car paint shop on Haley Street, through which he supported his mother and himself. (An only child, he continued to support his mother, who never remarried, until her death at age 91.)
In substantial ways, his later career was shaped by this early success in business. Years later, in the 1980s, he would become an entrepreneur once again, as founding chair of La Cumbre Savings Bank. And he retained a lifelong love of sharply painted and immaculate automobiles, including a fabled Citroen-Maserati.
Family Life
With Ann, Harris was equally active in his free time. They traveled throughout the world (often with free tickets from Mileage Plus) and maintained a second home for themselves and their families on the Big Island of Hawai'i.
Ann and Harris were avid golfers, in Santa Barbara, Hawai'i, Scotland, and Australia, and enthusiastic sports fans, which included annual trips to the Rose Bowl in honor of his father. (In 1938, when Harris was 11, his father took him to the Rose Bowl to see Alabama play Cal. They cheered unsuccessfully for Alabama, his father's alma mater.)
After service in the army, in 1950 Harris had married Nancy Seed, the mother of his two surviving children, Nan Verkaik and Harris III. A daughter, Marcia, died in 1971, at age 17, following a lengthy illness.
Harris and Ann enjoyed following the accomplishments of Harris III, a pastor at New Song Community Church in Oceanside, and Nan, a local youth coach and former athletic director of Santa Barbara High School. Harris and Ann were close to Ann's two children, Jimmy Gaskin, a Santa Barbara–based pool contractor, and Marcy Ide, now retired in Santa Cruz. There were lots of grandchildren and great-grandchildren.
Harris is survived by Ann; Harris III; Nan; Harris III's wife, Lori; Nan's husband, Wim; Marcelene Ide; her husband, Thomas; and James Gaskin and his wife, Christine; grandchildren Bryan Harris Seed (Alyssa), Amy Bayer (Scott), Josiah Verkaik (Monica), and Michael Ide; and great-grandchildren Adam Harris Seed, Kadyn Seed, Luke Bayer, Arwen Bayer, Luke Verkaik, and Stephanie Verkaik.
Family, friends, law colleagues, and nonprofit executives and volunteers gathered on July 20 at La Cumbre Country Club to remember Harris. Pastor Harris, along with others, talked about how his father had accepted Christ into his life. Stories flowed about a remarkable man and his lasting impact.