Music
Review | The Chemical Brothers at the Santa Barbara Bowl
A Bucket-List-Worthy Performance to Kick Off the 2023 Bowl Season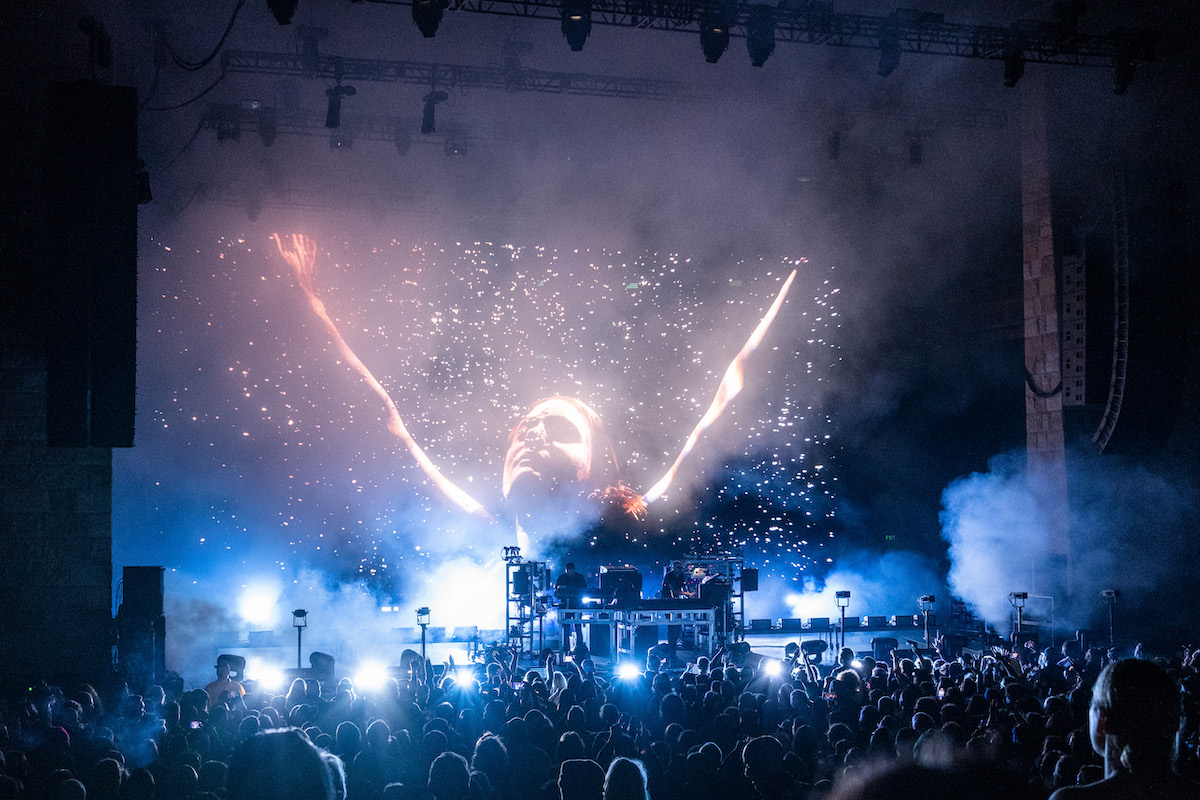 Electronic duo The Chemical Brothers could convert a trappist monk into a techno fan. Tom Rowlands and Ed Simon, the English pioneers of big beat electronic music, have nearly 35 years of experience in sampling and synthesizing sounds into melodic, funky, psychedelic experiences.
Seeing them live is bucket-list-worthy. In fact, "See The Chemical Brothers live" and "Take LSD" could be interchangeable on a bucket list. Effects of both include intensified emotions and hallucinatory sensations.  
The audience at the Santa Barbara Bowl on Sunday, April 16, were likely feeling those effects, whether it was one or the other or a combination of both.
The duo's marriage of breakbeats and samples create a spectrum of sound that, when synced with their inventive visuals, take the listener on a looping, neon rollercoaster ride — goosebumps included.
For "Eve of Destruction," from their 2019 album No Geography, the accompanying music video told the 3-D story of a Japanese superhero defeating strange enemies in a nostalgic, '90s cartoon fashion. The track itself is reminiscent of the '90s house/techno scene, and includes the vocal musings of Norwegian singer-songwriter Aurora Aksnes who takes on the space age persona of "Eve of Destruction" in the video.
The song begins aggressively, sounding robotic and discordant. But it flows, with the help of fast-paced techno piano riffs and well-placed cowbell, into an optimistic and upbeat tune about finding friends to enjoy "an eve of destruction."
With almost every beat, the video's protagonist landed a punch, a ray gun was fired, or a new enemy made their dramatic appearance. Sparks flew, and lasers shot through the stage's screen toward the audience in an immersive display of special effects.
Each and every song is a unique experience that melts into the next. Five minutes of euphoric, jazzy, disco-finger dancing bleeds into five minutes of foreboding, creepy — and yet, somehow groovy — existential dread.
But no matter what the listener is feeling, they'll either be fist-pumping or head-bobbing along to the beat, if they haven't already broken out in uninhibited dance. It's just a natural symptom of The Chemical Brothers's synthetic sounds, and Santa Barbara, it seemed, was not immune to the bite.