2nd Annual S.B. High School All Dons Reunion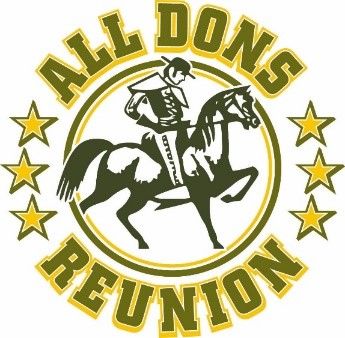 S.B. High School
**Events may have been canceled or postponed. Please contact the venue to confirm the event.
Date & Time
Sat, Oct 01 11:00 AM - 4:00 PM
The Second Ever All Dons Reunion is coming up on Saturday, October 1 from 11a – 4pm at Santa Barbara High School.
We have a lot of fun activities planned for the day, including a silent auction, including items from the Dons Athletic Office, a painting from alumni Jeremy Harper, signed book by alumni Jeff Shelton, and the favorite SBHS quilt and lots more.
There will be an unveiling of the new "Bossie the Cow" at 1pm…….now, you can't miss that! (PS, a big thank you to all who donated for her re-do)
Other activities include a children's corner, school tours, and entertainment by the SBHS Band, Cheer Squad and Dance Team, as well as DJ Skip Stecker spinning the tunes!
You'll run into classmates, and others you had no idea went to the The High School
Tickets are $20 for adults, $5 children 5-12yrs.  You can purchase them at:
Either way, We hope you can make this event!  See you then, and "meet me at the flagpole"
Once a Don, Always a Don!