30th Annual Living Nativity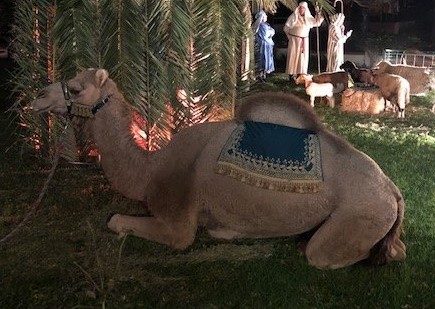 'Tis the Season
Best Bet
Children & Family
First United Methodist Church
**Events may have been canceled or postponed. Please contact the venue to confirm the event.
Date & Time
Mon, Dec 20 5:30 PM - 7:30 PM
Tue, Dec 21 5:30 PM - 7:30 PM
Wed, Dec 22 5:30 PM - 7:30 PM
Venue (website)
First United Methodist Church
Once again the congregation of  First United Methodist Church will bestow its beautiful Seasonal gift to the community by staging a silent re-creation of the Holy Night. Under a redwood tree and adjacent to the church, a grassy area is transformed into a humble wooden stable, complete with a serene Mary, Joseph and tiny baby Jesus asleep in the manger. Three majestic kings stand by with their gifts to the Holy Child, attentive angels appear nearby, and lowly shepherds tend to their flocks. Live camels, sheep, donkeys and goats surround the manger taking in the wonder of it all.
The community is invited to join in this inspiring and meaningful celebration – it's free!  The Living Nativity will be held for 3 nights: December 20, 21st and 22nd from 5:30 – 7:30 p.m.  305 E. Anapamu (corner of Garden and Anapamu) Free onsite parking, enter from Garden St.
For more information, call (805) 963-3579 or visit us at our website http://www.fumcsb.org
or on Facebook http://www.facebook.com/FirstUMCSantaBarbara