Boot Camp at Alameda East Park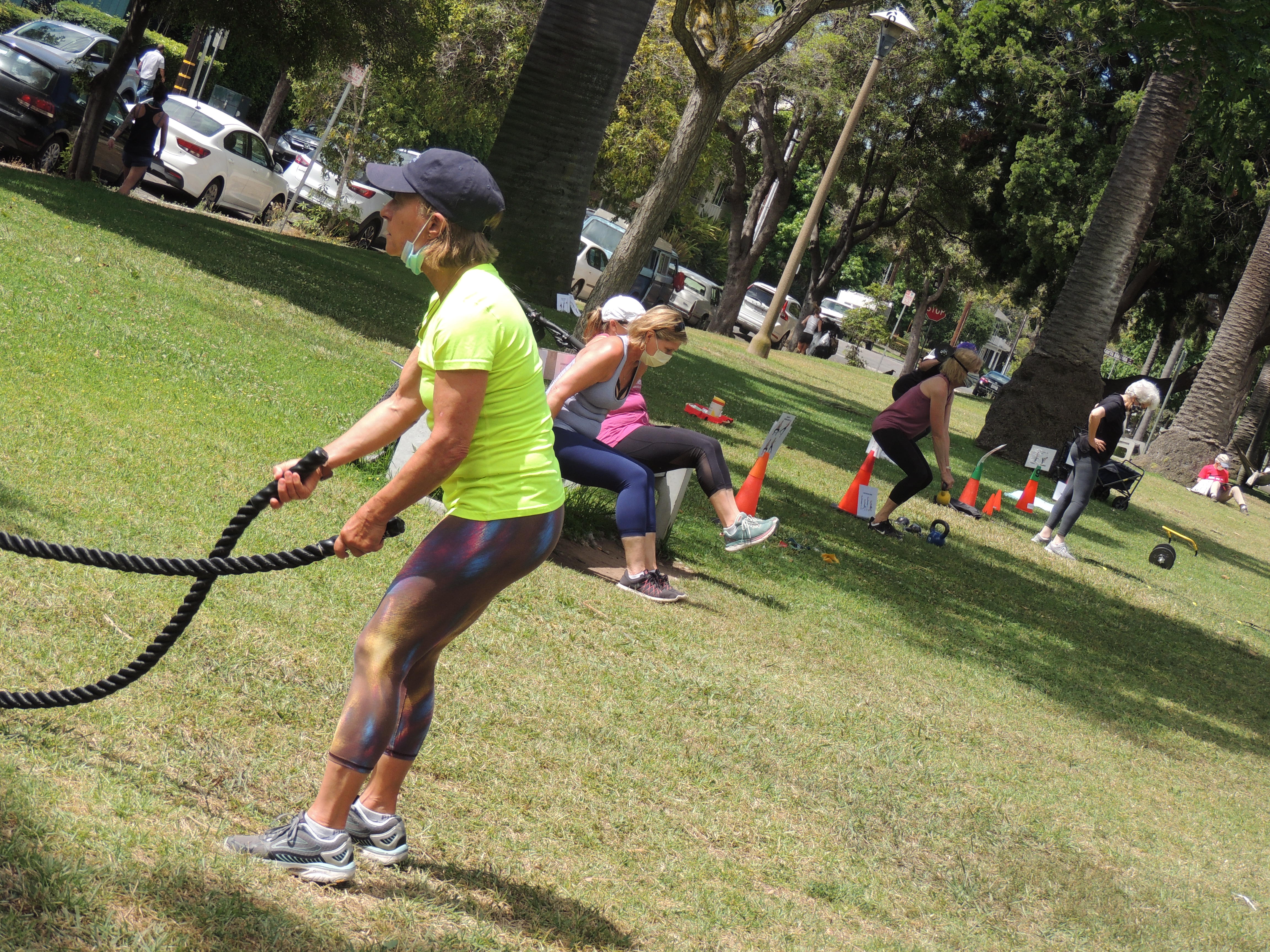 Fitness
Health & Wellness
Alameda Park
**Events may have been canceled or postponed. Please contact the venue to confirm the event.
Date & Time
Tue, Jun 23 5:30 PM - 6:30 PM
Sat, Jun 27 10:00 AM - 11:00 AM
Address (map)
1400 Garden St, Santa Barbara CA 93101
I bet you're tired of being cooped up. I know I'm ready for a reboot.
Come revel with fellow fitness buffs in the freedom of a fresh-air boot camp at Alameda Park East! Featuring a combination of cardio blasts interspersed with strength training, your stress will melt away as you lift dumbbells & kettlebells, heft barbells and work core, thump battle ropes & negotiate cones, hurdles—and more!
Feel like running ladders? We got that. Jumping rope? No problem. Doing a quick lap around the park? Let's make it happen. Joining me in a bun-busting squat routine or round of tabata between weight training intervals are options, too, but however we raise that heart rate, you'll work at your own pace and fitness level, and at the same time, be inspired to try just a little harder—and go just a little more.
Under the sun of lovely Santa Barbara, and watchful eye of a credentialed Group X instructor, you'll gain muscle, burn fat, and make fast friends with like-minded people—all while having a great time.
A summer only opportunity, the hour long boot camps are held Tuesdays at 5:30 pm, and Saturdays at 10 am. Sold individually, you can pre-purchase sessions for $15 per class online at kardiowithkaren.com. Rather pay as you go? No problem! Cash, and all major credit cards are accepted onsite before class.
Covid-19 cautionary practices in place! Hand sanitizer, gloves, and disinfectant wipes will be available throughout class, and social distancing is a snap in the wide open space of Alameda Park*. Participants are encouraged to bring their own face coverings.
*class is held in the southeast quadrant of Alameda Park East, (just down from Kid's World) Alameda Park East is located between Micheltorena & Sola streets, and Santa Barbara & Garden Sts.