Children in Nature – Prescription for a Healthy Pl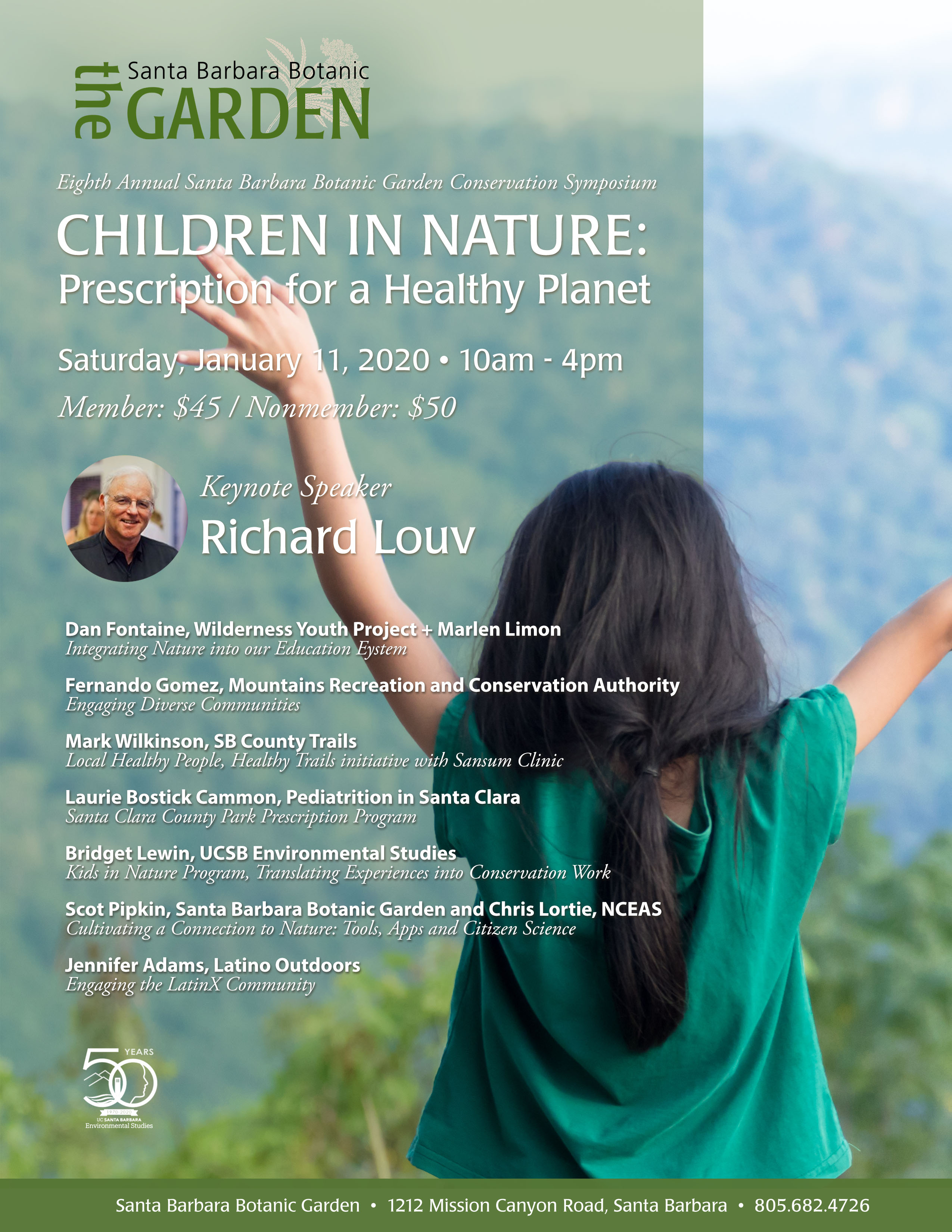 Education
**Events may have been canceled or postponed. Please contact the venue to confirm the event.
Date & Time
Sat, Jan 11 10:00 AM - 4:00 PM
Santa Barbara Botanic Garden Presents:
Children in Nature – Prescription for a Healthy Planet
Eighth Annual Conservation Symposium Features World Renowned Author Richard Louv and Community Leaders
Children today are in nature less than ever before, and they are suffering for it – with obesity, depression, attention disorders, and a dampening of creativity. Without that connection to nature, we are also losing the next generation of conservationists.
Santa Barbara Botanic Garden is proud to present: Children in Nature – Prescription for a Healthy Planet. Join educators, policy makers, conservationists and parents as we welcome world renowned author Richard Louv and local leaders to explore the issue of reconnecting our children to nature. The Eighth Annual Conservation Symposium will dig into how nature connection makes kids happier, healthier and smarter and what our community can do to develop deeper connections between children and nature in our schools, at home and in the world.
 Richard Louv is the author of "Last Child in the Woods" and the just released "Our Wild Calling."  Mr. Louv will be the recipient of Santa Barbara Botanic Garden's Pritzlaff Conservation Award given to a global trailblazer in conservation.
In addition to Mr. Louv, the Eighth Annual Conservation Symposium will feature regional nature connection leaders including:
Dan Fontaine, Wilderness Youth Project + Marlen Limon- Integrating Nature into our Education System

Fernando Gomez, Mountains Recreation and Conservation Authority- Engaging Diverse Communities

Mark Wilkinson, SB County Trails- Local Healthy People, Healthy Trails initiative with Sansum Clinic

Laurie Bostick Cammon, Pediatrician in Santa Clara- Santa Clara County Park Prescription Program

Bridget Lewin, UCSB Environmental Studies- Kids in Nature Program, Translating Experiences into Conservation Work

Scot Pipkin, Santa Barbara Botanic Garden and Chris Lortie, NCEAS- Cultivating a Connection to Nature: Tools, Apps and Citizen Science

Jennifer Adams, Latino Outdoors- Engaging the LatinX Community