Children's Book 'Charlie's Dream' Debut @ Tecolote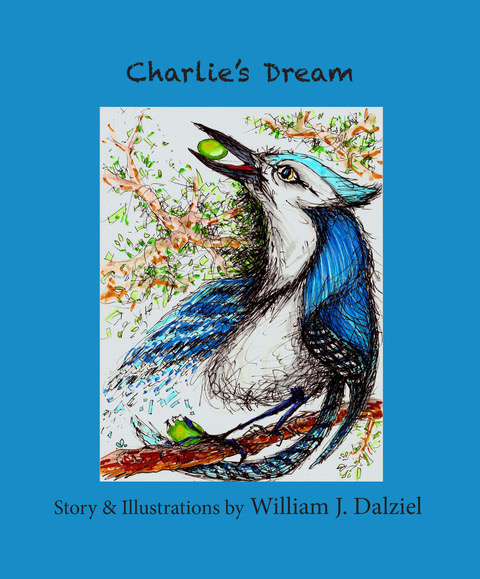 Benefit/Fundraiser
Best Bet
Book Signing
Children & Family
**Events may have been canceled or postponed. Please contact the venue to confirm the event.
Date & Time
Sat, Dec 03 2:00 PM - 4:00 PM
Address (map)
1470 East Valley Road, Santa Barbara, CA 93108
Come join author and illustrator, William Dalziel, when he debuts his second children's book, Charlie's Dream on Saturday, Dec. 3   from 2 – 4pm at Tecolote Books, 1470 East Valley Road, in Montecito's Upper Village.  This is the sequel to Ulma, The Kidnapped Tree.  The author will be signing copies of the books and 10% of all sales that day will go to Storyteller Children's Center.
In a fantastical dream our protagonist, Charlie, the Eastern Blue Jay, imagines he brings together a gathering of his finest feathered friends – the Blue Jays, Crows and Ravens – to rescue Ulma, an American Elm tree, from a fate sure to destroy the tree.  The birds visit an arachnid of amazing size known to be a soothsayer – to find out how to free Ulma.  She closes her nine eyes and sees her "beloved California" as the safe place to take her.  When another Blue Jay, who got blown across country in a jet stream, mentions a town with the name of a saint next to the ocean on the West coast, the destination is decided.  Ulma, the elm tree, can be found here in Santa Barbara… with a view of the ocean.
This elm tree story began in 2019 with Bill's first children's book based on an event in his life when he was brought on as an architect for the design & construction of the Northridge Fashion Center Project.  J.C. Penney & Co. wanted a live tree showcased in their courtyard. Dalziel was sent back East to visit a 150-year-old tree nursery, and decided on 'a Liberty Tree,' a young American Elm tree, already 30 feet tall. This true story inspired the first book's magical journey of the elm, that symbolizes liberty and freedom.  Bringing attention to the elm is one of the keys to the book, as the Dutch Elm Disease has ravaged most of the elm trees on the East coast of America. In these books we find lessons of friendship, determination, environmental concerns, and the magic of nature, creating a pair of inspiring books for children, with a message of hope.
Great holiday gifts for the children on your list.
Both books are available locally at Tecolote and Chaucer's as well as on Amazon.com
https://www.amazon.com/Charlies-Dream-William-J-Dalziel/dp/0578946629/ref=sr_1_1?crid=3CAIKI3N2UOKS&keywords=Charlie%27s+Dream+by+William+Dalziel&qid=1668127471&sprefix=charlie%27s+dream+by+william+dalziel%2Caps%2C151&sr=8-1