City of SB Virtual Climate Brainstorming Sessions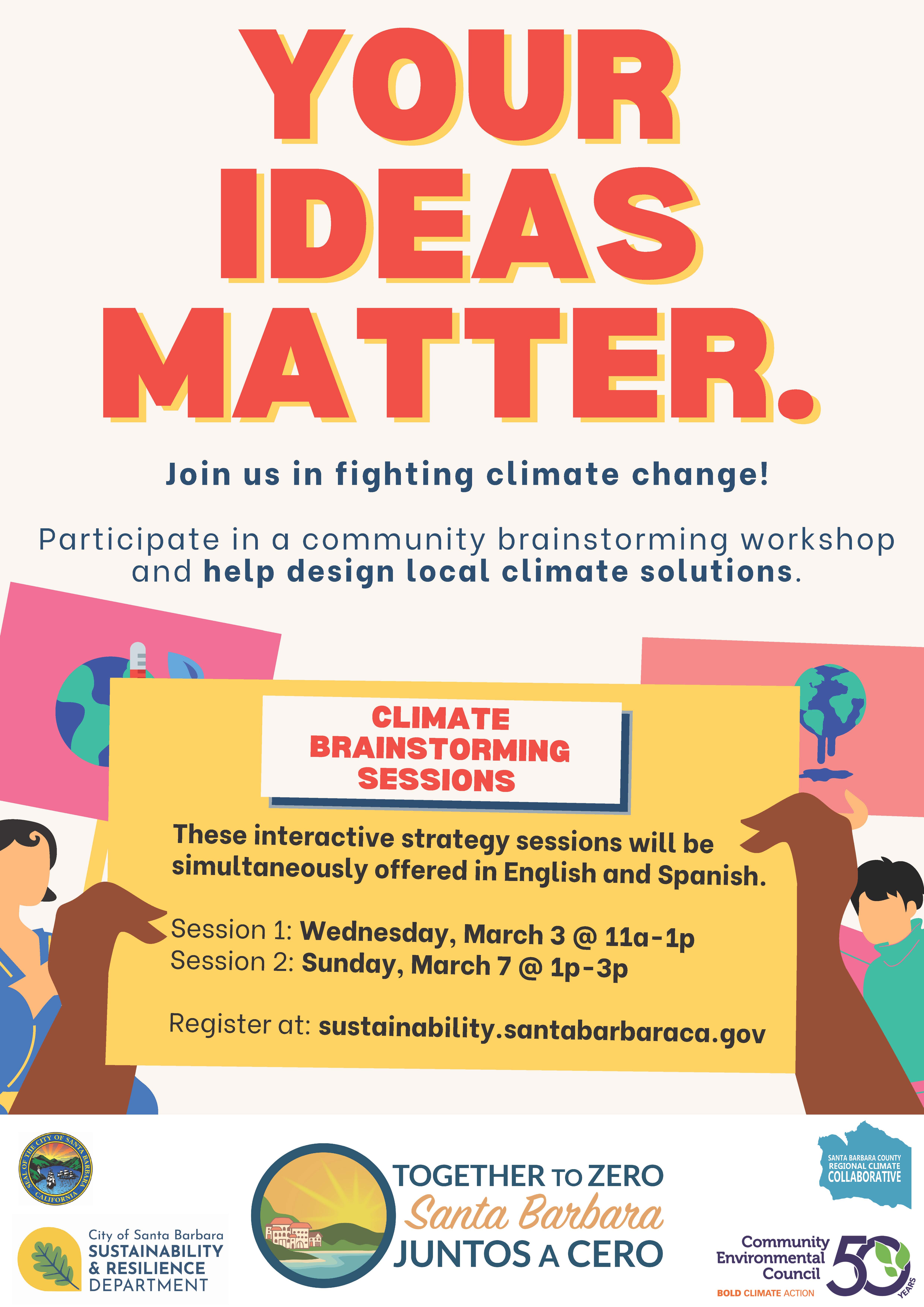 Discussion/Lecture/Panel/Q&A/Talk
Environment
Virtual
Virtual
**Events may have been canceled or postponed. Please contact the venue to confirm the event.
Date & Time
Wed, Mar 03 11:00 AM - 1:00 PM
Sun, Mar 07 1:00 PM - 3:00 PM
Save the date! The City of Santa Barbara is hosting two virtual Climate Brainstorming Sessions as part of our Together to Zero Climate Campaign on March 3rd and March 7th, 2021. We need your ideas and participation to reach carbon neutrality by 2035!
Registration is required and all are welcome to attend. The workshop will be simultaneously offered in both Spanish and English.

To register for one or both of the Climate Brainstorming Sessions visit: https://sustainability.santabarbaraca.gov/together-to-zero/
As part of the Together to Zero climate campaign, these two virtual sessions will engage attendees in conversation around potential climate solutions. The ideas that come out of these workshops will directly inspire the City's climate response on the City's three largest greenhouse gas emission sources: transportation, energy, and waste. Achieving Council's carbon neutrality goal will require an all-hands-on-deck approach and we believe that there is significant benefit in having the community participate in the development of our climate action strategies.

Attending a climate brainstorming session is just one of the many ways the public can contribute to the conversation around carbon neutrality.
For more Together to Zero community events and to register for one or both of the Climate Brainstorming Sessions visit: https://sustainability.santabarbaraca.gov/together-to-zero/