Coffee & a Good Book with Valerie Cantella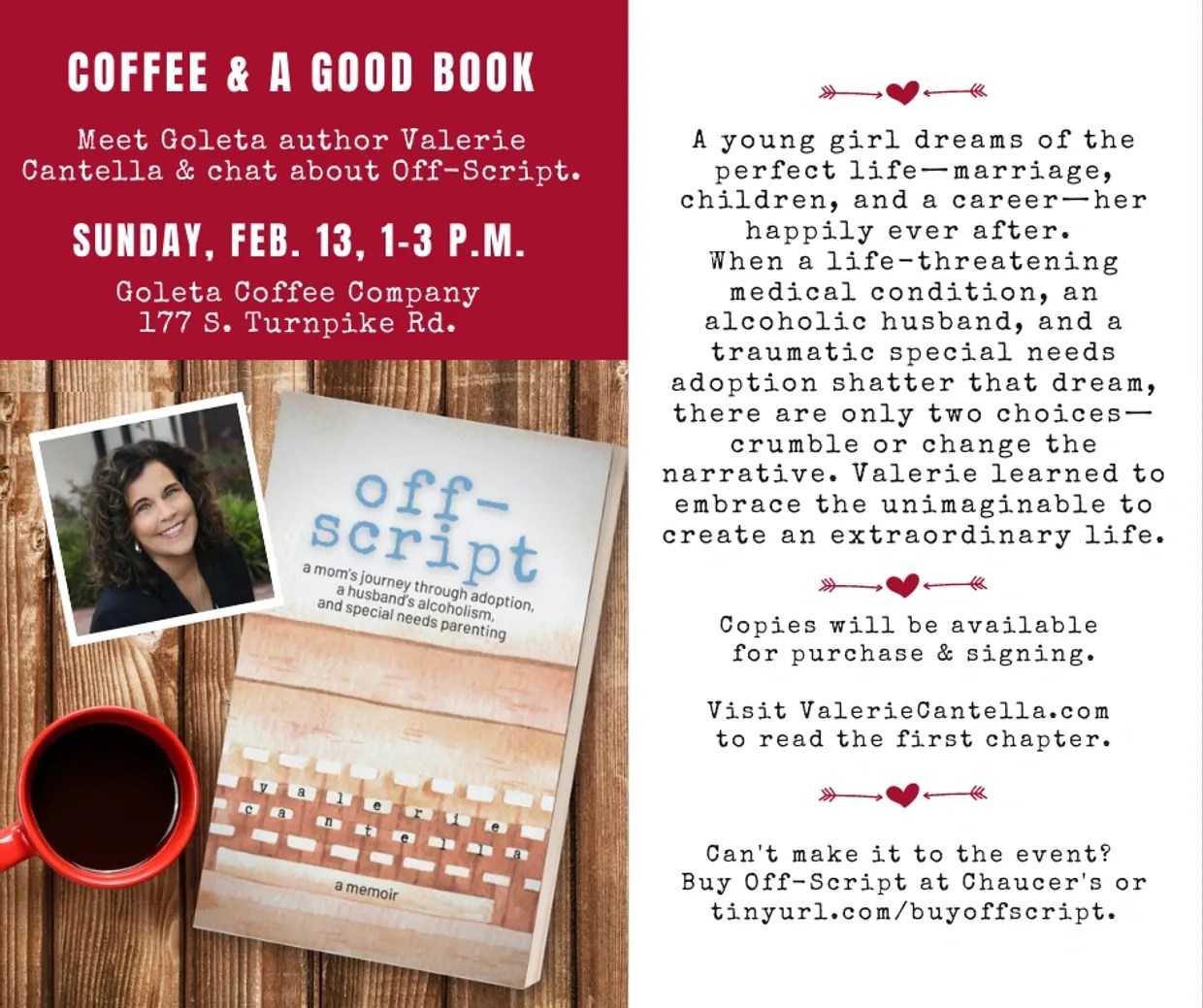 Book Signing
Discussion/Lecture/Panel/Q&A/Talk
Goleta Coffee Co
**Events may have been canceled or postponed. Please contact the venue to confirm the event.
Date & Time
Sun, Feb 13 1:00 PM - 3:00 PM
Local author Valerie Cantella shares about parenting an adopted special needs child with mental health issues in her debut book, Off-Script: a mom's journey through adoption, a husband's alcoholism, and special needs parenting, published February 1. She will be at Goleta Coffee Co. at 177 S. Turnpike Road on Sunday, February 13, from 1 to 3 p.m. to chat about the book and sign copies. This location offers both an indoor and outdoor space for everyone's comfort.
Off-Script: a mom's journey through adoption, a husband's alcoholism, and special needs parenting is the story of a young girl's dreams of the perfect life—marriage, children, and a career—her happily ever after. When a life-threatening medical condition, an alcoholic husband, and a traumatic special needs adoption shatter that dream, there are only two choices—crumble or change the narrative. Santa Barbara author Valerie Cantella shares how she learned to embrace the unimaginable to create an extraordinary life in this memoir.
Off-Script will also be available in paperback at Chaucer's after February 1 and in paperback and eBook formats at tinyurl.com/buyoffscript.
EARLY REVIEWS
YouthWell.org and ParentClick founder Rachael Ross Steidl said, "Valerie's journey is a reminder that when we embrace the challenges and learn to let go, we find strength we never knew we had."
Pavon James, Police Investigator, Child Trauma, called it "Unputdownable!"
"This book is honest, compelling, sad, heartening, tragic, heroic, interesting, and informative, written in a way that leaves you absorbed, wanting to read just one more chapter … at the end of every chapter! Valerie has such an authentic, beautiful writing style that has a way of leaving you feeling lifted by the end of each chapter, regardless of the content in the middle," said Yvonne Sloan.
"This book gives hope to all those who've parented amidst unimaginable trauma, and profound insight to those who walk alongside them," said Robynne Elizabeth Miller, author, speaker, teacher, and mother of special needs kids.
ABOUT THE AUTHOR
Valerie's love of writing began when her stubby little fingers learned to form letters, and those letters made words that crafted sentences. From those sentences, she wrote short stories, articles, poems, and even two books for her grade school author showcase. She turned to journalism in high school and college. Her love of writing led to a career in communications.