District216 Marquee Event: Harmony of Nature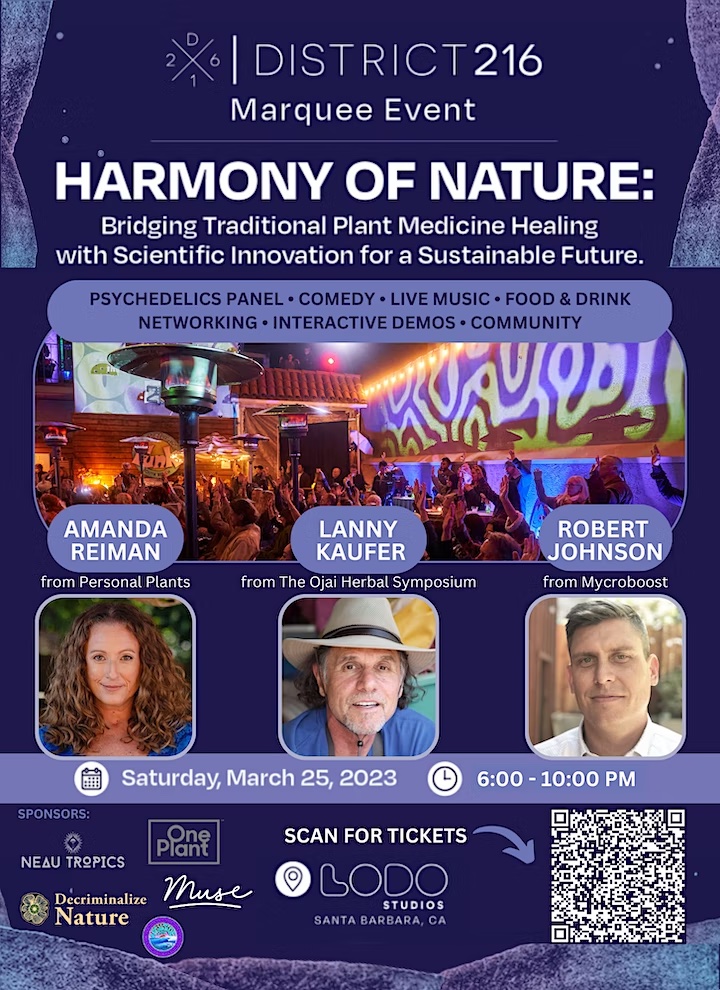 **Events may have been canceled or postponed. Please contact the venue to confirm the event.
Date & Time
Sat, Mar 25 6:00 PM - 10:00 PM
Join us for our next District216 Marquee Event which will focus on plant medicine and feature experts in the field of herbal medicine and ethnobotany to talk about how scientific innovation will grow the psychedelic industry. Attendees will have the opportunity to learn about the benefits of plant medicine and explore new avenues for healing and self-discovery.
JOIN US FOR A NIGHT OF EDUTAINMENT: PSYCHEDELICS DISCUSSION PANEL • COMEDY • LIVE MUSIC • FOOD & DRINK • NETWORKING • INTERACTIVE DEMOS • COMMUNITY
Members Free: Become a Member Today
Guests Welcome: We are welcoming guests to purchase tickets!
Time & Place: 6:00 pm to 10:00 pm @ LoDo Studios, Santa Barbara
ENTERTAINMENT
Music: Spoonful
MC / Comedian: Chris Williams – Let Loose Comedy
ACTIVITIES
Catering: The Blue Owl
Tarot Reading: Laura Donahue
Interactive Demo: Shiftwave 
Lighting Design: The Environment Makers
Terpene Lounge feat. Local Cannabis/CBD
ARTISTS
PARTNERS
SPONSORS