Immigrant Identity Bilingual Poetry Zine Workshop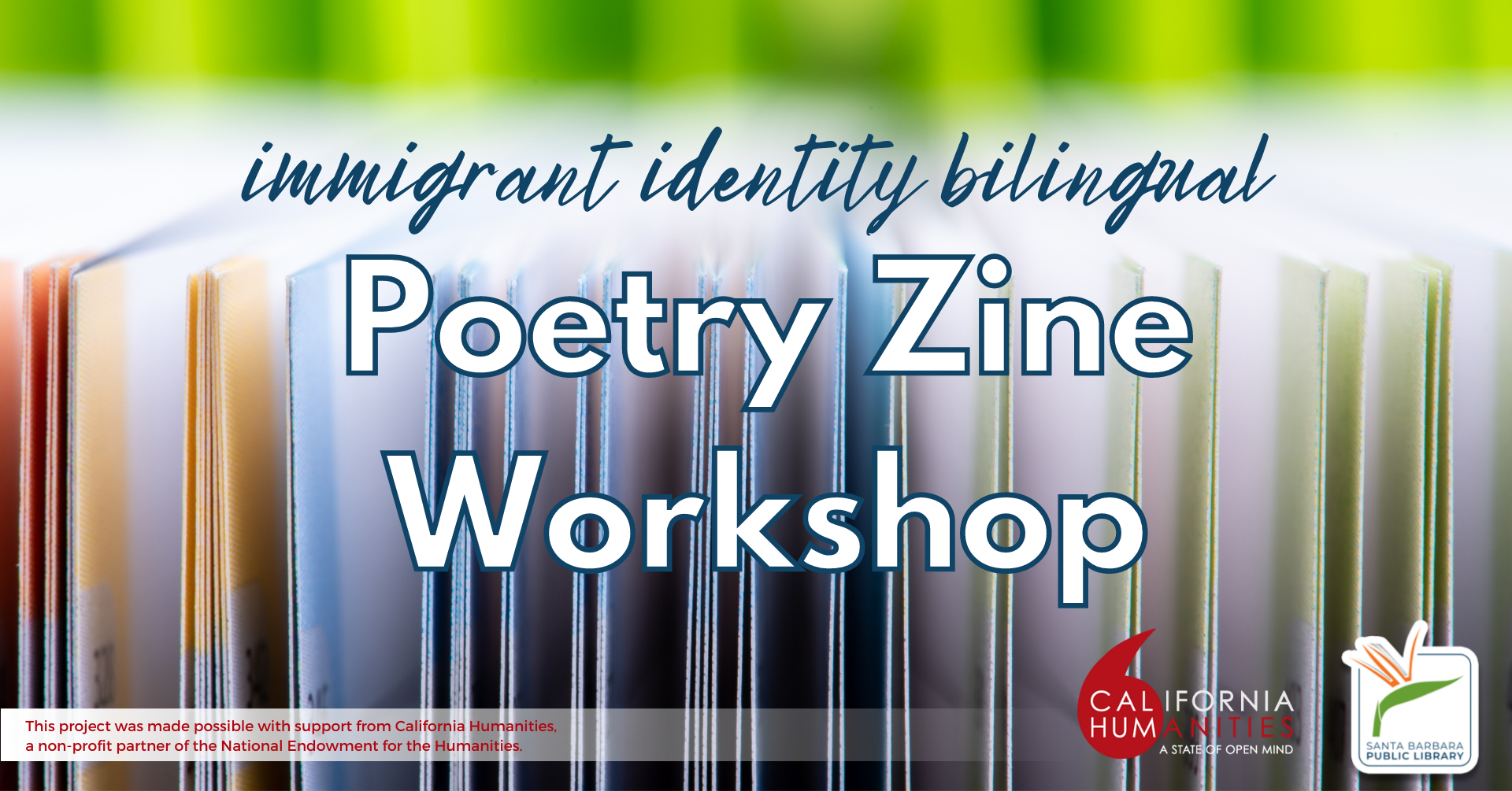 Best Bet
Poetry
S.B. Central Library
**Events may have been canceled or postponed. Please contact the venue to confirm the event.
Date & Time
Fri, Oct 01 5:30 PM - 7:00 PM
As part of our Hispanic Heritage Month programming and Integrating Immigrants Series supported by a Library Innovation Lab grant from California Humanities, young adults ages 14-24 are invited to participate in a workshop exploring immigrant identity by writing and designing zines.
Zines are artfully substandard magazines that are typically cheap, quick, and fun to make, and they generate their own readership–both real and imagined–in what they say and how they say it. Learn how to make your own zine with local poet and professor Joshua Escobar.
In this crash course, we will look at zines and made by visual artists, poets, filmmakers, and translators. We'll explore first and second (or third…) generation immigrant identity through writing in English and/or Spanish as well as visual arts incorporated into a zine. We'll walk through the basics of DIY-magazine making: cut and paste, collage, edit, and layout. This event is brought to you by the Mission Poetry Series in collaboration with the Santa Barbara Public Library. All materials will be provided for free, but feel free to bring ephemera, previously made artwork, or other materials you would like to use in your zine.
This event will take place on the Eastside Patio. Masks and social distancing will be required.
Joshua Escobar is the author of the chapbooks Caljforkya Voltage and xxox fm. He was a 2019 Shandaken: Storm King Fellow, the Dean's Fellow in Writing at the MFA Program at Bard College, and a Merit Fellow at UC Berkeley's Graduate School of Journalism. Bareback Nightfall, his first full-length book, was a finalist for the California Book Award. He is the Director of Creative Writing at Santa Barbara City College.
This project was made possible with support from California Humanities, a non-profit partner
of the National Endowment for the Humanities.
About California Humanities:  
California Humanities, a nonprofit partner of the National Endowment for the Humanities, promotes the humanities—focused on ideas, conversation, and learning—as relevant, meaningful ways to understand the human condition and connect people to each other in order to help strengthen California. California Humanities has provided grants and programs across the state since 1975. To learn more, visit calhum.org, or like and follow California Humanities on Facebook, Twitter, and Instagram.