Inspire Pop-Up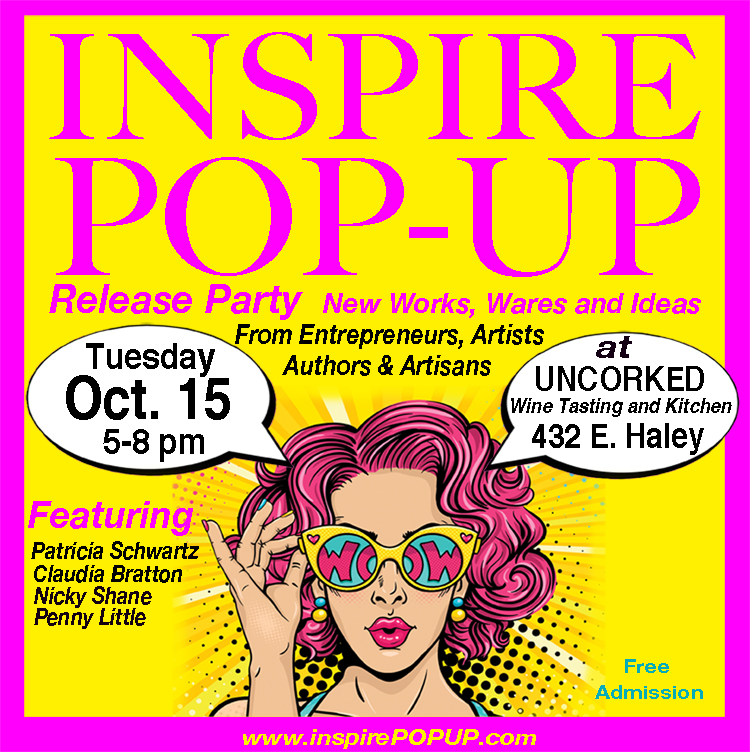 Arts
**Events may have been canceled or postponed. Please contact the venue to confirm the event.
Date & Time
Tue, Oct 15 5:00 PM - 8:00 PM
The first Santa Barbara INSPIRE Pop-Up Release Party for New Works, Wares, and Ideas from Entrepreneurs, Authors, Artists, and Artisans.  The Oct. 15th pop-up event at Uncorked Tasting Room and Kitchen is themed "transitions" and will feature a book signing by author and executive coach Patricia Schwartz, art and hats by artist Claudia Bratton, and Penny Little presenting Nik Green's "Now and Ever Shall Be" and her own Little Savage ™ cartoon books and art.   Each presenter will have wares on display, between wine tasting and refreshments, and will give five-minute talks on what inspires them.  Admission is free.  Food and wine are available for purchase.
Presenter DETAILS:
Patricia Schwartz, Executive Coach, and contributor to #1 International Best Seller "Experts and Influencers: The Leadership Edition."  https://www.patriciaschwartz.com/
Penny Little, author, musician, with her new release of her husband Nik Green's CD which she completed after his death "Now and Ever, Shall Be" along with her Little Savage™ art and books.   https://www.inspirepopup.com
Claudia Bratton, artist, hat maker and former Summer Solstice Celebration Executive Director with her Miss Tickle Hats, and art.   https://www.missticklehats.com/