Life Behind Bars: Compassion and Reform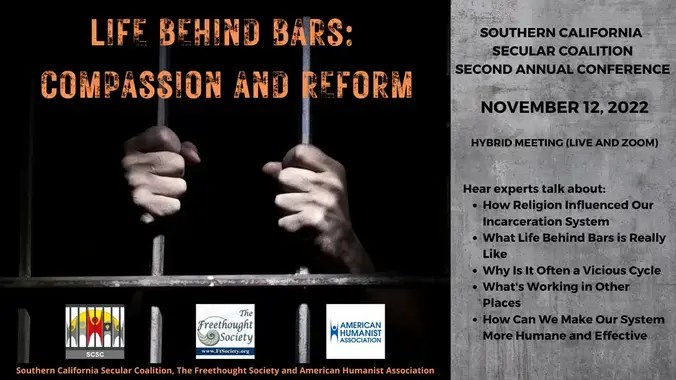 Best Bet
Live Oak Unitarian Universalist Congregation
**Events may have been canceled or postponed. Please contact the venue to confirm the event.
Date & Time
Sat, Nov 12 9:00 PM - 5:30 PM
Address (map)
Live Oak Unitarian Universalist campus, 820 North Fairview Avenue in Goleta, CA 93117
Venue (website)
Live Oak Unitarian Universalist Congregation
This is a full-day conference. A wide range of speakers will examine issues around incarceration. Attend on Zoom or in-person.
Session #1: 9:00 am -11:00 am PST
Welcome. Dave Rice – SCSC President, Margaret Downey – Freethought Society Founder & President, and Adam Conover- host of Adam Ruins Everything which has explored several aspects of the criminal justice system,
Humanism and Incarceration Reform. Nadya Dutchin, Executive Director of the American Humanist Association,
A Dangerous Culture of Incarceration: Physical & Mental Health in Prison. Dr. Michael Golding, lead psychiatrist for the California Department of Corrections,
The Prison Experience. Jon Guy will speak about what life in prison was like in a Wyoming prison, and what supported him in his journey from being incarcerated to being a published author and science communicator who writes about critical thinking, science, and philosophy. His new book is Think Straight: An Owner's Manual for the Mind.
Session #2: 11:00 am – 12:30 pm PST
Can Scandinavian Principles of Humanity Work in American Prisons? Preliminary Lessons from Pennsylvania. Jordan Hyatt, Ph.D., J.D. Associate Professor at Drexel University, and Gina Clark, Superintendent of the Little Scandinavia Prison.
Drugs and Punishment in an Exceptional Country. Dr. Paul Larsson, founder of Law Enforcement Action Partnership, (L.E.A.P.) Scandinavia, and Professor of Criminology at Police University College in Oslo, Norway,
Inside Out. Lawrence Larry, sharing his lived experience perspective,
Meal Break: 12:30 pm – 1:15 pm PST
Session #3: 1:15 pm – 3:30 pm PST
Confessions of a Public Defender. Denise Gragg, J.D. an experienced public defender in Southern California capital cases, sharing professional & personal insights gained in dealing with defendants and their families,
Adverse Childhood Experiences Behind Bars. Fritzi Horstman, founder of The Compassion Prison Project,
Free Will and the Crimes of the Criminal Justice System. Dr. J. Anderson Thomson, evolutionary psychiatrist,
Freedom To Choose Project: Change From the Inside. JoAnn Mermis and Benny Gutierrez on the impact of their work teaching emotional intelligence from the perspective of both a volunteer and as a previously incarcerated participant.
Session #4: 3:30pm – 5:30 pm PST
Throwing the Book at Them: Shelving Nontheist Literature in Prison Libraries. Margaret Downey, President of the Freethought Society,
From Prison to Microsoft. Shelley Winner-Dupree speaking on her lived re-entry experience,
Reentry is a Journey: Challenges and Chances When Leaving Incarceration. Dr. Andrea Dauber-Giffin and Dr. Mona Minton, of the Neighborhood House Association, San Diego County,
Imagine No Religion: Towards a More Secular Criminal Justice System. Elizabeth Cavell, J.D. Associate Counsel, Freedom From Religion Foundation.
There will be time for Q&A  and short breaks between sessions.Santa Barbara area attendees have the option to participate in the conference with others at Fellowship Hall on the Live Oak Unitarian Universalist campus, 820 North Fairview Avenue in Goleta, CA 93117. 
Register for the in-person Goleta event at this Meet-Up site: https://bit.ly/SCSCPrisonReform-LiveOak
Register for the Zoom event at this MeetUp site: https://bit.ly/SCSCPrisonReform-Register
SCSC is a committee of The Freethought Society. The event is being cosponsored by the American Humanist Association and The Freethought Society and locally by the Humanist Society of Santa Barbara and the UU Live Oak Congregation.