S.B. Permaculture Network Eco Hero Award and Moving Art Screening on the Outside Wall Lobero Theater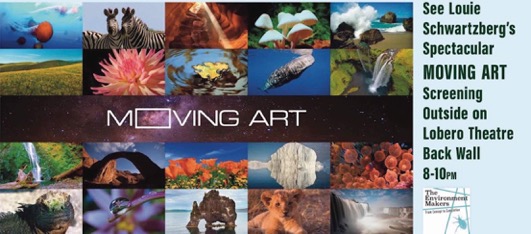 Arts
Community
Environment
Film
Lobero Theatre
**Events may have been canceled or postponed. Please contact the venue to confirm the event.
Date & Time
Fri, Jun 17 8:00 PM - 10:00 PM
Address (map)
33 E Canon Perdido St, Santa Barbara, CA 93101
Louie Schwartzberg Spectacular Moving Art Screening on Outside Back Wall Lobero Theater, Friday June 17, 8-10pm FREE for Public to View -with the help of The Environment Makers
A special treat for the community following the Santa Barbara Permaculture Network Eco hero event will be beautiful time-lapse moving photography of nature's splendor projected on the outdoor wall of the Lobero Theatre, which Louie Schwartzberg also shared and regaled audiences with at the Vatican in St. Peters Square in Rome in 2015.
Louie Schwartzberg is an American director producer and cinematographer. "We protect what we love."Schwartzberg makes the invisible visible by taking viewers through journeys of time and scale–The Intersection Between Art and Science
Louie Schwartzberg is an American director, producer, and cinematographer, recognized as a pioneer in high-end time-lapse cinematography, and visual artist known for breaking down barriers of perception and taking viewers on journeys of time and scale.  For more than forty years, with his studio 
Moving Art
 his passion has been telling stories through film that celebrate life and reveal the mysteries and wisdom of nature, most recently with the conscious shifting film 
Fantastic Fungi
 where once again he makes the invisible visible for his audiences.
Part of the evening
Santa Barbara Permaculture Network Eco Hero Award
Honoring Visionary Mycologist Paul Stamets &
Award-winning Filmmaker Louie Schwartzberg
Friday, June 17, 6:30-8:30 pm, 2022
TICKETS $20, $40, & $100
Location: Lobero Theatre
33 E Canon Perdido St, Santa Barbara, CA 93101
Tickets on Sale Now: Lobero Ticket Office
805-963-0761,  Lobero.com
Cosponsors: Santa Barbara Permaculture Network, Blue Sky Biochar, Bamboo DNA, Teeccino, Community Environmental Council (CEC), SBCC Environmental Horticulture, Explore Ecology, Regenerative Landscape Alliance, Island Seed & Feed, Orella Ranch-Gaviota Givings, Santa Barbara Aquaponics, Sustainable World Radio, World Business Academy, The Optimist Daily, Quail Springs Permaculture, Hour Books, Mesa Harmony Garden, Wingnut Mushroom Farm, Rincon-Vitova Insectaries, Ojai Center for Regenerative Agriculture (CRA), and the Santa Barbara Independent.