Santa Barbara Poetry Series Reading Featuring New SB Poet Laureate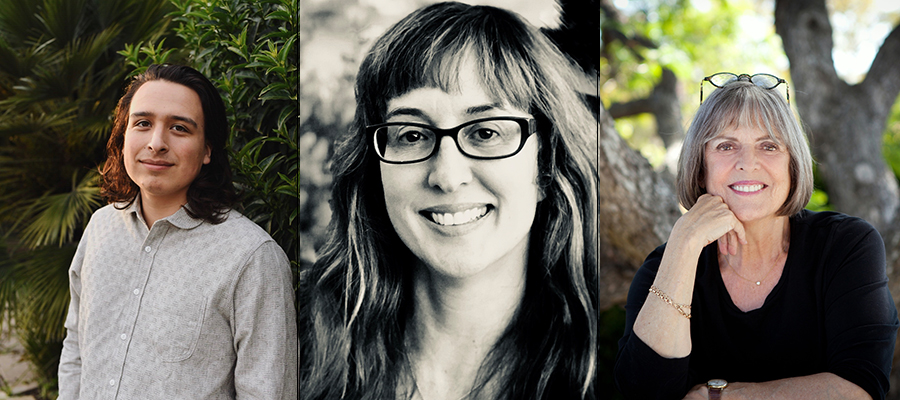 Poetry
**Events may have been canceled or postponed. Please contact the venue to confirm the event.
Date & Time
Sun, Apr 07 7:00 PM - 7:00 PM
The Santa Barbara Poetry Series will present its last reading of the 2018-19 season with featured readers Emma Trelles and Taylor Tejada—plus Santa Barbara's latest Poet Laureate Laure-Anne Bosselaar—on Sunday, April 7, 7-8:30 pm at the Faulkner Gallery, Santa Barbara Public Library, 40 E. Anapamu Street. The event is free and open to the public. The event is not only part of Santa Barbara's April National Poetry Month celebration, but also kicks off National Library Week (April 7-13) at the SBPL. The National Library Week 2019 theme is "Libraries = Strong Communities."
Laure-Anne Bosselaar is the author of The Hour Between Dog and Wolf, Small Gods of Grief which won the Isabella Gardner Prize for Poetry for 2001, and of  A New Hunger, an ALA Notable Book. Her chapbook Rooms Remembered was published by Sungold Editions in 2018, and her latest collection, These Many Rooms is out from Four Way Books (2019). Her poetry was featured on Poetry Daily, The Academy of American Poets' "Poem-a-Day," and in reviews such as Orion, Georgia Review, Ploughshares and Harvard Review. Garrison Keillor chose four of her poems for NPR's "A Writer's Almanac." With her husband Kurt Brown, she translated a book by Flemish poet, Herman de Coninck: The Plural of Happiness. A Pushcart Prize recipient, and the editor of four anthologies, she taught at Emerson College, Sarah Lawrence College, UCSB, and teaches at the Solstice Low Residency MFA in Creative Writing Program in Boston.
Emma Trelles is the daughter of Cuban immigrants and the author of Tropicalia (University of Notre Dame Press), winner of the Andrés Montoya Poetry Prize, a finalist for Foreword/Indies poetry book of the year, and a recommended read by The Rumpus. She is currently writing a second book of poems, Courage and the Clock. Her work has been anthologized in Best American Poetry, Best of the Net, Verse Daily, To Give Life A Shape: Poems Inspired by the Santa Barbara Museum of Art, and others. Recent poems appear or are forthcoming in the Colorado Review, Spillway, The Miami Rail, Zócalo Public Square, and SWWIM. A recipient of an Individual Artist Fellowship from the Florida Division of Cultural Affairs and a founding member of the AWP Latinx Caucus, she teaches at Santa Barbara City College and programs the Mission Poetry Series.
Taylor Tejada is an English major in his final year at Westmont College. He is planning on going to graduate school to be able to teach. Taylor first decided to be an English major after writing "extremely subpar" [editor's note: his words] poetry in high school. During his first few years at college, Taylor ceased to write poetry and instead focused and prose. This year, however, Taylor has returned to poetry and fondly remembers why poetry was the original reason he chose English as his major. Some of his favorite poets are Li-Young Lee, George Herbert, E.E. Cummings, and Denise Levertov. Taylor loves storms, fresh cut grass, and good food. He is currently trying to find a place where all three of those things exist at the same time.