The Mary Jane McCord Planned Parenthood Book Sale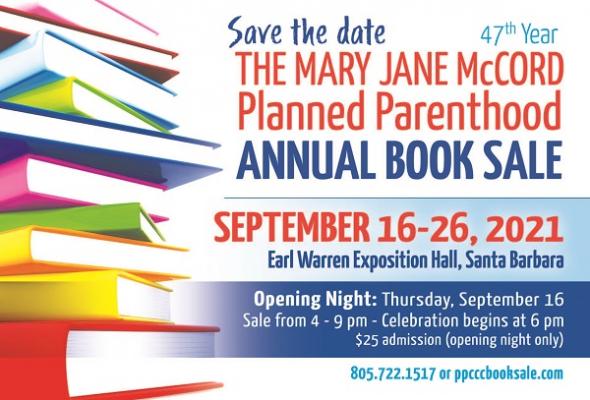 Benefit/Fundraiser/Gala
Earl Warren Exposition Hall
**Events may have been canceled or postponed. Please contact the venue to confirm the event.
Date & Time
Thu, Sep 16 4:00 PM - 9:00 PM
Fri, Sep 17 10:00 AM - 8:00 PM
Sat, Sep 18 10:00 AM - 8:00 PM
Sun, Sep 19 12:00 PM - 6:00 PM
Mon, Sep 20 12:00 PM - 8:00 PM
Tue, Sep 21 12:00 PM - 6:00 PM
Wed, Sep 22 12:00 PM - 6:00 PM
Thu, Sep 23 12:00 PM - 6:00 PM
Fri, Sep 24 12:00 PM - 8:00 PM
Sat, Sep 25 10:00 AM - 8:00 PM
Sun, Sep 26 10:00 AM - 5:00 PM
Address (map)
3400 Calle Real, Santa Barbara, CA 93105
Venue (website)
Earl Warren Exposition Hall
47th Annual Book Sale is the largest used book sale in the tri-counties, with thousands of carefully curated and cleaned titles in a range of categories, including a child, young adult, business, cookbooks, and literature.
All proceeds of the sale benefit Planned Parenthood California Central Coast. The event spans several days: September 16-26, 2021
9/16: Opening Night Reception 4-9 pm – $25 admission
Our Opening Night Celebration offers access to our books before the general public's free admission on Friday. We will open for shopping at 4:00 and the festivities will begin at 6:00.
Buying tickets ahead of arrival is a convenience our guests find helpful, but is not required. Please note that it does NOT allow admission ahead of others. To ensure a spot in line, guests should arrive before noon when numbered cards will be distributed.
12:00 – Numbered cards will be distributed at the main door (facing Las Positas Rd.) of Exhibition Hall.
3:15 – Admission tickets will be sold for $25/person. Payment can be made using cash, credit or debit card. Book Sellers with a completed California BOE Resale Certificate on file will be given a numbered wristband to expedite checkout.
4:00 – Entry will be through the main door only.
6:00 to 9:00 – The shopping continues with some fun added, including music by local DJ Darla Bea.