Mary Osborne Craig Skewes-Cox
1921 - 2017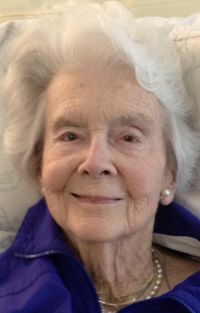 Mary Osborne Craig Skewes-Cox of Ross, CA died on December 23 at the age of 96. Born in Oxnard, CA on January 28, 1921, she was the only child of architect James Osborne Craig and designer Mary McLaughlin Craig of Santa Barbara, CA.
Mary grew up in Santa Barbara. She attended the Howard School in Montecito, Santa Barbara Girls School, and Foxcroft in Middleburg, VA from 1935-1938. In 1938 she made her debut in Philadelphia, where she and her mother spent much time with an aunt, Mrs. Edward Roberts. In 1940 she went to Katharine Gibbs Secretarial School in Boston for one year. In 1942 she worked for the War Production Board in Washington, DC, then returned to SB and worked as a legal secretary for several years. In 1945 she moved to San Francisco, where she met her future husband, Bennet Skewes-Cox. They were married at the Santa Barbara Mission on August 31, 1946. Afterwards, they lived in Washington, DC where Bennet studied at Georgetown University, working toward his Master's degree in political science. In 1948 they returned to Ross, CA with their young daughter Anita. Her arrival was followed by two more girls, Pamela and Amy. Ross became their permanent home, except for a return to Washington, DC from 1963-1965.
In 1976 Mary began volunteer work with Hospice by the Bay. As one of its founding members, she became a major force in its creation as the second hospice in the country. Mary was a member of the Lagunitas Club, the Marin Garden Club, the Marin Art and Garden Center, and the Town and Country Club in San Francisco. Her husband Bennet died in 1995.
Mary took great pride in her family's history. Her mother was born in Deadwood, South Dakota in the shadow of the great Homestake Mine, and grew up in the rough and tumble days of Calamity Jane and Wild Bill Hickok. Mary's father, a Scot, immigrated to America at the age of 16 and went on to make a lasting contribution to the architectural beauty of Santa Barbara. At the very end of her life, Mary took great joy in collaborating on a book published about her parents' lives.
Mary is survived by her 3 daughters: Anita (Michael) McCann of Ketchum, Idaho, Pamela Skewes-Cox of Sudbury, Massachusetts, and Amy (Robert) Skewes-Cox of Ross. She also leaves behind 5 grandchildren: Sarah Thompson, Mary Anderson, Bennet McCann, Austin McCann, and Carson Twiss. Mary also had 8 great-grandchildren: Mykala and Galena McCann; Avery, James, and Brooks Thompson; Carter McCann; and Chloé and Ayla Molinuevo. The family is very grateful to her two devoted caregivers, Fatima Caminade and Ginger Gmahling, and the many caring staff at Aldersly Assisted Living in San Rafael.
Burial in Santa Barbara will be in the spring.