Peggy Hurst's prize possession and legacy is the Volkswagen camper she drove for the last 44 years. She took that van literally everywhere she went, with her family in tow, from state to state and across continents. Until her absolute last moments on this earth, her vitality refused to give up. At age 86, Peggy Hurst died on Mother's Day, 2016.
Peggy's life was never easy, but she made it rewarding. Relying on her own determination and optimism, she forged a hearty existence, one filled with accomplishment, adventure, and a string of beautiful memories. Peggy never sat and expected anything to be handed to her; she manifested her dreams and built her reality with sheer will and persistence, and with her own two hands.
Peggy attended college in the early 1950s, at a time when most women her age were contentedly becoming housewives and young mothers. Peggy, however, wanted to see a little of the world first. She graduated from Drexel University in Philadelphia in 1953 and earned a master's degree in home economics, a major not often heard of anymore. In Peggy's case it was a perfect choice, suited to her practical talents and frugal, no-nonsense personality. She traveled to England on a teaching scholarship and enjoyed a career as a single woman for a number of years before getting married. In her role as wife and mother, she insisted on single-handedly paying the bills, planning the trips, budgeting the money, cooking the meals, and sewing the clothes. She literally pounded the pavement to secure her family nice homes in a series of exotic locations, and to provide rich educational experiences for her children. She took care of her husband until he was almost 95. Her third child was born with severe autism, which made raising her family especially challenging, but Peggy kept going and never complained. She ran the household with compassion, discipline — and, yes, a tight fist.
After her children were born, Peggy resumed teaching home economics close to her hometown of Hackettstown, New Jersey. Her husband, Lt. Commander Ronald S. Hurst, a World War II veteran who had served in the British and Canadian navies for 30 years, retired and became an artist and painter. The flexibility of the couple's schedules meant that summers and vacations were free to travel with the kids, and the VW. The Hursts moved to England in 1972, and spent two summers camping throughout Europe.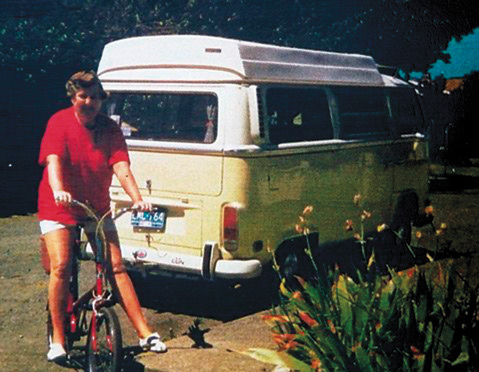 By Courtesy Photo