Margaret "Peggy" Louise Hurst: 1930-2016
In Memoriam
| Thu Jun 09, 2016 | 12:00am
Peggy Hurst's prize possession and legacy is the Volkswagen camper she drove for the last 44 years. She took that van literally everywhere she went, with her family in tow, from state to state and across continents. Until her absolute last moments on this earth, her vitality refused to give up. At age 86, Peggy Hurst died on Mother's Day, 2016.
Peggy's life was never easy, but she made it rewarding. Relying on her own determination and optimism, she forged a hearty existence, one filled with accomplishment, adventure, and a string of beautiful memories. Peggy never sat and expected anything to be handed to her; she manifested her dreams and built her reality with sheer will and persistence, and with her own two hands.
Peggy attended college in the early 1950s, at a time when most women her age were contentedly becoming housewives and young mothers. Peggy, however, wanted to see a little of the world first. She graduated from Drexel University in Philadelphia in 1953 and earned a master's degree in home economics, a major not often heard of anymore. In Peggy's case it was a perfect choice, suited to her practical talents and frugal, no-nonsense personality. She traveled to England on a teaching scholarship and enjoyed a career as a single woman for a number of years before getting married. In her role as wife and mother, she insisted on single-handedly paying the bills, planning the trips, budgeting the money, cooking the meals, and sewing the clothes. She literally pounded the pavement to secure her family nice homes in a series of exotic locations, and to provide rich educational experiences for her children. She took care of her husband until he was almost 95. Her third child was born with severe autism, which made raising her family especially challenging, but Peggy kept going and never complained. She ran the household with compassion, discipline — and, yes, a tight fist.
After her children were born, Peggy resumed teaching home economics close to her hometown of Hackettstown, New Jersey. Her husband, Lt. Commander Ronald S. Hurst, a World War II veteran who had served in the British and Canadian navies for 30 years, retired and became an artist and painter. The flexibility of the couple's schedules meant that summers and vacations were free to travel with the kids, and the VW. The Hursts moved to England in 1972, and spent two summers camping throughout Europe.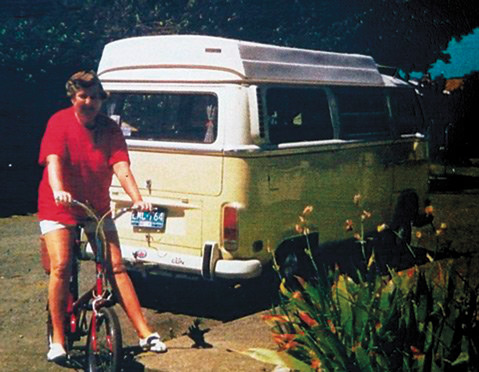 In 1975, Peggy and Ronald brought the family to Santa Barbara — another nice place, but they never stayed for long. After the kids graduated, the two became snowbirds, spending summers in Canada and winters in Mexico. In 2000, the couple moved to Carpinteria to "settle down." But Peggy was never anything less than a rolling stone at heart. Even after her husband passed away in 2008 after 45 years of marriage, she continued to drive to Mexico and Canada on her own. Her last solo voyage was a round-trip up to Victoria, B.C., in the fall of 2014. Peggy plowed on enthusiastically behind the wheel of her trusty vehicle until just a month or two short of her death. She took very good care of that car, and it took care of her, too. Now, it's a family heirloom that continues to carry her spirit.
Margaret Hurst was born Millicent Hunt on January 11, 1930. She bragged that she'd had three different first and last names in her lifetime. Her own mother was only 15 when she gave birth to Mom. Unable to take care of the infant, her mother was forced to give up her child for adoption. The Great Depression was taking its toll on many lives. Fortunately, Mom was adopted at the age of a few months by a loving couple who named her Margaret Louise Apgar. She took on the nickname Peggy in grade school.
Throughout her life, Peggy felt the emotional burden of the mystery of her past. At age 84, she finally sought to find out her birth parents' identities. Born in the state of New York, she learned her adoption records had been permanently sealed. It was quite an ordeal to dig out the information she desperately wanted to know: Who were her real parents, and where had she come from? Finally in 2015, with the help of the local genealogical society, Peggy tracked down the names of her mother and father and uncovered the mysteries of her ancestral history. A subsequent DNA test provided invaluable clues and information. She learned who her mother was and located a number of long-lost relatives. That closure brought Peggy a considerable amount of peace and contentment in the final stage of her life.
Peggy Hurst will be remembered for being a strong mother, a caring wife, and an independent and hardworking woman. She definitely wore the pants, and that was just fine with her; I don't think she'd have had it any other way. 
Peggy is survived by her children, Amy and Alan of Santa Barbara; sister Julie of Victoria, B.C.; and her grandchildren, Maddeleine, Nicholas, and Samantha. Peggy Hurst's life will be celebrated at an open memorial on June 18 from 1-4 p.m. at the Vista de Santa Barbara clubhouse at 6180 Via Real in Carpinteria.