As the drought drags on, South Coast agencies are scrambling to lay the groundwork for a potable water supply that may one day be the region's largest, after Lake Cachuma: purified and recycled wastewater.
For the past 25 years, a small amount of wastewater from sinks, tubs and toilets has been treated and sprayed on the turf at golf courses, schools and parks in Santa Barbara and the Goleta Valley – fewer than 100 sites overall. It's not suitable for drinking, but it keeps the grass green.
The rest of the South Coast wastewater stream – about 11 million gallons per day – is treated, piped offshore and dumped into the ocean. But why waste a supply that can be turned into drinking water? officials are asking now. Even after a wet winter, Cachuma is only half full. Future allocations from the lake will likely be significantly reduced because of siltation and mandatory downstream releases. And it could take 10 years to recharge the local groundwater basins, now at historical lows.
The South Coast – and much of California – has exceeded the limits of reservoirs and wells, the traditional supply options of the 20th century. Now, like Cinderella at the ball, recycled water is attracting a host of eager suitors.
"We're chomping at the bit," said Dave Davis, a Santa Barbara water commissioner. "The interest is as high as you could possibly believe."
On Wednesday (NOTE: JUNE 7), even as operations began at the city's new $70 million desalination plant, the city rushed to submit a last-minute bid on a $5 million property for a future wastewater purification plant nearby. The property measures 2.4 acres and is on the waterfront between South César Chávez and Quarantina streets.
"Recycled water has the potential to make up 50 percent of the city's supply," said Joshua Haggmark, Santa Barbara water resources manager. "We're 10 years out, but it's not too early to start to open people's minds."
A flurry of reports commissioned by South Coast water agencies during the past year shows that purified wastewater from Santa Barbara, Montecito and the Goleta and Carpinteria valleys could supply enough potable water for 80,000 residents, out of a total population of 207,000.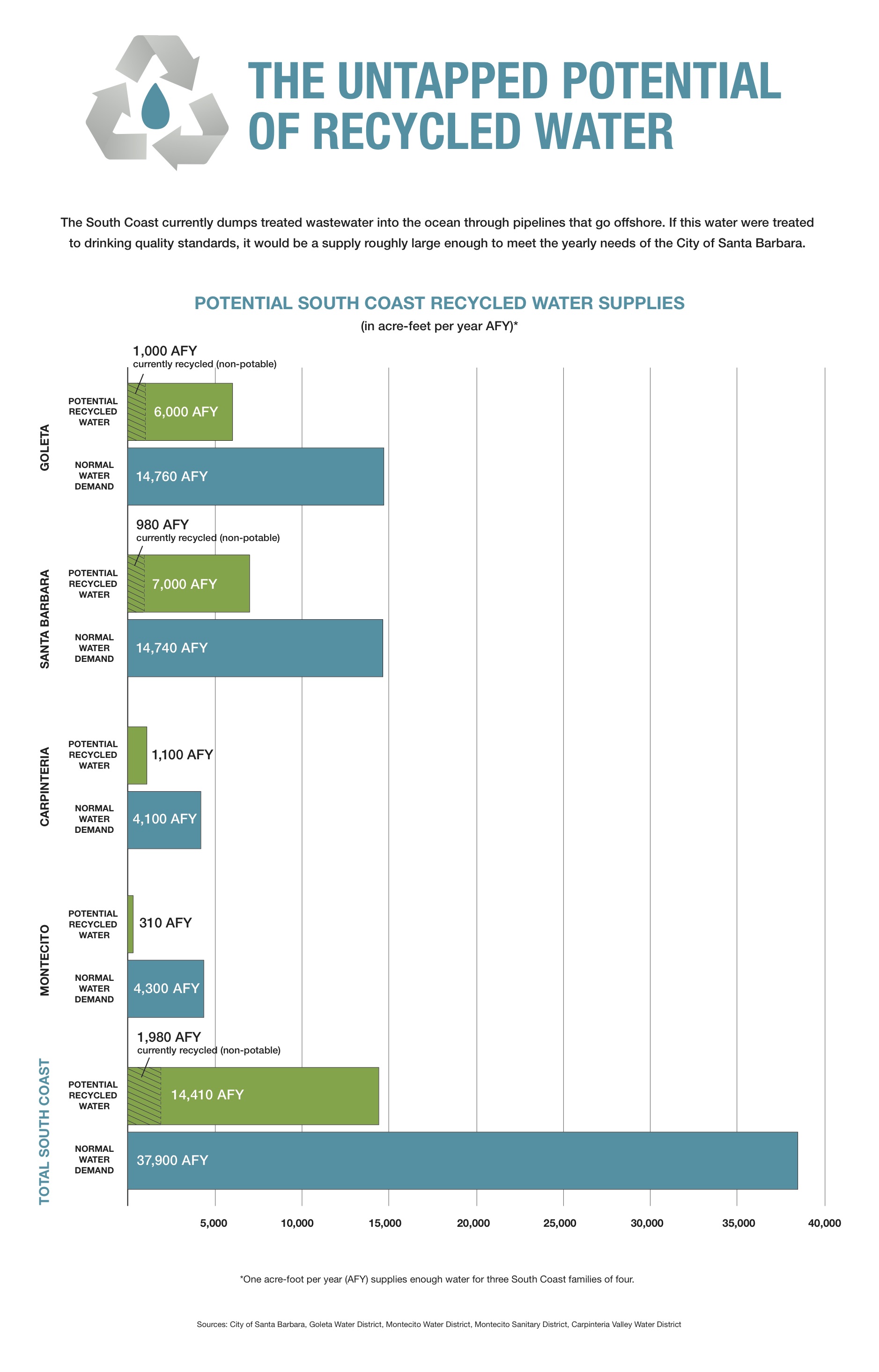 City of Santa Barbara, Goleta Water District, Montecito Water District, Montecito Sanitary District, Carpinteria Valley Water District