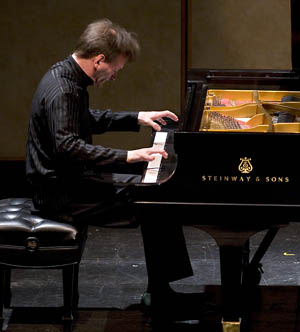 Pianist Stephen Hough makes things clear. On Tuesday night, he played the opening theme of Mendelssohn's Variations serieuses, Op. 54 in a straightforward, yet artful manner, and then he played its variations so well that you could understand every note. Like a great ballplayer, he made the nearly impossible look easy.
The first half of the concert consisted of theme-and-variations works, each one remarkably different from the one before it. Anton Webern's short piece, Variations for Piano, Op. 27, was full of modernist fun and cleverness, yet easy to understand, but Beethoven's Sonata in C Minor, Op. 111, was truly astounding. This magnificent work, the composer's last piano sonata, has only two movements, but carries the weight and power of his symphonies. The first movement opens defiantly with a dissonance, and then winds through a thicket of unstable harmonies, but Hough made us hear Beethoven's powerful drive toward resolution. The second movement-a theme and variations-has a wonderfully syncopated moment that can sound like jazz, and Hough didn't hesitate to show us how much it grooved. The overall effect was that of hearing the final words of a great genius; I counted three ovations when it was over.
How can you top a first half like that? Hough did it with waltzes. He played them almost continuously, as if they were all part of one big piece. Nearly an hour went by in a whirling flash, with light waltzes from Carl Maria von Weber and Camille Saint-Sa»ns, and deeper ones from Claude Debussy and Franz Liszt. Frederic Chopin and Emmanuel Chabrier (a late-19th-century French composer) waltzed into the room, too, with surprisingly introspective and delicate triple-time pieces. The final two works, Liszt's Valse oubliee No. 1 and Mephisto Waltz No. 1, spun us all off our feet. The first begins somewhat traditionally (you can still recognize it as a waltz), then goes off the rails with interesting harmonies and spectacular runs. The second shows us a scene from Faust-much like one in Mozart's Don Giovanni-when Mephistopheles turns a country wedding into a wild bacchanal so that Faust can dance off with the bride. The technical challenge of this work is extraordinary, but Hough made it swirl with humor and ease. The audience gasped when it ended, dizzy from the excitement of a spectacular concert.