Visual Arts
SBCC Art Department Faculty Exhibition
At the Atkinson Gallery. Shows through September 26.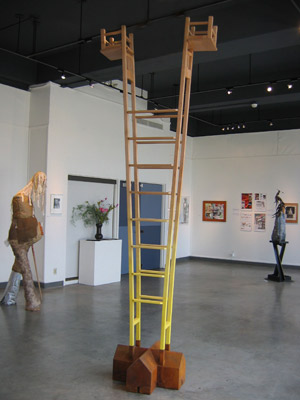 Whimsy, topicality, freakishness, and humor are all currently appearing at SBCC's Atkinson Gallery, and their combined presence demonstrates the wildly varied creative visions of the school's art faculty. Fabricating a thematic line through the drastically distinct pieces on display would be an entertaining exercise in journalistic sleight-of-hand, but it's just as much fun to simply describe these images, objects, and chimeras that few shows could have brought together.
Exemplifying this variety is a row of three pieces along the gallery's glass wall: On the right, Diane Handloser's "Being Present: A Visual Reading of T.S. Eliot" consists of words from the poet's "Little Gidding" in the form of light that streams through cut-outs in transfer tape. In the middle, gallery director Dane Goodman's "the privacies" comprises dozens of black and pink sacks sculpted from a familiar kids' modeling compound, each one appearing to contain a different oddly-shaped object, all mounted around one of the building's structural columns. On the left, Michelle Onstot's "eryn," a large female portrait on birch, is accompanied by a smaller wooden square listing the events of the Iraq War that occurred over the time Onstot took to complete the piece, no doubt reminding some viewers of how they wish the conflict in question would end. (This reviewer, however, admits to awaiting the day he can attend an exhibition free of commentary on it.)
Other two-dimensional works, especially Christophe Bourely's large-scale painting of an iPod-equipped nude man posing with what appears to be the whale found beached near UCSB not long ago, add their own striking touches of eclecticism and wit to the mix. But it's the personality-filled objects that stick: Ed Inks's cartoonish "A Room for Cornell," for instance, is a cross-shaped building whose roof sprouts into twin ladders that themselves sprout into chairs, or Emily Maddigan's "Showing," a nightmarish figure made of the junkyard materials one might expect in a darker Tim Burton film. That all these pieces and others can room together is itself is a fascinating artistic assertion.