Arts & Entertainment
Cecilia Bartoli Sings the Music of Maria Malibran
Cecilia Bartoli Brings Glamour and Musical Magic to the Granada
Four-time Grammy-winner Cecilia Bartoli floated onstage at the Granada as if she were there to receive a fifth award, dressed in a gorgeous blue evening dress and wearing a diamond necklace that seemed to give off its own light. But she and her accompanist, Sergio Comei, didn't come to hold statues, but to make music that outshone all the jewels in the room, and to bring the bel canto tradition to life. In this concert, one of only four in North America this season, Bartoli recreated a program that legendary singer Maria Malibran called her Salon Romantique, a selection that begins with works by well-known composers Rossini, Bellini, and Donizetti and finishes with songs by Manuel del P³pulo Vicente Garc-a and his daughters, Pauline Viardot and Maria Malibran herself. In doing so, Bartoli did not show us a historical curiosity, but instead showed us what a human voice could achieve nearly two centuries ago, and can still do today.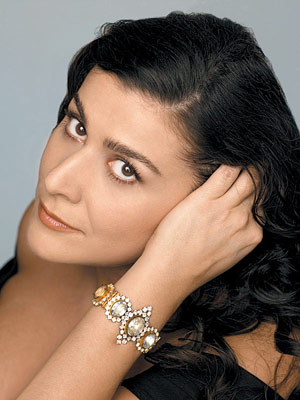 Each of these relatively short works holds a powerful emotion-the sadness of an abandoned woman or an orphaned Tyrolean girl; the giddy cheer of an up-tempo dance or a woman in the first throes of love-and Bartoli poured them all straight into us. The smallest shift in pitch followed a shimmering, complex path of varied texture; "tra-la-las" and "mamma mias" bounced along brightly. Throughout, Bartoli brought out the character in each song vividly, dancing and even yodeling, while still displaying the sheer beauty of pure musical sound in every song.
After the intermission, Bartoli returned to the stage in an equally gorgeous red gown and headed south, to Naples, Spain, and even Cuba. In Viardot's remarkable "Havanaise," Bartoli swayed and invited us to "come to the sea" as Comei's accompaniment evoked the sultry atmosphere. But the most fun came in the spirited finale, Malibran's "Rataplan," which means something like "rat-tat-tat"-the sound of a drum. Comei took a piece of sheet music and placed it on the piano strings so that it would rattle like a snare drum as Bartoli sang in the voice of a retired military drummer who still dreamed of past glory. On this night in the present, a truly spectacular voice shone clear and bright, and the audience would not let her go without hearing three encores.