Courts & Crime
Gang Murder Cases Collide in Juvenile Hall
Three Santa Barbara Teen Suspects - Including Convicted Murderer Ricardo Juarez - Attack a Fourth Alleged Killer
The stories of three defendants in recent gang killings have recently become intertwined, following an alleged incident at Santa Maria Juvenile Hall in February.
Ricardo Juarez, a 16-year-old sentenced earlier this year as an adult to 17 years behind bars after being found guilty of voluntary manslaughter, found himself back in Superior Court last week on allegations that he participated in the alleged gang-related assault in Santa Maria Juvenile Hall. Joining Juarez is Ruben Mize, a 17-year-old who could be in a lot bigger trouble down the road than Juarez. He, along with four others, is facing charges in connection with the stabbing death of 16-year-old Lorenzo Carachure on the Westside in July 2006, as well as attempted murder charges in attacking two people accompanying Carachure. That case is headed toward trial sometime this summer.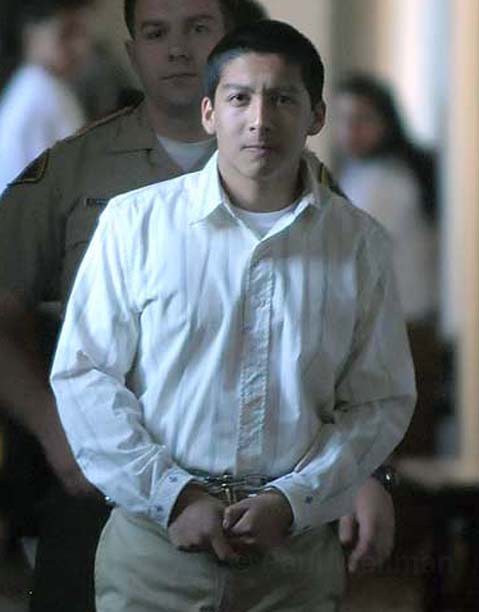 In addition, Mize is facing an attempted murder charge for a January 17, 2008, assault. He is the only defendant in that case. Mize also faces a charge inducing or soliciting another to be a part of a gang through a jump-in that allegedly took place on January 24, 2008; he will be arraigned on that charge next month.
There is one other defendant in the alleged assault, Ivan Romero, 17. He was in the Hall facing juvenile charges.
The victim in the juvenile hall assault is Daniel Cervantes, who along with two others is currently facing murder charges for the July 4, 2008, murder of Emmanuel Roldan. He sustained a large hematoma on his head, according to prosecutor Hans Almgren.
Juarez, who has since been transferred to a state facility, Mize, and Romero will be back in court this Wednesday for arraignment. All three are facing one count of an assault by means of force intended to produce great bodily injury and a gang enhancement charge. In all, the three could face nine years in prison on these charges.
If found guilty, Juarez could receive another strike – his second – under the state's three-strikes penalty. If convicted of a third he would face life in prison.