News
District Attorney Race: Christie Stanley Out
Incumbent Endorses Josh Lynn to Oppose Joyce Dudley
In a startling development, Santa Barbara County District Attorney Christie Stanley has chosen not to seek re-election in 2010. The decision comes just days after Senior Deputy District Attorney Joyce Dudley held a press conference announcing her intention to seek the position and weeks after Stanley affirmed she planned to run.
Instead, Stanley will be endorsing Chief Trial Deputy Joshua Lynn for the position, she announced Monday morning.
Two weeks prior, Lynn told The Independent that he had no intention to run for the seat at the time. "My boss is running so I have no interest," he said. "If something changes, it changes."
It did change for Stanley, who has battled lung cancer for much of her time in office, making many question whether she is fit for office. Despite missing much time in recent years, her health seemed to be improving, and she expressed confidence in her ability to do her job. Even when absent physically, she said, she was in constant communication with her office, and making the decisions for the office. "I think I'm the best person to do the job," she said.
But in a press release sent out Monday, Stanley said, "[M]any considerations led me to the opposite decision. A key factor in my decision is a desire to singularly focus my attention and effort on the fight for public safety in our communities. The battle to keep unreasonable and unfair budget reductions from undermining our public safety mission was also a critical consideration. I will focus all of my energy toward addressing these crucial areas."
Had Stanley remained in the race, it would've been the first time since 1855 – when elections were first held for District Attorney – that an incumbent faced a challenger from within the DA's office.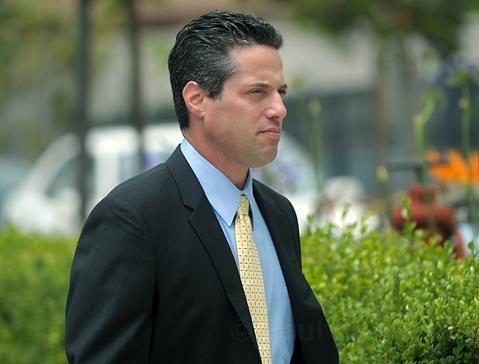 Most recently Lynn secured a plea bargain from Leianna Arzate – a 33-year-old woman who kidnapped an hours-old child from Santa Barbara Cottage Hospital – that will put her behind bars for 11 years.
This summer Lynn successfully prosecuted Jesse James Hollywood. The jury that found Hollywood guilty of first degree murder and kidnapping recommended life in prison without parole for the 29-year-old. The case had many complexities, not the least of which being that the crime happened nine years ago.
Stanley succeeded longtime DA Tom Sneddon in 2006, gaining nearly 70 percent of the vote. A phone message left with Stanley's secretary Friday morning was not returned. She has not returned several messages in the last week. Lynn also didn't return a call.
Lynn, who was born and raised in Santa Barbara, began as a prosecutor with the DA's office in 1996. He currently supervises approximately 25 attorneys in the office's criminal operations. He has shown a quick temper in court, most recently at the Hollywood trial, when he would often make sarcastic quips or retorts to comments from the defense. But he got the conviction in the highly publicized case. Stanley put Lynn on the case out of an abundance of caution, removing Senior Deputy DA Ron Zonen. Zonen had given case files to moviemakers in Hollywood, which aided in the production of the movie Alpha Dog. The defense argued that Zonen should be taken off the case, but the California Supreme Court ruled he did not. So Lynn stepped in more than a half-decade after the crime was committed and successfully prosecuted Hollywood, who will be sentenced in October.
Dudley, meanwhile, has been with the DA's office since 1990, and has been named Deputy District Attorney of the Year three times in her career. She kicked her campaign off Tuesday with an enthusiastic group of nearly 100 supporters in front of the County Courthouse. She pledged to bring back the department's truancy program, create an arson unit, and focus on violent crimes when she is DA.
She most recently successfully prosecuted Peter Jeschke, a former girl's tennis coach at Santa Barbara High, who had sex with one of his players. A jury found him guilty of seven of the 11 counts he was charged with and not guilty of two. He was convicted of all of the sex crime charges, which included sexual penetration by a foreign object with a minor, three counts of oral copulation with a minor, and two counts of sex with a minor more than three years younger than himself.
The revelation adds to the complexion of an election still 10 months away. It also means that more from within the office could enter the race. Senior Deputy DA Gordon Auchincloss is one of the names still being thrown out by people in legal circles. He told The Independent on Wednesday, "It's certainly something I've thought about, but I haven't made any decisions at this time."