Dance
Spain's Compañía Nacional de Danza to Perform in S.B.
Artistic Director Nacho Duato Speaks to The Indy's Elizabeth Schwyzer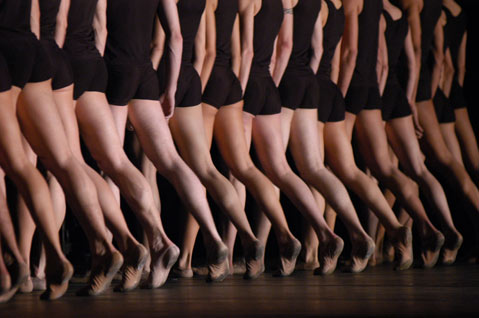 When Nacho Duato took the helm of Madrid's Compañía Nacional de Danza (CND) in 1990, few had ever heard of the group. Today, CND is among the top contemporary ballet companies in the world. Duato has served as CND's artistic director and choreographer since he was 31 years old. Twenty years later, he's facing a major transition as Spain's Minister of Culture seeks to replace him and take the company in a new direction. Last week, Duato spoke to me by phone from his apartment in Madrid about the program he's bringing to Santa Barbara, what he feels he's accomplished with CND, and what the future holds.
Tell me about the program you'll be performing here in Santa Barbara, and why you chose these three works. "Arenal" is a piece I did in 1988. It's a ballet dedicated to the Mediterranean, set to pop songs from Majorca and Catalonia. "Castrati" is from 2002 and is set to the music of Vivaldi. It's about when they used to castrate young boys so they would be able to sing like women, and about the drama of that choice. "Cobalto" is from last year, so the audience will be able to see an older piece, a newer piece, and one that's fresh from the oven. The score for "Cobalto" is by two composers from Barcelona. There is an organ in a village near Barcelona that is the biggest organ in Europe. The music for this dance is all played on this instrument. For "Cobalto," I was inspired by eroticism. It's a very tricky subject because if it goes too far it can look like pornography. I like the idea of being inspired by something that could be dangerous.
In general, I like to do things that are on the borderline. For example, I made a ballet about torture. When you choose a subject like torture, it's very tricky because if you don't treat it with subtlety and in an elegant way, it can be very gross and explicit, but if you treat it in an intellectual way, it can be very beautiful. What happens on stage is not as strong as what people feel and think in their minds. So I am playing with that—trying to trigger people's minds to go further than what is happening. That's why I love dance: because dance can make people imagine things that are not actually happening. That's the power of movement.
What was your aim when you took the helm of CND in 1990—what did you want to accomplish? Well, you see, I don't know, because when I was a dancer I didn't know what I wanted to accomplish. I danced because I loved dance. Dancing led me to choreography. I don't know what I wanted to accomplish as a choreographer—I made dances because they were burning inside me; I had to do it. I think it's wrong when you do what you do because you want to be something or go somewhere. The honesty of doing what you really feel is what takes you far. I do what I do because I don't know anything else that makes me happier.
But now you're leaving the company. What made you decide to move on, and what comes next? It's not my decision; it's the decision of the Spanish government and the Minister of Culture. He wants another type of company. I don't know how they have the guts to destroy 20 years of work. I don't understand, but if they don't like what I do, then I don't want to be there a bit. So I will leave this coming July.
What comes next does not worry me. Many companies want my work, and many dancers want to dance with me. Next year I have projects lined up in Chicago, Brussels, Oslo, and with the Bolshoi, but what makes me very sad is that I won't have my dancers. I have been with them 20 years, and now I have to let them go.
What has been the most satisfying aspect of your work with CND? The most satisfying thing is that I took a company that nobody knew about and I made it one of the most important companies in the panorama of contemporary dance. It makes me happy that I could do that. I put Spanish dance on the map.
Anything else you'd like to say? I love American audiences, and I love the way America treats its artists. I love to dance there because it's an educated audience. When we perform at the Yerba Buena Center or in Washington or New York, I know they are appreciating every little bit of my work. So I am very happy every time I go to America—I know the audiences recognize the quality and the effort. Santa Barbara has already seen our second company, CND II, and it's been a huge success. Just wait until you see the first company—they are beautiful and amazing.
4•1•1
Compañía Nacional de Danza will perform at the Granada on Tuesday, April 27, at 8 p.m. For tickets or more information, call 893-3535 or visit artsandlectures.ucsb.edu.