Alfred Moir: 1924-2010
In Memoriam
| Tue Feb 22, 2011 | 6:00am
Four days before Alfred Moir passed away on November 13, his booming voice could still be heard from afar on the UCSB campus, announcing a buoyant presence which always seemed a bit larger than life and is bound to go on growing posthumously, the way legends do. In his roles as scholar, teacher, administrator, and, last but not least, collector, all of them pursued with sophistication and success, Moir stood in the forefront of Chancellor Cheadle's first serious academic appointments—those whose vision and hard work paved the way for UCSB's transformation from a sleepy state college into one of the country's finest research universities.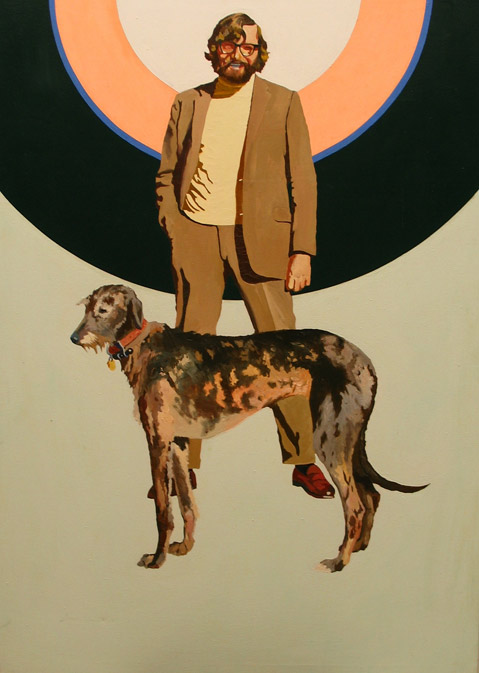 Born and raised in Minneapolis, Moir met the first great challenge of his life not on a university campus, but in the Pacific war theater. His knack for smart if unorthodox choices (which later prompted him to pursue a somewhat alternative lifestyle in the Californian sun rather than in ivy-shaded walls along the East Coast) was immediately apparent when he declined to become an officer, settling instead for the less glorious but, in point of the practical details of military life, more influential and comfortable rank of Master Sergeant.
Following the Second World War, Moir obtained his bachelor's, master's and PhD degrees in rapid succession at Harvard University, finishing up in 1953 with a dissertation, which later became his first book publication, on Caravaggio's Italian followers. Already, the year before, he had begun to teach at Tulane University and continued to do so until 1962, when he joined as a specialist in Italian baroque art in what was then the fledgling Department of Art and Art History at UCSB. A year later, he became its chair and (with a keen eye for the blessings of Governor Brown Sr.'s Master Plan for Higher Education) embarked on a vigorous campaign of building a nationally competitive department through numerous key appointments. Several of these came in unorthodox, non-European fields, such as Indian and African art on the art history side, with temporary coverage of Pre-Columbian and Byzantine art added, as well, plus ceramics and printmaking on the art studio side, not to mention a degree of gender diversity which was unusual at the time.
Moir was also instrumental in bringing two important art collections to UCSB. The Morgenroth collection of Italian Renaissance medals and the Sedgwick collection of old master paintings provided faculty and students with small but exquisite holdings of original art works; balancing out to some degree the department's competitive disadvantage vis-à-vis programs in metropolitan areas rich in public collections. In tandem with David Gebhard, the department's specialist in modern architecture, Moir did not rest until he had provided another essential desideratum to the young university campus: the Charles Moore Faculty Club, still splendidly serving its practical purpose while pursuing a second career as a prime example, in art history handbooks, of post-modern architecture.
This was Alfred Moir's great time. His creatively hosted pool parties are still remembered today; his numerous connections in Montecito won the department many friends and supporters; naturally, he played an important role in the Santa Barbara Museum of Art's (SBMA) rising regional significance, as a boardmember and occasional exhibition curator; with slightly baroque notions of patronage he brought famous guest artists to UCSB, including Rafael Soyer, Larry Rivers, and George Rickey (one of whose kinetic sculptures was, not by accident, erected on campus); and within the department, Moir fostered genial collaboration between the varied specialties, opening his ocean-view home on the Mesa to social gatherings which masqueraded as "faculty meetings," while also ceaselessly offering help, advice, and encouragement to the growing faculty, looking after every detail and giving younger colleagues crash courses in how to be good teachers, lovers, and parents.
In short, he was a great leader, but since he was temperamentally less suited to follow, when his chairmanship ended in 1969, he wisely proceeded to spend a year in residence at the American Academy in Rome and to dedicate another two years to directing UC's education-abroad program in Padua, Italy. His later tenure at UCSB was devoted to service on the major senate committees, to publishing a host of books on baroque masters, from Caravaggio to Van Dyke, and above all to collecting, researching, and exhibiting at various venues a growing and eventually very significant cache of old-master drawings. These formed the principal objects of hands-on study for generations of PhD candidates in his graduate seminars. As teaching tools, the drawings were tax-deductible, too, permitting the owner to claim a dizzying number of "dependents" in his tax returns.
After Moir's retirement in 1991, his close contact with the department, the faculty, and both the University and the Santa Barbara Museum of Art never ceased, though it was frequently interrupted by travels to everything worth seeing around the globe. Eventually, a long history of smoking took its toll, curtailing his migratory pursuits; his love for collecting drawings held out to the very last, though, and even as an exhibition curator, his final effort came just two years ago in the form of a beautiful show of Picasso drawings, prints, and posters at SBMA. Alfred Moir bequeathed his art collections to several museums, including UCSB's University Art Museum and SBMA. His name will be kept alive in the department by a generous bequest for the benefit of graduate students, and by the personal memory of those who knew him and could not help but love him. As a former student put it: "I admired him for his panache, his totally free being himself."