Robert Francis Phillips: 1921-2011
In Memoriam
| Thu Apr 28, 2011 | 12:00am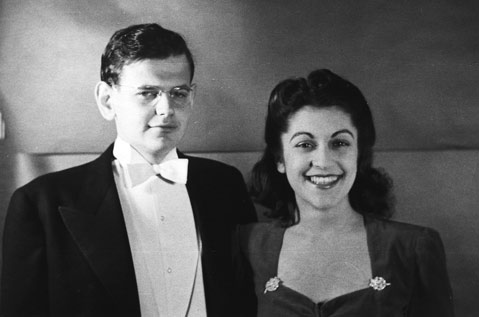 Robert Francis Phillips, the husband and silent partner of noted Goleta civic activist and slow-growther Harriett Phillips, died last week at the age of 89. Phillips's death came after seven years of struggle with a host of significant health challenges ranging from a non-malignant brain tumor to heart problems to lung cancer. "He was a true man and my best friend," said Harriett, his wife of 67 years.
Quiet and reserved, Phillips was happy to yield the limelight to his wife, who, since the couple moved to Santa Barbara in 1974, quickly emerged as a sustaining force in Goleta politics. While Bob Phillips played little direct role in these campaigns—and was largely invisible even to many participants—his influence was definitely felt. "He was not gregarious or political, "said Harriett. "But he was supportive. He was the manager of our lives." That support would allow Harriet to play a key role with Citizens for the Goleta Valley, the grass roots organization that led the charge against urban sprawl and development throughout the 1980s and early '90s at all levels of government, taking their case against Bacara, for example, all the way to the California Supreme Court. While Bacara ultimately prevailed, the hotel developers agreed to pay $5 million to the Goleta Land Trust, which has since used those funds to buy and preserve open space throughout the Goleta Valley.
Phillips and his wife moved to Santa Barbara from Michigan shortly after he'd been forced to retire as director of the Michigan Small Business Administration, which he ran from 1960 to 1973. A lifelong Democrat, Philips had been appointed to the post by President John F. Kennedy. He got the post even though Harriett—who was then the vice chair of the Michigan Democratic party—had been physically ejected from the 1960 Democratic national Convention for supporting Kennedy's unsuccessful rival for the party nomination, Adlai Stephenson. (Her ejection was thwarted at the insistence of delegates active with the United Auto Workers union.) However reticent Phillips may have been, he was blessed with sufficient business skills and political acumen to hold onto his appointment long after Republicans took control of the White House in 1968. Although he was eventually squeezed out at the insistence of the Nixon White House, he managed to hold on until the last year of Richard Nixon's second term.
Phillips, said his wife, greatly enjoyed his 13 years at the Small Business Administration. "It was fun for him. He was good at it, and he knew he was helping people," she said. Before taking the post, Phillips spent the previous 15 years running a family business specializing in hotel construction materials. It was a good business, said Harriett, "but it was not helping people." When Phillips started, she said, the program was a total mess. It wasn't loaning out any money. It wasn't even processing any loans. And, at the height of the Civil Rights movement, Harriett said, there wasn't a single black person on the staff. In short order, Phillips changed all that. Right away, he hired a black person to a high-profile legal post. He reached out to Michigan's major banks and lending institutions, letting them know that federal loans were available.
But he took special efforts to notify black entrepreneurs that his door was open, and they knocked. Many of the loans went to small businesses that directly or indirectly related to the automobile industry. But others went to social service ventures designed to improve the high school graduation rates for black teens. In those cases, Phillips took calculated risks even if there was little or no collateral, said his wife. Few such loans, she said, defaulted. When Phillips retired, a group of black business leaders held a party in his honor. Tom Cleveland, who owned a public relations firm in Detroit, took the opportunity to state, "There's never going to be another honky like you."
In addition, Phillips directed federal funds to stimulate Michigan's fledgling ski-lodge industry. While Michigan is not known for its mountains, its rolling hillsides and long, cold winters make for good skiing. The challenge, said Harriett, was that much of the land in question was publicly owned, meaning it could not be used to collateralize such loans. Somehow, Phillips figured out how to finesse this. While he liked using federal loans to make things happen, he could crack the whip, as well. Harriett recalled how her husband pulled the plug on one developer who abused the federal assistance to build an excessively lavish ski lodge. For his efforts, she said, he was named best federal bureaucrat in the state.
Phillips was born in Minneapolis in 1921, the only child in a Jewish household. His father was in the hotel building materials business. His mother was physically frail. When he was six, the family moved to Detroit, where he grew up, attended public high schools, and attended the University of Michigan, getting a degree in economics. He met his future wife at temple during the High Holy Days—he and a group of fraternity brothers were there in hopes of seeing legendary baseball great Hank Greenberg, the famous Jewish catcher then playing for the Detroit Tigers. Greenberg showed up, but so did a high school girl named Harriett Berman, also an only child, with bright eyes and an irresistible smile. Phillips would tell friends that night that "She was the one." She, however, was not so thunderstruck. Phillips was an indifferent dresser. He was, she would discover later, a poor a dancer. "I thought he was alright," Harriett recalled of her first impression. "I didn't think he was 'the one.'" But her father really liked Phillips, and over time, he grew on her. "He was such a fountain of information. He knew so much about so many things," she recalled. "We'd talk about things till the middle of the night, all the time."
The two were married on May 29, 1943, in Kansas City, Missouri. The hotel room in which they exchanged vows had been used by Harry Truman, then Vice President, as a de facto office when he was still a Missouri power-broker. By that time, Phillips had been drafted into the Army, where he'd serve for three and a half years. A few months earlier, Phillips's mother—worried that she might never see her son again—made the long trip from Detroit in spite of her poor health. On that trip, she contracted pneumonia, and a few months afterwards she died. Phillips remained stateside during World War II. He was initially trained at Ft. Riley, Kansas, but was assigned to study engineering at a mining engineering college in Colorado. After that, he was dispatched to Minnesota, Pennsylvania, and Maryland to study medicine even though he made it clear he had no interest in being a doctor. "That was the Army," said Harriett.
After the war, the Phillips settled in the suburbs of Detroit, built their dream house, and began the business of raising three sons. Professionally successful, Phillips bought a lot on the banks of Lake Michigan and built a cottage. It was an idyllic spot. The Phillips were avid sports nuts and the family enjoyed hockey and football games—the Detroit Lions and the University of Michigan. They skied and skated. During this time, Harriet immersed herself in the political work of the state Democratic Party. When campaigns required that she work late nights, Bob would come home to care for the kids.
The Phillipses would break with President Lyndon Johnson and the leadership of their party over the Vietnam War. "He thought it was a total waste," Harriett recalled. "He and I were both convinced the 'Domino Theory' was nonsense, that the people we were fighting were nationalists fighting for their country. They just happened to be communists as well, but that was secondary." Even so, their middle son, Bruce, volunteered for the Army and was dispatched to Vietnam. "We were furious when we found out," Harriett said, "and so relieved when he got back."
The Phillipses moved to Santa Barbara in 1974. By then, Michigan's cold winters had taken their toll. Phillips said she was attracted to this area because of the mountains, the ocean, and the university. "His attitude was, "'If you're happy, then I'm happy,'" Phillips said. At the time the Phillips arrived, the South Coast was experiencing a growth spurt fueled by transplants from Michigan and the Midwest, drawn by the R&D industry then taking off in Goleta. Phillips recalled hearing about slow-growthers carrying signs reading "Michigan Go Home." At one point, she said, the South Coast was home to no less than 800 University of Michigan alumni. Ironically, Phillips herself would become a major player in the Goleta valley's much heralded growth wars, teaming up with former County Supervisor Bill Wallace who engineered the takeover of the Goleta Water Board to shut off the spigot required for further growth.
Where Harriett Phillips embraced opportunities of public involvement, Bob Phillips was more inclined to take his pleasure swimming, biking, and reading, and playing tennis and chess. He served on the board of the Goleta Valley Community Center, and as treasurer of his condo association. In recent years, he took up playing the bagpipe as well. He is survived by Harriett and two sons, Stevan David Phillips and Seth Harold Phillips, and preceded in death by his son Bruce Paul Phillips.