Columns
Strong Opinions, Unpredictable Mixes, and Repurposed Disco
Last Late-Night Listening Diary
This, the KCSBeat's final month, offers the opportunity for one more late-night listening party. As even semi-dedicated KCSB listeners know, much of the station's schedule changes every quarter, and a great deal of that change goes on in the "graveyard" hours between midnight and 6 a.m. That makes these overnight hours the freshest time to listen, given their constant churn of new radio ideas, but, unless you live nocturnally or just have trouble sleeping regularly, you might well find it the least convenient time to listen. Hence my effort to keep the espresso brewed here at KCSBeat headquarters and, at least once a quarter, open an ear to the sounds of KCSB's wee-hours signal. Here's what I heard on a few late nights in summer 2011.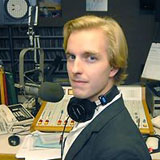 Tuesday, 12 a.m. On True Believer Radio, DJ Prove It spins a mix half hip-hop and half punk, a breakdown I first thought sounded pretty common—but then realized I may never have heard before at all.
But like any KCSB program, the ideas behind this one never quite stop evolving. "I'm still tying to figure out how to form it," the host announces before launching into a format-breaking opening set of reggae. But he soon steers back into hip-hop territory with tracks from Talib Kweli, De la Soul, and Mobb Deep, which precede a second-hour tribute to "the greatness that is Method Man." To keep the question of genre alive, he then does a giveaway of concert tickets to the Dropkick Murphys, the Reverend Horton Heat, and the Murder City Devils. According to the impromptu rules of the contest, the winning caller has to correctly identify a clip of movie dialogue. After his segment from The Big Lebowski yielded answers from O Brother Where Art Thou to Hoosiers, DJ Prove It played something a little easier from Gladiator—which many callers said was 300.
Saturday, 12 a.m. reDISCOvery sounds like a disco show, and maybe the time has come on KCSB for someone to launch one, but it turns out to serve a solid three-hour block of "underground house music." House has enjoyed popularity for so long—and provided the background thumps to so many Isla Vista parties—that I doubt I have to explain its nature in this space. But listening to these mixes from DJ Tony Fuze and special-guest turntablist Jay Franco made me realize the appropriateness of the word "DISCO" in the show's name. House music, especially represented by the particular productions on this show, seems to have lifted and repurposed the choicest string, vocal, synthesizer, and rhythmic sounds and techniques from the various maligned and/or forgotten dance musics of the past. Rarely do you hear such obvious examples of musical evolution in so danceable a form.
Tuesday, 3 a.m. When did video game music become a viable genre? Not that I'm complaining. The very idea of tuning in to a program like The Brown Noise and hearing three straight hours of such tracks might once have seemed ridiculous, these days I almost expect to hear the stuff. The march of technology fated part of this: As video games have grown more realistic, listening to their music has become no more outlandish an activity than listening to film scores.
But as my own generation has grown up, we've converted even the earlier, bleepier, bloopier stuff into its very own kind of aesthetic experience. I find the lush orchestral tracks of today's games all well and good, but for feeling impressed at musical creativity's ability to overcome severe instrumental limitations, and for a Proustian childhood sense-memory experience to boot, nothing beats the tracks I heard on the show from late-eighties and early-nineties games like Sonic the Hedgehog, Toejam and Earl, Mega Man, and good old Tetris.
Sunday, 4 a.m. KCSB now has its own equivalent of one of those opinion-heavy midday talk shows you hear on commercial radio; you just have to tune in before the sun comes up to hear it. Ensconced in the range of "safe harbor" hours in which the FCC loosens up on all those profanity rules, Kimmie Dee uses Elbows & Belly Buttons— How I See It to pronounce upon issues of censorship, judgment, prejudice, surveillance, and much more besides. "I don't know where people get off telling other people how to speak, what to say, how to live, how to love," I hear her say, and she'll clearly give it to any of 'em with both barrels. While she demonstrates her skill at firing off a monologue and then some, she gives plenty of time over to other voices, turning the show into a collage of news media clips, live callers, comedians, and public intellectuals. I'm pretty sure I even heard a little reggae in there too.
And that's it for the KCSBeat's overnight diaries. Start grinding the coffee beans, because next quarter you're on your own!