Jungle Payne: 1952-2011
In Memoriam
| Wed Oct 26, 2011 | 6:00am
We received word from New Zealand on September 2 that Jungle Payne had, in his own words, "lost a long battle with a life-threatening illness."
Jungle was born in Jeffersonville, Indiana, on December 13, 1952, to Daniel and Martha Jane Payne. He was the second of five children, following John, the oldest, by a year, and followed by Katherine, David, and Thomas. He spent his early years in Columbus, Ohio, and moved with his family to California in 1964, eventually settling on the Mesa in Santa Barbara in the summer of 1966.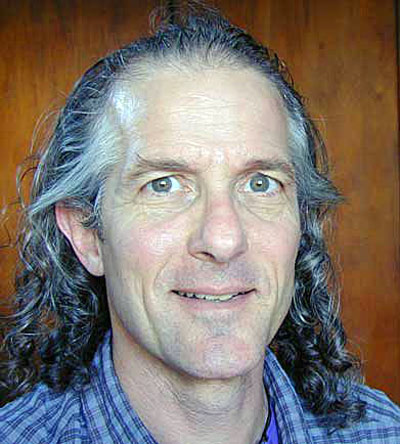 Jungle attended La Cumbre Junior High School, where he sang in the choir and began a life-long interest in the theater. He was active in the Santa Barbara Youth Theater and the Santa Barbara Civic Light Opera, where he performed in the casts of The Unsinkable Molly Brown and Superman. He left Santa Barbara after high school and lived in New Jersey, where he worked in a bicycle shop and married his first wife, Meg. Jungle returned to Santa Barbara after his divorce and attended Antioch College, where he received a bachelor's degree in 1986.
It was in Santa Barbara that Jungle developed his unique perspective on how a person should live. He had firm convictions and lived up to his own principles. Jungle was one of the principal, early proponents of a plan for Santa Barbara to accommodate bicyclists, which eventually resulted in the establishment of the bike lanes on Castillo and Bath streets.
Jungle's wide range of activities brought him into contact with a large number of people. He was active in the food co-op movement in the 1970s. He developed an ongoing interest in graphic arts through his employment with Tom Buhl Typography and used those skills to help install the pre-press composition system that was used for this newspaper, The Santa Barbara Independent. Despite a very busy and full life, Jungle somehow also managed to indulge his interest in music. He was an accomplished singer and guitar player, a fact that will be attested to by the many friends he leaves behind in Santa Barbara and Nelson, New Zealand. The folk music group to which he belonged, when they learned of his death, gathered 'round and took care of all the necessary details as an act of love and friendship.
Jungle also met his second wife, Marta Fisch, while living here in Santa Barbara. They were married in an outdoor ceremony on More Mesa in the spring of 1989. It was while they were on a trip through the South Pacific in the early '90s that Jungle was offered a position as a graphic artist in Perth, Australia, and they decided to stay in that region, eventually locating on the island of Waiheke, just a ferry ride from Auckland, New Zealand. After his second divorce, Jungle moved, for a final time, to Nelson, New Zealand, where he landed a job working for the Nelson City Council, a job he still held at the time of his death on September 1, 2011.
Although he lived half a world away, Jungle found the time and wherewithal to visit his family and friends here in Santa Barbara on several occasions. He always seemed the same, as if the distance and time didn't matter, because once you were his friend, you were a friend forever and just picked up wherever you had left off the last time you saw him.
Jungle left countless friends and acquaintances behind: people from all sorts of backgrounds, nationalities, political persuasions, ethnic groups, and religions. He would discuss anything with anyone at nearly any time and was a terrific listener. All he ever asked was that a mutual respect be afforded to each other's position and that the conversation remain civil. All in all, he was a truly remarkable man: our brother and friend, never forgotten.
Anyone who is interested may use this link, facebook.com/groups/260667770621944/, to read from or post to the Facebook group "Jungle Payne's Community of Friends: Memories of a Rare and Loved Soul."