Mike deGruy: 1951-2012
In Memoriam
| Wed Feb 15, 2012 | 6:00am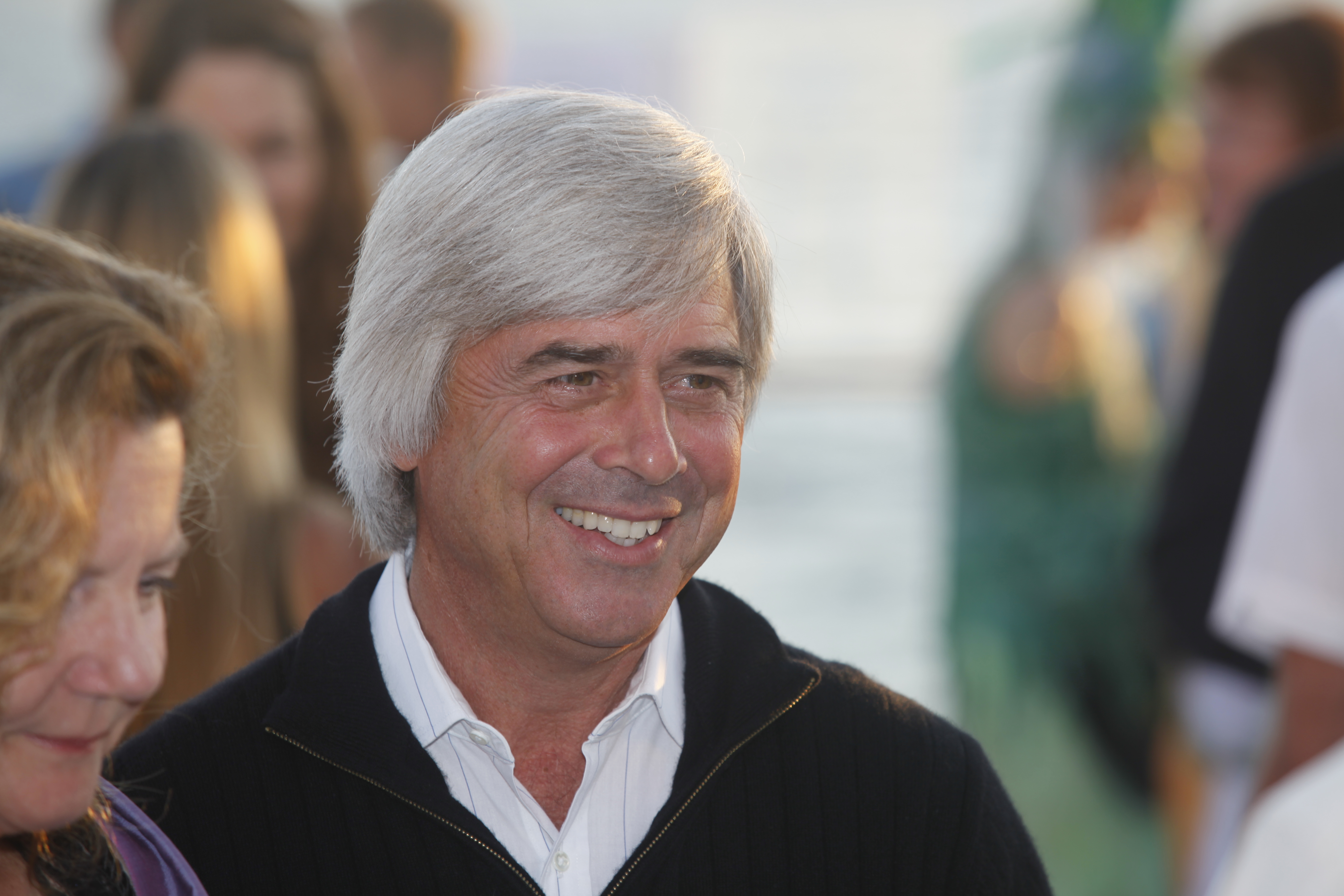 On April 2, 1978, Mike deGruy and a fellow researcher were diving in a little known area of the Eniwetok Atoll. Mike was taking still photographs when he was violently attacked by a grey reef shark, which ripped the top of his right arm off and left him bleeding profusely in the "sharky" waters of the lagoon. His diving partner was less severely attacked by the same shark. They were 10 miles out, with no land in sight and nobody in their 21 foot boat to help. Needless to say, things were grim for the two researchers as they were separated at the surface – each left alone to deal with a dire situation in the middle of a lonely ocean…
As a member of the Academy of Underwater Arts and Sciences Board of Directors, I was reading the above account after asking Mike deGruy for his biography and curriculum vitae. Santa Barbara ocean photographer Bob Evans (who was also on the AUAS Board) and I wanted to nominate him for a NOGI Award. DeGruy had produced a prodigious body of ocean work, and received numerous awards for it, and we couldn't believe he hadn't already won the NOGI. The New Orleans Grand Isle award is considered the Oscar of the ocean world, its awardees constituting a Who's Who of the ocean world: Jacques Cousteau, Peter Benchley, Sylvia Earle, Robert Ballard, James Cameron, Lloyd Bridges, and many other ocean luminaries.
I remember precisely where I was when I realized what level of talent Mike deGruy had in the realm of underwater cinematography. I was in the audience of an underwater film festival at UCSB's Campbell Hall, where Mike showed a composite of his most acclaimed footage: 1) Enormous orcas attacking sea lions in the frozen north – giant, incredible, wild, and awful footage, with Mike in the frozen water amid the sea lions (!); 2) a tiny yellow pufferfish blowing itself up as big as it could possibly get when it was suddenly attacked by an eel – blowing and finning as fast as possible with its little fins, while the eel worked and worked on gulping it down until…until….the pufferfish got away! 3) A shark leaping out of the ocean and grabbing an albatross, the bird struggling and struggling to get out of the shark's jaw, looking more and more mangled as the shark kept chomping, and every time the shark mouth opened, the bird repositioned itself, and finally the albatross got away!
The cruelest news in the world came to us on February 3, when we heard that Mike had not gotten away from a terrible helicopter crash in Australia. He was working on a National Geographic/James Cameron expedition that was the beginning of a major documentary, Deep Challenge, to be followed up by a television series.
Over a thousand people gathered for Mike's memorial celebration at the Fess Parker Red Lion on Sunday, February 12. Jim Cameron told the attendees how he heard the tragic news, how it made his expedition "suddenly irrelevant," and how they eventually started again because projects like this represented everything Mike and his colleague Andrew Wight – an experienced helicopter pilot who died with Mike as they set out on a location search – stood for. "We're going to go on," Cameron said, "and Mike will be my guardian spirit."
Mike's own guardian spirit was Mimi Armstrong deGruy. They met when Mimi was an associate producer for Ted Turner making a film about the American Trust Territories in the Pacific. They decided to hire a Hawaiian crew rather than bring a crew from Atlanta, and Mike got the call.
One of the speakers at Sunday's memorial service, Mike's childhood buddy Paul Atkins, said Mike told him of their meeting, "She's the one!" and they were married two years later. With their company, The Film Crew, established in Santa Barbara in 1979, Mike and Mimi began to make nature films together and carried on a wonderful filmmaking business. They also established a home near the beach, where they raised Max and Frances, their two teen-aged children, and received friends from all over the planet. At the time of his passing, Mike was doing work on the Deepwater Horizon oil spill in the Gulf of Mexico, his son Max working with him during at least one shoot to get underwater footage of the environmental disaster.
I met Mike in the beginnings of Heal the Ocean, which formed in 1998. He came to me and said "I want to help!" and by 2005 he was on the HTO Advisory Board. For a lot of organizations, being on the advisory board can be an inactive position, but Mike would call and assist. He was a backup diver on our earliest dives on a sewer outfall that involved a big NOAA ship and the Deep Rover submersible. He called and came by when controversy broke out, eager to resolve conflict, always gentle, always kind. He loved the ocean and would do anything for it.
Mike deGruy was director of photography for a gazillion films and series about ocean animals, he worked for National Geographic, PBS, he worked with BBC and David Attenborough and James Cameron and Turner Broadcasting. He received numerous awards for his ocean work. And considering that fateful day when he was attacked by a shark in Eniwetok, some would find it amazing how Mike not only got back on the horse that threw him, as they say, or in this case the shark that bit him, but that he celebrated the shark! Among his award-winning ocean works are Mysteries of the Shark Coast, Perfect Shark, Sharks: Size Matters, Shark Roulette, Sharks On Their Best Behavior, and Ten Deadliest Sharks.
There was a unique aspect to Mike's filmmaking: a contagious enthusiasm that picked up everybody in its wake. Enthusiasm was to become a hallmark of his character as he dived deeper and farther into ocean exploration – including the wreck of the Titanic, over 12,000 feet down in the North Atlantic. His excitement for the ocean is embodied in The Octopus Show, a one-hour film produced for PBS Nature and National Geographic in which Mike – jumping and waving and sharing his thrill over the octopus – led to him giving a celebrated TED talk on the creature. It is why, for the Sunday memorial service, Mike's family picked, as an audience sing-along, "Octopus's Garden."
Santa Barbara International Film Festival director Roger Durling, also speaking at the Sunday memorial, added to the tales of Mike's particular brand of enthusiasm. He said Mike would come in for coffee at the French Bulldog in Summerland (now the Café Luna) and talk movies with friends. One day he told Roger, "You can do this! You can run the Santa Barbara International Film Festival! You'll be great!" And after Durling got going, Mike told him, "HEY! Let's make a nature series for the kids!" and the Reel Nature series was born. And, "HEY! We can get David Attenborough!" and Attenborough came to Santa Barbara. And, "HEY! We can get James Cameron!" and James Cameron came to Santa Barbara. And so did Al Gore, and "HEY! Let's do a Field Trip to the Movies!" which started at the Museum of Natural History, and then because of an overload crowd moved to the Lobero Theatre, and finally to the 2,000 seat Arlington, where Mike would get the kids to jump and wave and shout with glee at the wonders of nature – just like he did, all the time, as evidenced in his TED talk about the octopus.
Mimi once told me, "You have to watch out if you are anywhere near Mike on stage, he might knock you unconscious." At the Sunday memorial service at Fess Parker's DoubleTree, one of Mike's brothers, Frank told the audience that a pastor in Mobile Alabama, where Mike grew up, had called Mike's life "one big human exclamation point!"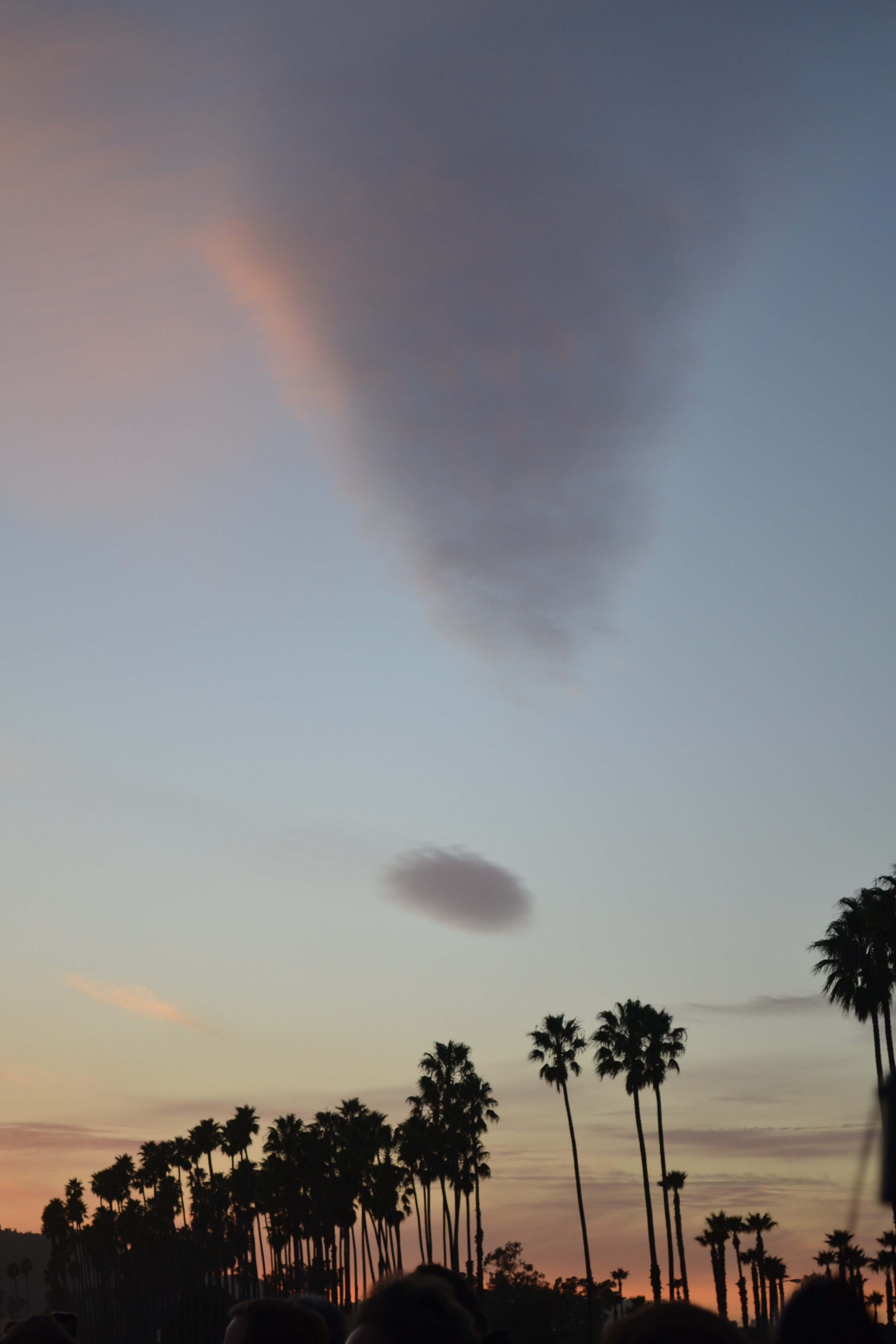 At the end of the spoken ceremony on Sunday, many of the crowd migrated to the beach across from the Fess Parker hotel, where Brian McWilliams, headmaster of Middle School, took the center of the circle and then led the crowd in a ceremonial march to the sea, to throw into the ocean rose petals in honor of Mike.
Mimi, Max, and Frances were the first to wade into the ocean, and as the rest of the crowd looked on, someone looked up and said "Look!" Everyone turned around to see, in the sky over the Mesa, a most unusual cloud formation: a huge exclamation point!
Mike, you will always be the exclamation point in our sky, and in our hearts. And we will be there in Las Vegas, in November 2012, when Mimi accepts your NOGI Award for Distinguished Service.
Mike deGruy Awards
Creative Community – Best Host, 2006
Best Presenter/Host – International Wildlife Film Festival 2004
National EMMY for Cinematography, 2002
BAFTA Award for Cinematography, 2002
CINE Golden Eagle (2) 2002
CINE Special Jury Award, 2002
OMNI Gold Award (3 categories) 2002
CINE Golden Eagle, 2000
Ciclo Internatcional De Cine Submarino Festival – Primo Especial Award, 2000
Int'l Electronic Cinema Festival – Astrolabium Award for Cinematography, 2000
Valle d'Aosta Int'l Film Festival – Airone Prize, 1997
CINE Golden Eagle, 1996
Wildscreen International Wildlife Film Festival, Panda – Underwater Innovation, 1996
Festival Mondial, Antibes, Palme D'Argent, 1996
US International Film Festival, Gold Camera Award, 1996
Missoula International Film Festival, Cinematography Award, 1996
International CINDY, Gold Award, 1996
National EMMY 1996
BAFTA Award for Cinematography, 1995
De Cine Submarino, Premio Especial Award, 1995
BAFTA Award for Cinematography, 1994
The New York Festivals, Bronze Award, 1993
Missoula International Film Festival, 2 Merit Awards, 1993
BAFTA Award for Cinematography, 1991
National EMMY 1989
Houston Int'l Film Festival, Gold award, 1989
New York Int'l Film Festival, Gold Award, 1988
Houston Int'l Film Festival, Gold Award, 1988
CINE Golden Eagle, 1988
Wildscreen International Film Festival Winner, 1988