Levon Helm: 1940-2012
In Memoriam
| Tue May 01, 2012 | 6:00am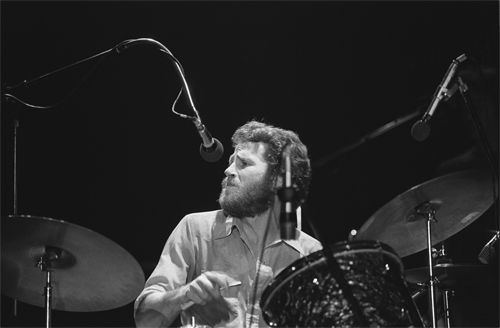 Levon Helm. The name alone evokes Americana. And the man behind the name? Well, to put it simply, no other American in the past 50 years did more to put American "roots music" on the global map than Levon Helm. And he did it the old-fashioned way – by playing his heart out on stage and by pouring his heart out on records. As Mr. Helm wrote in his autobiography: "If it doesn't come from your heart, music just doesn't work." And, if you ever heard Levon Helm sing, on "The Night They Drove Old Dixie Down," or "Up on Cripple Creek," or "Rag Mama Rag," you knew he was singing from the heart.
On April 19, 2012, Levon Helm, the man with that unforgettable voice, passed away – after a long battle with cancer – at the age of 71. He leaves behind a legacy of riches.
Mr. Helm was the sole American among four Canadians in a five-piece rock band originally known as The Hawks that evolved into The Band. For many fans, Levon Helm was also soul of The Band.
Together, with Robbie Robertson, Richard Manuel, Garth Hudson and Rick Danko, Mr. Helm and The Hawks barnstormed Great Britain as part of Bob Dylan's back-up band in the mid-1960s and then struck out on their own as The Band in the late '60s and early '70s. During that period, The Band made some of the most influential music of their era. In 1976, The Band famously called it quits with an all-star farewell concert at Winterland Ballroom in San Francisco called The Last Waltz, an event recorded for posterity by filmmaker Martin Scorsese in the movie of the same name.
All along the journey, Mr. Helm was The Band's drummer and he also shared primary singing duties with Robertson and Manuel. Although it is music for which he will be primarily remembered, movie buffs will also recall that Mr. Helm made memorable acting appearances in Coal Miner's Daughter and The Right Stuff. And, in 1993, he published his autobiography, named after a memorable Bob Dylan-Band collaboration, This Wheel's On Fire: Levon Helm and the Story of The Band, written with Stephen Davis.
Mr. Helm was born Mark Levon Helm on May 26, 1940 in Elaine, Arkansas. He was the son of a cotton farmer and he grew up around nearby Marvell and Turkey Scratch, Arkansas, soaked in a mix of blues, gospel, bluegrass, and country music. He found his calling in music and ultimately joined The Hawks, who supplied the muscle behind Bob Dylan when Dylan picked up an electric guitar and left the folk scene for rock and roll.
After Dylan's mysterious motorcycle accident in 1966, Dylan and The Hawks decamped to upstate New York and resided in a house known as Big Pink, where they recorded hundreds of songs in the basement. The basement sessions, known as The Basement Tapes, were the stuff of rock legend and have been bootlegged by aficionados for decades.
Mr. Helm and The Hawks eventually parted ways with Dylan and set off on their own course, changing their name to The Band and releasing two albums, a 1968 debut Music From Big Pink, and its successor, simply known as The Band, that galvanized the music business and cast a long shadow over the music of the 1970s. The Band's impact on the music scene was dramatic, as they reached back to the roots of rock and roll and, in so doing, influenced generations of musicians to come.
After The Band retired, Mr. Helm continued to play in various settings with a revolving cast that included the likes of Dr. John and Booker T. Jones. His long battle with cancer nearly sidelined him, and almost silenced him, but he fought back to form and returned to the music scene in the last few years to record on his own as a solo artist, winning three Grammys along the way.
But, for all he accomplished, it may be years with The Band for which Mr. Helm will be primarily remembered. His soulful verses for The Band's classic "The Weight" are among American music's finest moments and they serve as fitting epitaph for Mr. Helm, an artist who suffered through personal pain to bring joy to countless fans.
I pulled into Nazareth, was feeling about half past dead;
I just need some place where I can lay my head.
"Hey, mister, can you tell me where a man might find a bed?"
He just grinned and shook my hand, "No," was all he said.