Alexandra Joyce Tang: 1988-2012
In Memoriam
| Tue Jan 08, 2013 | 6:00am
My sister, born Alexandra Joyce Tang, was affectionately known as "Sandra" to family and "Alex" to friends. She was named after my father, Alexander, as my parents hoped their second child would be a boy to carry on the family name. I, on the other hand, secretly prayed for a baby sister.
I remember vividly the day she was born — July 2, 1988 — at Goleta Valley Hospital, 6 pounds, 1 ounce, to our parents, Alexander and Elizabeth. I was at my aunt's house when we received a call from Dad announcing that it was a girl! As soon as I heard the news, I jumped for joy off every piece of furniture imaginable and sang at the top of my lungs. Though she was seven years my junior, which may seem like a sizable age difference, Sandra and I didn't mind. We were best friends from the start.
Being the year of the Dragon in the Chinese zodiac, my parents believed it was a particularly auspicious time to have a child — someone who would grow up strong and courageous, and it was true.
Though she had so much more life to live, we made many fond memories even in her brief 24 years.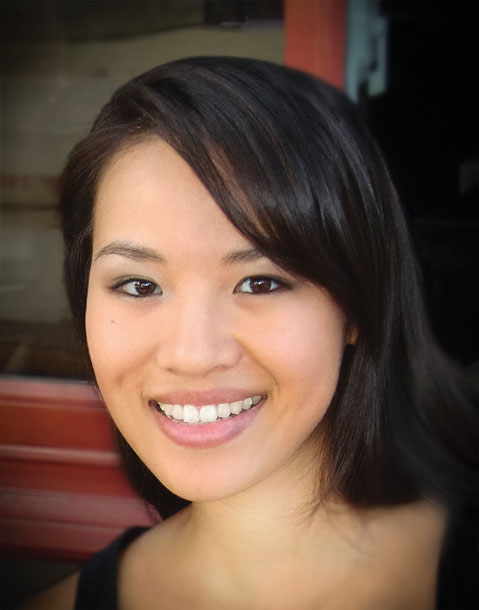 Sandra had an appreciation of the arts and was a talented artist and painter herself. One of her icons was Salvador Dali, whose prints adorned her bedroom walls. She was also blessed with a soulful singing voice and impressive vocal range, but didn't flaunt it. She was content belting out tunes to herself in the car or shower.
Sandra had an athletic side, playing basketball in junior high at San Roque and participating at a UCSB basketball camp with her BFF. My parents were so proud, seeing her in action. She was tiny, but a force to be reckoned with. The three of them would watch just about every Lakers game of the season, cheering and armchair coaching. In high school at Bishop, Sandra played doubles tennis, which I was personally excited about. I have fond memories of rallying with her during many a perfect Santa Barbara day.
After high school, my sister attended SBCC and earned two associate's degrees before transferring to UCSB, where she graduated with a BA in psychology in 2011. Her first job out of college was as a behavioral interventionist helping autistic children, which she found challenging yet rewarding.
She worked part-time much of her college career for the City of Santa Barbara — showing a genuine care for others and making lifelong friends. She talked about her Downtown Parking family with love, often.
At UCSB, she met another set of very important people — her roommates and neighbors at the Santa Ynez apartments. Yes, there were some challenging moments, but overcoming them made the group that much closer. Some of them even accompanied Sandra to the animal urgent care at 2 a.m. when her hamster, Pearl, looked unusually bloated. After an hour of tests and a $600 bill, Pearl was diagnosed with having gas and was given antacid. This is just one among many examples of how the group supported and stood by one another.
Growing up, we were so blessed to have experienced so many special journeys with our parents and extended family. One of 21 grandchildren, Sandra cherished spending time with family. Her love of travel was sparked by family trips to Australia (where she gained her love for koala bears), Canada, England, France, Italy, Mexico, the Philippines, Alaska, Florida, Hawai'i, and Texas. She'd also traveled to Ireland, Japan, Korea, and Colorado, among other places. Other highlights included the Cousin Cruise, her 21st birthday, summers swimming and barbequing, and of course, Bass Lake, a family tradition.
She was my strength. Even though I was the older sister, she knew when I needed her, too. Like when the two of us ended up lost at Disneyland, and I thought we'd never see our parents again. I was hysterical. The only thing getting me through was my little sister sitting on my lap, wiping tears from my face, and telling me our parents were going to find us. And they did.
The last time I saw my sister, we spent the day doing simple things: We got sushi for dinner (both sharing a great love of food), watched funny cat videos online, reminisced, and talked about our goals. This may seem mundane, but with Sandra by my side, it didn't matter what we did. I loved it just the same. I will never forget that very special day. I will never forget her — the girl with the biggest, heartiest, make-your-stomach-muscles-hurt kind of laugh.
In addition to her parents and sister, Alexandra Joyce Tang is survived and deeply loved by her brother in-law, Josh, and numerous uncles, aunties, cousins, and friends. She will live on forever in our hearts.
Domestic Violence Solutions, a Santa Barbara nonprofit, has renamed its volunteer program in Alexandra's honor. The program provides tools and education to help break the cycle of violence. The next training session for the Alexandra Tang Volunteer Program begins in February. For more information visit www.dvsolutions.org or call (805) 564-3300 x3.